Will Summer Gas Prices Continue to Drop as Inflation Cools?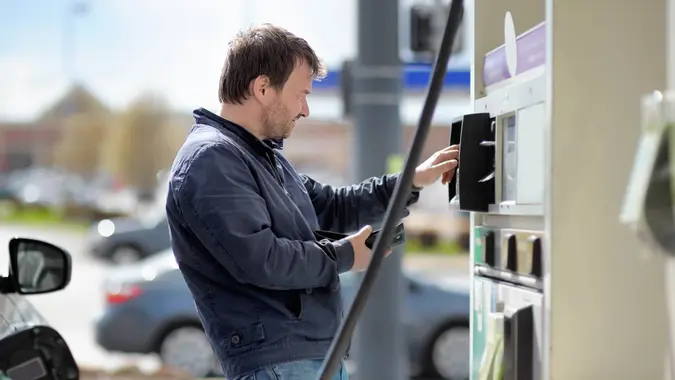 SbytovaMN / Getty Images/iStockphoto
Americans appear amped up to hit the road this summer, with the U.S. Travel Foundation projecting that travel spending in 2023 will exceed pre-pandemic levels, according to a recent blog on the Redzy website. If you plan to travel by car, you can also expect much cheaper gasoline prices compared with 2022 — even after a slight rise in prices last month.
The gasoline index for April 2023 increased 3.0% from the previous month, according to Consumer Price Index data released Wednesday by the U.S. Bureau of Labor Statistics. That followed a 4.6% monthly decline in March. On a year-over-year basis, however, the gasoline index fell 12.2%. Overall inflation rose 4.9% over the past 12 months, continuing a recent easing from last year's highs of about 9%.
There's no doubt that gas prices have trended lower ahead of the summer travel season. The national average gas price was $3.531 a gallon as of May 10, 2023, according to AAA. That was down from $3.586 a week ago, $3.604 a month ago and $4.374 a year ago. Prices at the pump have been on a steady decline after peaking at $5.016 a gallon on June 14, 2022.
One factor contributing to lower gas prices is fear of a global recession, AAA noted in a news release last week. That fear has softened demand for oil, which recently saw its price fall by nearly $20 per barrel. When the price of oil goes down, the price of gas follows.
Make Your Money Work for You
"The oil market volatility is leading to lower prices," AAA spokesperson Andrew Gross said in a statement. "And we are also in a pre-summer driving season lull regarding domestic demand. These two factors should keep pump prices drifting lower for now."
Will they keep drifting lower into the summer? Prices will almost certainly be lower than a year ago. However, you can also expect prices to fluctuate up and down on a daily or weekly basis as demand for gas rises during the summer travel season.
Near-term, gas prices should keep falling, according to Patrick De Haan, head of petroleum analysis at GasBuddy.
Take Our Poll: Are You Concerned About the Safety of Your Money in Your Bank Accounts?
"While there have been a few pockets of rising prices, those have been the needle in the haystack, with nearly every single state seeing gas prices fall," De Haan said in a press release earlier this week. "Americans are spending hundreds of millions less on fuel every week compared to a year ago, and that's a number that could rise further as prices are poised to continue trending lower this week."
Make Your Money Work for You
More From GOBankingRates