New Car Market: 12 Vehicles People Love the Most and Would Buy Again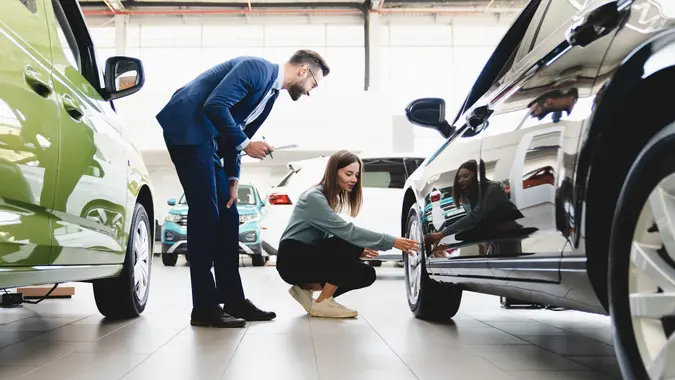 Inside Creative House / iStock.com
Consumer Reports ranked what it deems the most satisfying cars, measured by asking one key question: Given the opportunity, would you buy or lease this vehicle again?
The survey polled 300,000 owners of cars, SUVs, trucks, and vans and might help you decide if you're in the market for a new car.
Consumer Reports noted that "reliable workaday vehicles aren't as prized as automotive peacocks that promise luxury, fuel and energy efficiency (gas or electric), or pulse-quickening performance — and actually deliver."
"Case in point: Our latest survey once again finds that entry-level luxury cars and SUVs are among the least satisfying vehicles to own because they fail to deliver on the luxury promise," it added.
Here are the cars owners would buy again:
Chevrolet Corvette, with 94% of customers saying they would happily buy it again. "For the second year in a row, the Chevrolet Corvette is the most satisfying vehicle in our survey. It's unabashedly a high-performance sports car that, with the 2020 redesign, could be mistaken for a Ferrari or Lamborghini," according to Consumer Reports.
Porsche 911, with 90%.
Seven cars are tied for the third spot, all with 88% of customers saying they would happily buy them again: The Kia Telluride, Rivian R1T, Ford Maverick Hybrid, Hyundai Ioniq 5, Polestar 2, Subaru BRZ, and Toyota GR86.
Toyota RAV4 Prime, with 87%.
Mazda MX-5 Miata and Dodge Challenger are tied, with 86%.
On the other hand, here are the cars owners say they wouldn't buy again, according to Consumer Reports:
Kia Forte and Nissan Altima are the least satisfying, with 51%.
Nissan Kicksm with 49%.
Volkswagen Taos and Kia Seltos, both with 48%.
Jeep Compass.
Mercedes-Benz GLA.
Infiniti QX50, with 40%.
Mercedes-Benz GLB, with 39%.
Volkswagen Atlas Cross Sport, with 38%.
Make Your Money Work for You
Another point Consumer Reports made is that hybrid and plug-in hybrid models generally earn high satisfaction scores.
"In this survey, nearly every hybrid model outscored its conventional cousin," Jake Fisher, senior director of auto testing at Consumer Reports, said in the survey. "We've found that not only do hybrids often save buyers money with fuel economy that's superior to the conventional versions, they also can deliver an even better driving experience."
More From GOBankingRates