5 Reasons Only the Rich Can Afford New Cars Now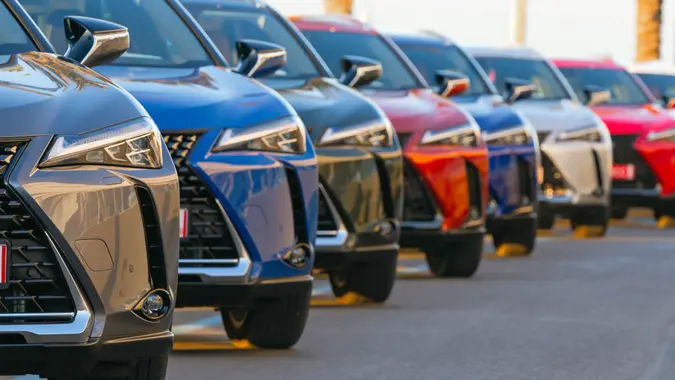 Tramino / Getty Images
Saving up for a car used to be a rite of passage for teenagers. Today, it might take them until middle age. 
Vehicles were always big-ticket items that most people had to finance, but the last few years have triggered expensive changes that are freeing up storage space in two-car garages across the country. Inflation, the Fed's action to fight it, the pandemic's ripple effects and the rise of EVs are all contributing factors.  
But no matter the cause, the result is the same: New cars are quickly becoming luxuries for the rich.
The Average Car Now Has a Luxury Price Tag
According to Kelley Blue Book (KBB), the average buyer paid $49,388 for a new vehicle in January. Although a few hundred bucks shy of 50 grand might not sound like a bargain, that's actually a break from December's record high of $49,507.
Since the median individual income in the U.S. is less than $45,000, most people don't have that kind of cash lying around to buy cars outright. That means they're going to finance, stretch their payments out over five years or so and pay a whole lot of interest along the way.
Make Your Money Work for You
The Era of Cheap Money Is in the Rearview Mirror
According to Statista, the average APR for a 60-month car loan never once breached 5% between February 2014 and August 2022. It spent a vast majority of that time under 4.5%. 
But in February 2023, the average rate hit 6.27%.
If the average buyer finances a $49,388 new car for the typical 60 months, the loan would be for $44,449, presuming 10% down. At 6.27% interest, the loan will cost $7,446 over five years for a total of $51,895. Presuming 7% sales tax, you can tack $3,457 onto your $4,939 down payment for a total upfront expenditure of $8,696.
Toss in the typical title and registration fees, and the actual cost to buy the average new car balloons up to $60,591 — and that makes for one ugly car payment.
The Pandemic Doubled the Average Monthly Payment
Inflation stretched consumers from one end by increasing the purchase price of new cars. The Fed's action to tame inflation tugged from the other end by making it more expensive to finance them.
All of that stretching makes for thin household budgets.
According to KBB, the average car payment in January was $780, nearly double the average in late 2019. That's about one-sixth of the median U.S. monthly income of $4,585.
According to Credit Karma, you should spend no more than 15% of your monthly income on a car payment, but many experts recommend capping it at 10%.
The Auto Industry Wants It To Be 2020 Forever
The pandemic-era chip shortages that choked the industry's supply chains have eased enough for automakers to ramp up production once again.
Make Your Money Work for You
But why would they want to? 
The chip shortage conditioned buyers to expect scant inventory, high prices and long waits — and they weren't disappointed. The era of dealership haggling came to a screeching halt. Dealers had what they had, the price was the price and just about nothing was selling below MSRP. 
According to Bloomberg, auto manufacturers adapted to the low-inventory, high-price sales model and are making enormous profits by sticking with it for the long term.
The Shift to Electric Only Adds to the Cost
According to Bloomberg, the chip crisis is far from over. The industry should receive enough to produce 15 million vehicles this year, about 12% less than pre-pandemic levels. Not only is supply still tight, but automakers are steering more and more of their available chips to their ever-expanding line of electric vehicles.
Not only will that keep the price of ICE vehicles from falling, but the EVs are still prohibitively expensive.
According to KBB, the average new EV sold for more than $65,000 in November 2022 before falling to $61,488 in December and less than $59,000 in January.
While prices are moving in the right direction, the average EV is still as expensive as the average gas car with fees, taxes and five years' worth of interest payments included.
Whether gas or electric, today's average buyer must contend with what, until recently, were luxury car prices.
More From GOBankingRates
Make Your Money Work for You