Electric Cars: Is It Better To Buy or Lease?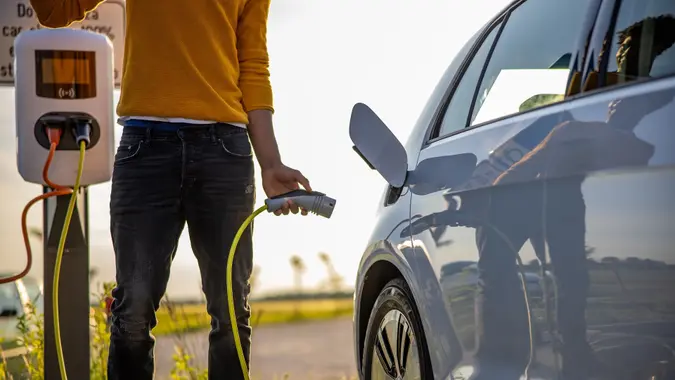 SimonSkafar / iStock.com
Electric vehicles (EVs) are fast becoming popular in the U.S. and abroad for those who want a new set of wheels. And while the lease vs. buy debate is ever-present among this crowd, things become even more contentious when considering EVs.
Find Out: Unplug These Appliances That Hike Up Your Electricity Bill
Learn: 3 Easy Tips To Turn Your Credit Woes Into Wows
"For those settling down and looking for longer term commitment, EV ownership makes a great deal of sense. For the traveler, digital nomad, or young professional on the go, committing to a vehicle will make it challenging to choose a new path on a whim," said Ludwig Schoenack, co-founder at Kyte, a rental car startup.
Indeed, deciding whether to buy or lease an EV can be difficult. Things are developing fast, so those considering an EV have even more to think about. To help you decide, we'll look at the pros and cons of EVs for leasing and buying.
Pros and Cons of Leasing an Electric Car
The argument for leasing an electric car can be more compelling at this stage than for gas-powered vehicles. But still, there can be downsides as well.
Make Your Money Work for You
Pros
You won't be stuck with an outdated model. EVs have come a long way in the past decade or so. Their median and maximum ranges have increased dramatically, and battery costs have plummeted. Yet, automakers are releasing new EV models all the time. In other words, what seems like a great choice today may seem less so a few years from now. If you sour on your lease choice, you'll have an escape route at the end of its term.
You might save thanks to tax credits. Federal tax incentives are available for EVs, and some dealers pass them to customers with a lower price tag. That can be better than the savings you would get by buying. This is because if you buy, you generally have to wait until you file your tax return to claim the credit. If it's built into your lease price, you save right away.
There's the potential to turn a profit. Used cars retain much of their value lately. If the car's residual value is higher than its actual value at the end of the lease, you could earn a profit. You can buy the car at the end of the lease and sell it at a higher price to earn a quick return.
Take Our Poll: Do You Think Student Loan Debt Should Be Forgiven?
Cons
Tax credit savings aren't always passed on. Although tax credits can lower the lease price for EVs, not all dealers pass those savings to consumers. Some simply pocket them and define the lease based on the car's market value. Check the lease agreement to see if you're saving money.
There may be mileage limits. Leasing a car often comes with restrictions, including mileage limits. You can lower your monthly payment by agreeing to a lower limit, but exceeding it will result in a charge by the mile. Thus, it could be even more expensive if you go over it.
Make Your Money Work for You
Pros and Cons of Buying an Electric Car
Set on leasing an electric car? Not so fast. First, consider the pros and cons of buying.
Pros
It avoids mileage caps. If you want the freedom to hit the open road and not worry about mileage caps, buying could be right for you.
It comes with fewer restrictions: Leased vehicles can have strict limits on how you can use the car; don't expect to customize it, for example. Buying frees you of those concerns.
It can be cheaper to insure: If you buy a brand-new car, you will probably want full coverage to protect your investment. And leasing usually means it's a requirement. But as your car's value declines, you can reduce your coverage, lowering your insurance payments.
Cons
Range tends to lessen over time. While EV ranges have generally improved over the years, they also lessen over time. The actual degradation can vary significantly by model. For example, the Tesla Model S is estimated to lose 10% of its range after 125,000-150,000 miles, according to Inside EVs. Meanwhile, NimbleFins found that the range for a Nissan LEAF with a 40 kW battery pack dropped from 170 miles to 112 miles after just over 55,000 miles — about a 34% drop.
The EV market is changing rapidly. Because of this, buying an EV means you are stuck with more uncertainty than you would be with a gas-powered vehicle. After all, gas-powered vehicles have been around for more than 100 years. While some innovations are still happening, they usually aren't nearly as substantial as the improvements we are seeing with EVs right now.
Make Your Money Work for You
Alternative Option: Vehicles On-Demand
Legacy automakers and startups understand the EV buy vs. lease conundrum, which is why they have introduced this as another option. Some are similar to rental car services but can be more flexible. For example, Kyte, the startup mentioned earlier, offers several vehicle types in its fleet, with Teslas as one option. It allows you to keep the vehicle for days, weeks, months, or longer, and they'll deliver it right to your door.
One of the legacy automakers offering this kind of service is Audi, which recently introduced Audi on demand. "Consumers have been receptive to long-term rentals, like that offered by Audi on demand, as they present a low-risk, flexible opportunity to experience new brands or new models, including BEVs," said Sara Whiffen, VP, strategy, mobility and retail operations at Audi of America.
Audi on demand lets you rent a vehicle at your location and offers long-term rentals of more than 30 days.
More From GOBankingRates
Make Your Money Work for You