9 Smart Ways To Lower Your Car Insurance Rate, According to Dave Ramsey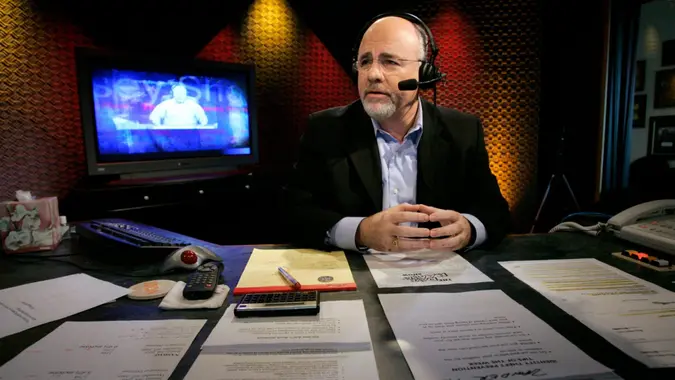 Mark Humphrey/AP/Shutterstock / Mark Humphrey/AP/Shutterstock
Struggling to keep up with rising auto insurance rates? Drivers across the country are watching their car insurance premiums increase significantly based on factors they're not able to control. As a result, they're looking for ways to lower costs.
Money expert Dave Ramsey's website Ramsey Solutions several helpful ways you can start reducing car insurance expenses. These nine smart ways will help lower your car insurance rate.
Ask For a Discount
It's possible you qualify for a discount rate from your car insurance provider. Ask about the discounts they offer and determine your eligibility. Discounts are available for senior citizens, those who serve in the military, being a member of AAA and more.
Switch Insurance Companies
If you're not happy with your rates and find there aren't any good discounts available to you, it's time to start shopping around. Look into other car insurance companies and see if you're able to find better car insurance.
Raise Your Deductible
While many people choose a low deductible to avoid expensive repair bills after an accident, the post on Ramsey Solutions reads that your insurer will increase your monthly rates to offset its risk of paying more money to fix your car.
How much should you increase your deductible? According to Ramsey Solutions, raising this amount to $1,000 can save you 40% on your premiums. 
Make Your Money Work for You
Drop Unnecessary Coverage
Expensive add-ons you really don't need should be dropped from your coverage policy. However, the post on Ramsey Solutions does not recommend dropping liability insurance. The recommended amount to carry is at least $500,000 for full protection. 
Invest In a Used Car
If you're car shopping and can't decide between buying a new or used car, choosing a used car will be easier on your bank account and the overall cost of car insurance premiums. 
How old should this used car be? Look for used, reliable vehicles that are four to 10 years old, the post on Ramsey Solutions recommends. Drivers can also reach out to their car insurance companies and find out how much the purchase of a new or used car will impact their rates.
Change Your Premium Payments
A few available options include paying in full annually, setting up automatic payments, paying in advance and paying as you go.
Be a Good Driver
While some factors aren't in your control when paying for premiums, maintaining a clean driving record is one way you can keep from paying more for car insurance. 
Bundle Policies
Do you carry multiple policies with the same insurer? Reach out to them about bundling these policies together if you're not already in the practice of doing so.
Review Coverage
Set aside some time each year, or anytime you experience a major life change like moving or selling a car, to review your coverage and update the information on your policy. Making these updates on a regular basis can help you pay much less for car insurance!
Make Your Money Work for You
More From GOBankingRates