7 Things You Must Do When Your Car Payment Exceeds $535 a Month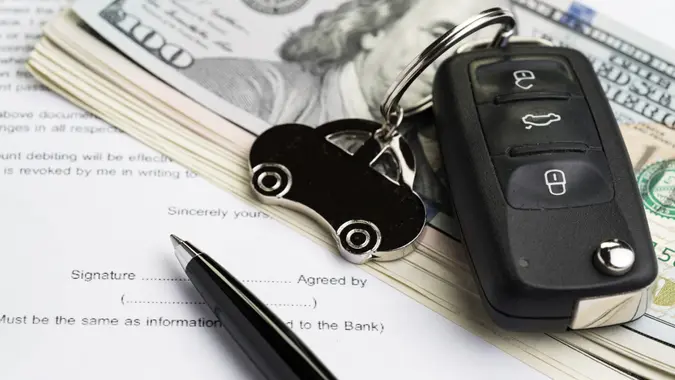 Nuthawut Somsuk / Getty Images/iStockphoto
Having a car payment isn't all that unusual when you think about how many people take out a loan to pay for their vehicle. But unfortunately, some people end up paying more than they anticipated for their monthly car payment.
If your car payment has exceeded your monthly budget, it can lead to a lot of financial stress or hardship. It can also make it harder to pay off your debt or manage other expenses.
Fortunately, there are some things you can do to reduce your car payment and get your finances back on track.
You Should Be Paying No More Than 10% to 15% for Your Car
If you already have a car payment, this won't necessarily be applicable to you. But if you're thinking about getting a vehicle and haven't yet, it's important to budget in your monthly payment in advance.
If possible, try to keep your car payment to a maximum of 10% to 15% of your monthly take-home pay. The U.S. Census Bureau found that the real median household income after taxes is around $64,240 annually, or $5,353 a month.
Given this, your car payment should ideally be between $535 and $802 a month. This amount should also include your car insurance, gasoline costs, maintenance and any other fees associated with owning the vehicle.
Make Your Money Work for You
If you're paying more than this amount, you might want to rethink your debt and implement some of these strategies.
What You Can Do When Your Car Payment Exceeds $535
If your payment has already exceeded your monthly budget, however, there are several things you can do to improve your situation. Here are some of the big ones.
Switch to a Cheaper Car
Many factors can influence your car payment, such as the initial value of the car and your interest rate. If you're paying too much money, you might want to consider getting a less expensive car with a lower overall payment. This could mean switching to a different make and model. Or it could mean going with a used vehicle.
"Sometimes, it's the luxury and features we crave which peg up the payments beyond our comfort zone," said John Lin, owner of JB Motor Works. "Pre-owned cars are a viable option to cut down the payment without compromising much on the quality or features."
"Buying a used car instead of a brand new one can result in significantly lower monthly payments," added Scott Allen, co-founder and licensed agent at Seniors Life Insurance Finder. "You can find great deals on reliable used cars that will still meet your needs."
Make a Larger Down Payment
If you haven't bought the car yet, calculate your estimated monthly payment. If it looks like it'll be more than $535 a month — or whatever your monthly budget is — take some time to save up for a larger down payment. This can help you qualify for financing, as well as reduce your monthly payment. It can even cut down on how much you pay in interest charges over the life of the loan.
Make Your Money Work for You
"Increasing your down payment… reduces the amount of money you need to borrow and, thus, your monthly payments," said Tariro Goronga, CEO of DriveSafe Driving Schools. "It may also lead to a lower interest rate, because it demonstrates to lenders that you are financially responsible and capable of making a larger initial investment."
Review Your Finances
Whether you already have a high car payment or not, it's important to review your finances. Start with your monthly budget to see how much money you've got coming and going. This can also help you determine your car budget.
Next, see if there are any areas where you can cut costs. If there are, you might be able to put some extra money toward your monthly payments — or the down payment, if you're still saving up.
"By far the easiest way to cut through the financial difficulties of a burdensome car payment is to make sure to buy a car that is well within your earnings," said Peter Dubois, general manager of Find by Plate.
Rethink the Loan Term
Another way to reduce your car payment is to get a longer repayment term. Just be sure to calculate how much the extended term is going to cost in the long run.
"Extending the loan term, such as from a 36-month to a 60-month loan, can lower monthly payments but may result in paying more in interest over time," said Scott McAlpin, general manager at Airport CDJR. "It's a trade-off between immediate affordability and long-term cost."
Refinance Your Loan
Perhaps one of the most effective ways to deal with an unaffordable car payment is to refinance your current auto loan. You'll need to have good credit to qualify for the best interest rates, so keep that in mind when considering this option. Auto refinancing also comes with a new repayment term, which could keep you in debt longer.
"If you're struggling with high car payments, it may be worth considering refinancing your auto loan," said Allen. "This can help lower your monthly payments and make them more manageable. Be sure to do your research and compare interest rates from different lenders."
"A new loan with a lower interest rate and extended term can significantly reduce the monthly payments," added Lin. "However, it's crucial to note that extending the loan term will mean more interest paid over time."
Downsize Your Vehicle
Depending on how much you still owe on your vehicle and its trade-in value, you may be able to downsize for a cheaper car. This could reduce your monthly payment.
Jake Claver, finance expert, qualified family office professional and CEO of Syndicately, said, "Trading in your vehicle for a less expensive model is another avenue. It's not just about downgrading — it's about smart financial recalibration. This could instantly reduce your monthly burden and align your car payment with your budget."
Goronga seconded this by saying that trading in your current vehicle "is not the ideal solution, [but] it can help alleviate financial stress and prevent future financial difficulties."
Look Into Negotiation and Hardship Programs
You might be able to negotiate with your current lender for a lower monthly payment or new interest rate. This strategy is most successful when you've already tried other methods, have a good track record of making on-time payments and have a proven financial hardship.
Nikita Sherbina, founder and CEO of AIScreen, suggested asking your lender if they'll put a temporary payment pause on your loan. If not, reach out to your lender about any other hardship programs they might have. These aren't widely advertised, but they're out there.
"If you're having trouble making your car payments, don't be afraid to reach out to your lender and negotiate for better terms," added Allen. "They may be willing to work with you and adjust the payment schedule or interest rate to make it more manageable."
More From GOBankingRates