Grant Cardone Doesn't Think You Should Buy That New (or Used) Car — Here's Why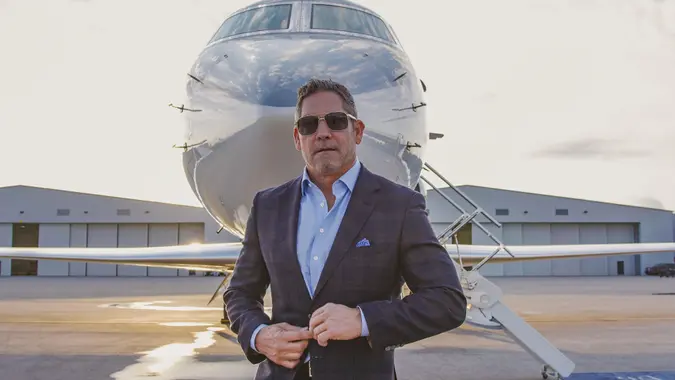 ©Grant Cardone
The average monthly payment for a new vehicle has reached an all-time high of $736, according to Edmunds data. The average monthly payment for a used vehicle is also quite high, at $567 per month.
These numbers may put car ownership out of the budget for many Americans — yet people are continuing to buy cars anyway. Here's why Grant Cardone, author of the upcoming book "The Wealth Creation Formula," advises against this.
'You Don't Deserve a Car'
Cardone believes that many people buy cars that they cannot actually afford because they feel like they "deserve" it.
"You don't deserve a car," he told GOBankingRates. "People have got to quit thinking they deserve this stuff because they saw it on Instagram."
Cardone notes that marketing is also to blame for people's false beliefs that they can afford the car they want.
"The average car payment in America is [over $700] a month — [but] that's not the ad," he said. "The Corolla ad said you can get the car for $89 a month. But nobody seems to end up with that payment."
Instead of Buying a Car, Get a Job Near Where You Live
Many people buy cars as a means to get to and from their jobs, but Cardone said to eliminate this need by working close to where you live.
Make Your Money Work for You
"The first thing people should do is they should find a great job where they can actually excel. The second thing they should do is live as close to that place of employment as possible," he said. "I have never lived more than one mile from where I work. When I moved to Miami, we went and got our office first — then I went and got my house. But most people do it backward. They will get their house, and then they've got to drive 50 minutes every day, which is what forces them to go buy this car."
Even if you don't live in a place where public transportation is an option, using a ride-share service will likely still be cheaper than owning a car if you live close to your job.
"The car payment is $700, insurance today is exploding across the country so insurance can be another $1,200 on the car — and that's not even with fuel for the car," Cardone said. "And I'm only using that car about 45 minutes a day. The rest of the time it sits in a garage — and I had to pay for the garage, too. You can Uber, you could Lyft, you could ride share or you could walk, but you'd have to move closer to where you work."
More From GOBankingRates
Make Your Money Work for You