This $35 Tool Can Save You Thousands on Your Next Car Repair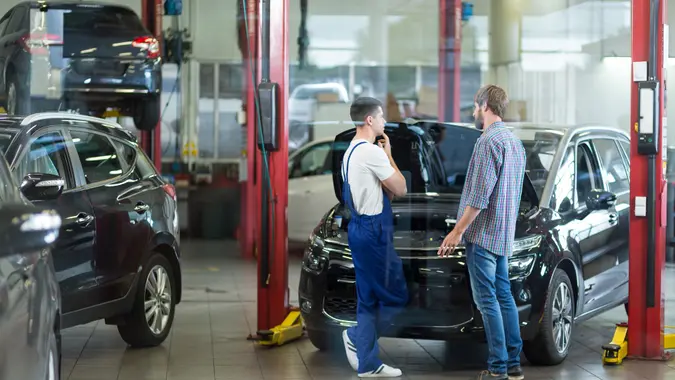 KatarzynaBialasiewicz / Getty Images/iStockphoto
When something goes wrong with your car, it can be very stressful — you sometimes don't know if you're in for a repair that will cost a couple hundred dollars or a few thousand. And if you're not a car pro, you're really at the mercy of your mechanic to quote you a fair price.
Fortunately, there is a readily available tool that can help you diagnose your own car issues (so you can do your research on fair pricing) as well as alert you of smaller issues before they become larger problems. Here's what you need to know about the On-Board Diagnostics 2 (OBD-II) tool.
What Is an OBD-II and How Does It Work?
An OBD-II is a standardized system in modern vehicles that monitors the performance of various vehicle systems and components.
"Typically, this is a serial or Controller Area Network protocol that allows external systems and tools to interact with a vehicle's Engine Control Model or Powertrain Control Model," said Hunter Brabham, category manager at CarParts.com.
When you see a check engine light or malfunction indicator light come on, your first instinct will likely be to go to a mechanic — but you should consider utilizing an OBD-II before making that trip.
"Often, a car owner might see a check engine light or a malfunction indicator light when something is wrong with the vehicle, but they won't know what it means or how to fix it. So, they take the car to a mechanic, who provides an inspection, sells the necessary parts to the vehicle owner at a marked-up rate, and then performs the repair or replacement," Brabham said.
Make Your Money Work for You
"This is where an OBD-II comes in, providing the car owner with a unique error code, which they can look up to understand what the issue is — allowing the vehicle owner to skip the first two steps will save them money," he continued.
When To Use an OBD-II
Car owners should use the OBD-II whenever they see a check engine light or malfunction indicator light, or whenever they feel the car is not running properly.
"It can also be helpful to use an OBD-II before a car's annual inspection to identify repairs, replacements or other services that need to be completed to ensure the car's safety and functionality," Brabham said.
How Using an OBD-II Can Save You Money
There are several ways an OBD-II can save money on car repairs.
"Educating oneself on using an OBD-II can save a car owner money by helping [you] to understand what problem the vehicle is experiencing without requiring the mechanics to do a full body inspection," Brabham said. "Keep in mind, there may be several issues that need to be addressed or corrected to fix the vehicle and eliminate the code.
"Another way using an OBD-II scan tool can save a car owner money is by allowing the owner to scan the vehicle to view the current problem(s) and begin taking corrective action prior to any additional failures that may cost thousands to fix."
Make Your Money Work for You
Using an OBD-II can save car and truck owners hundreds or even thousands of dollars if it helps you identify a car part that needs to be replaced.
"Using an OBD-II can enable a car owner to troubleshoot the problem and purchase the necessary part ahead of a mechanic providing a service," Brabham said. "This avoids costly markups and helps owners save money."
More From GOBankingRates