Study: The Used Car Market Won't Recover Until After 2025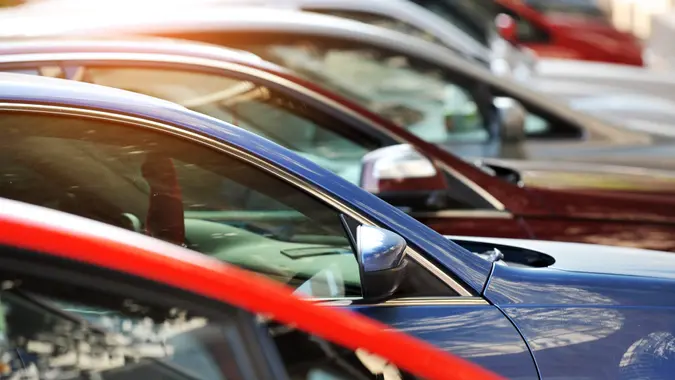 hxdbzxy / Shutterstock.com
Although used car prices are finally starting to decline, it could be years before the market returns to a pre-pandemic normal. A recent study conducted by the car insurance comparison app Jerry found that the used car market won't recover in the foreseeable future.
Here's a closer look at why that is, when we can expect prices to (finally) drop and what to do if you're hoping to buy a used car sooner rather than later.
Used Car Shortage Is Keeping Prices High
A shortage of available inventory is the main reason why used car prices have not returned to normal. And there are several factors that have led to a shortage in the used car market.
Semiconductor Shortages
A shortage of the types of semiconductors used in cars is still limiting production of new vehicles, which means fewer used vehicles are entering the market.
"The automotive industry expected demand to crater [during the pandemic], but quite the opposite happened," said Henry Hoenig, data journalist at Jerry. "They just couldn't get the [production] lines back [running to meet demand]. And the effect is that we lost millions of cars in production."
More People Buying Used Cars
One ripple effect of the shortage of new cars caused by stalled semiconductor production is that people who were looking to buy new cars ended up buying used cars instead.
"Many of them had to go into the used car market because they just couldn't get their hands on a new car," Hoenig said. "One of the findings of our [2023 State of the American Driver] report is that 35% of people who bought a vehicle last year ended up buying a used one because they couldn't find a new one. That's a pretty dramatic number that shows you how much of a spillover there was in that market."
Make Your Money Work for You
People Holding Onto Leases
Leased vehicles are a major source of vehicles entering the used car market each year, but this number has been on a steady decline. According to the Jerry study, 2.4 million leased vehicles hit the used car market in 2020 — that number dropped to 1.2 million in 2021 and a mere 400,000 in 2022.
"[Typically, for] the majority of people when their lease expires, they let the vehicle go, but because the terms for purchase are set well in advance of the expiration date, they found themselves in a pretty favorable deal because used car prices had jumped really high," Hoenig said.
This meant that many people held onto their leased cars who normally would not.
"In 2023, we're looking at 2 million fewer vehicles coming in from the lease market back to the used car market than in 2020," Hoenig said, "so obviously, that's a huge problem."
When Will the Used Car Market Bounce Back?
The Jerry study found that the used car market will not return to pre-pandemic levels anytime soon. In 2019, there were 13.1 million used cars on the market. That dropped to 11.6 million in 2020 and hit a low of 9.5 million in 2022. Unfortunately, that number is projected to be even lower in 2023, with an expected 9 million used cars on the market. Inventory is expected to inch up slightly in 2024, with 9.6 million used cars available, and in 2025, that number is expected to hit 10.2 million — still lower than the pre-pandemic supply.
Although it's difficult to predict when exactly the used car market will fully recover, Hoenig explains that it will be two to three years after the new vehicle market returns to normal — and "there are a lot of wild cards there," he said.
Make Your Money Work for You
"There's a still problem with semiconductor supply," Hoenig said. "A couple of major automakers announced temporary shutdowns of production in November and early December [2022] due to the chip shortage, so that likely won't return to normal until later this year, and it could be longer. And it was just last week that the world's largest producer of semiconductors for automobiles was forced to shut down one of its plants in China because of a COVID outbreak. Things are getting better, but there are some wild cards there in terms of how things are going to go for the coming years."
Another factor that could affect the car market is the overall economy.
"That's another wild card," Hoenig said. "Predictions for a recession in the second half of this year are pretty strong, so depending on how severe that is, that would obviously affect it. It's hard to say to what degree, but that's also something to keep an eye on."
With many factors up in the air, "I can say with a very high level of confidence that things won't return to normal for another two or three years, at the very least," Hoenig said.
When Will Used Car Prices Drop Significantly?
The good news is that used car prices have already begun dropping, but it may be a while before they return to pre-pandemic levels — if ever. Hoenig explains that if prices drop, demand will also increase, which could keep prices elevated.
"There's a lot of pent-up demand in both used and new markets, so if prices start coming down, more people are going to start coming into the market," he said. "Another finding from our annual report is that 21% of Americans said they would only shop for a car this year if prices go down.
"There are a lot of people on the sidelines waiting for prices to go down, so if they do come down some, there's going to be demand stepping in," he continued, "so there will definitely be a floor under prices for a while."
Should You Buy a Used Car in 2023?
If you're looking to buy a used car in the near future, you may be wondering if you should buy now or wait for potential improvements in the used car market.
"Given that there are so so many unknowns, I'd say you just have to use your best judgment and make decisions based on the best information you have had at hand, your personal needs and your financial levels," Hoenig said. "You don't want to take on too much financial burden to buy a car, but it's hard to say how long you're going to have to wait for things to get better."
More From GOBankingRates