Used Car Prices Continue To Fall — Is It Worth Waiting?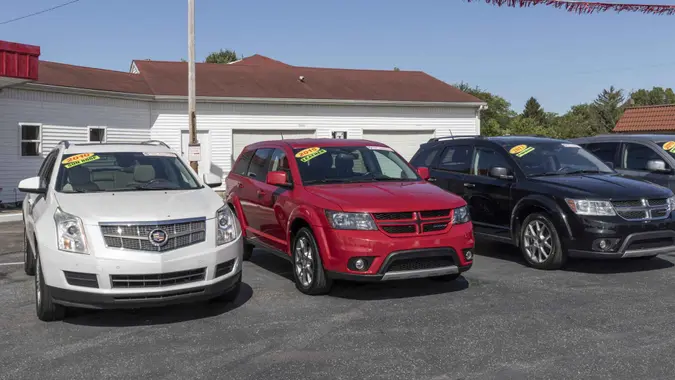 jetcityimage / Getty Images
Wholesale used car prices continue to drop with each passing month in 2023. While a simultaneous decline in sales is proving frustrating for U.S. auto dealers, the future of the used car market is looking brighter for consumers than it has in recent memory.
The Manheim Used Vehicle Value Index (MUVVI) — "increasingly recognized by both financial and economic analysts as the premier indicator of pricing trends in the used vehicle market" — decreased to 211.7 points, dropping 1.6% from June to July and 11.6 year-over-year.
"The July drop of 1.6% is an indicator of slowing wholesale price declines, at least when compared to the month-over-month losses we've seen since April," said Chris Frey, senior manager of Economic and Industry Insights for Cox Automotive (owner of Manheim, AutoTrader.com and Kelley Blue Book).
Compared to July 2022, prices for pickups and vans lost 6.6% and 9.9% less than the industry as a whole, respectively. Compact cars were the worst performing segment, down 15.9%, while midsize (-14.2%), luxury (-12.6%) and sports cars (-12.1%) all declined considerably.
The coronavirus pandemic dramatically affected automotive industry, shutting down new car production and sales and consequently devastating used car inventories amid resilient demand and despite soaring prices.
Although the World Health Organization (WJO) has declared an end to the global COVID-19 pandemic, we haven't seen manufacturers hustling to build affordable new cars, according to Kelley Blue Book. There are fewer used cars entering the market and those that do carry lofty prices tags.
Make Your Money Work for You
This relaxing of used car prices is good news for those looking to buy, but better deals might be worth waiting for. Prices remain historically high, as are elevated interest rates, which continue to drive up used car costs. As Frey speculates, with inventory and sales increasing slightly from June, used car prices likely won't decrease significantly for the remainder of the year.   
"We're now back to the same index value last seen in April 2021: 211.7. Used retail inventory continues to rebuild; but with used retail sales also showing some summer strength, we do not foresee wholesale price declines of serious import through December," Frey said.
More From GOBankingRates