Used Cars: These States Have the Most (and Least) Affordable Prices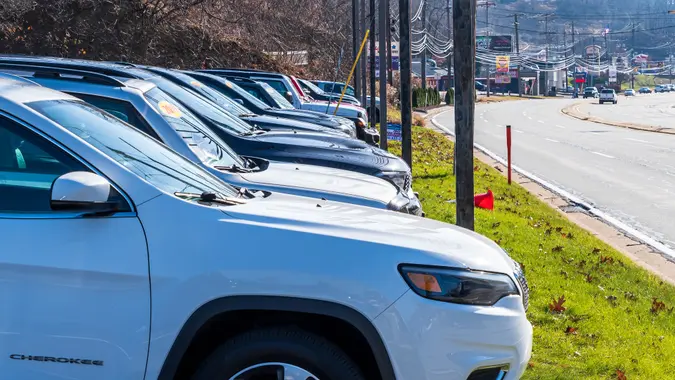 Althom / iStock.com
Used car prices in the U.S. have fallen since their highs during the peak of the pandemic, but prices are still erratic, and affordability of a used vehicle largely depends on location. A new study analyzed 183,640 listings to reveal which states and cities have the cheapest used cars — and those that tout the most expensive.
Used Cars: The 10 Biggest Winners on the Market Right Now in Terms of Lifespan
Explore: Considering Switch to EV? 6 Ways They Still Aren't Worth the Investment
"More than ever before, the U.S. car market has seen a higher demand for used cars," said Eric Mitz, co-founder of The Clunker Junker. "But with the price of used cars rising 49% since June 2020 alone, The Clunker Junker wanted to find out where consumers are getting the best deals, and how affordable they are relative to local incomes."
Make Your Money Work for You
Here's how much used cars cost in every state, in relation to the national average, according to the report:
State Price % Difference for Used Cars
Alaska (+10.69%)
Hawaii (+7.76%)
New Mexico (+7.27%)
Mississippi (+5.88%)
Wyoming (+5.19%)
Montana (+5.11%)
Washington (+4.44%)
Colorado (+4.03%)
Kansas (+4.01%)
Louisiana (+3.98%)
Tennessee (+3.89%)
Alabama (+3.88%)
South Carolina (+3.42%)
Arkansas (+3.39%)
Oregon (+3.12%)
Nebraska (+2.65%)
Missouri (+2.62%)
Oklahoma (+2.62%)
North Carolina (+2.43%)
Delaware (+2.28%)
Iowa (+2.22%)
Idaho (+2.05%)
South Dakota (+1.55%)
Kentucky (+1.50%)
Georgia (+1.49%)
Nevada (+1.43%)
West Virginia (+1.39%)
Maine (+1.36%)
Wisconsin (+1.31%)
Indiana (+1.22%)
Texas (+1.12%)
California (+1.00%)
Arizona (+0.79%)
Rhode Island (+0.61%)
Illinois (+0.34%)
Minnesota (+0.32%)
Massachusetts (-0.12%)
Maryland (-0.16%)
Pennsylvania (-0.22%)
North Dakota (-0.41%)
Utah (-0.61%)
New Hampshire (-0.91%)
Connecticut (-2.15%)
Ohio (-2.28%)
Virginia (-2.70%)
Vermont (-3.06%)
New York (-4.25%)
New Jersey (-4.34%)
Michigan (-4.45%)
Florida (-4.45%)
…But Florida Isn't Actually the Most Affordable State To Buy a Used Car
It was expected that Alaska and Hawaii would be the most expensive states to buy a used car, given their location away from the mainland., but the study did reveal some surprises, including which is the most affordable state to buy a used car.
"Alaska may be the most expensive state, but there are 34 states where it takes a bigger chunk of your salary to get a used car," Mitz said. "Mississippi doesn't have the highest prices per car, but locals pay a greater amount of their income per vehicle purchased — with locals paying 75.7% of their annual salary. The state in which a used car is most affordable is New York, where it only costs 41.5 percent of your annual salary. New Jersey, Massachusetts, Connecticut and California round out that top five."
Make Your Money Work for You
More From GOBankingRates
Make Your Money Work for You