58% of Gen Z Plans To Switch to EV in the Next 5 Years: Why It's a Smart Investment for This Generation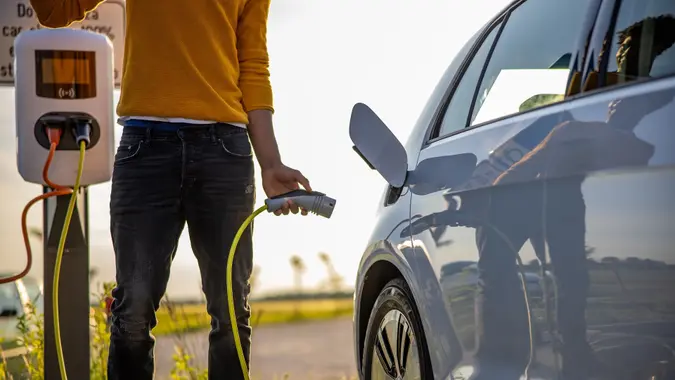 SimonSkafar / iStock.com
Gen Z is going electric. They're known for activism, so it's no surprise that much of this young generation is planning to make the shift to electric vehicles in the not-so-distant future.
Currently, most — 74.77% — members of Gen Z have never owned an electric car, according to a recent GOBankingRates survey of 18- to 24-year-olds. However, 58.25% said they're at least somewhat likely to buy one in the next five years.
To gain the business of this generation, automakers will need to ensure EVs are affordable. Despite knowing it will save them gas money, 63.76% of respondents said they wouldn't pay more than $7,500 extra for an EV over a similar gas-powered car.
In April 2023, the average price of a new electric vehicle was $55,089, according to Kelly Blue Book. This marks a $4,464 — 7.5% — decline from just one month earlier. Not too much lower, the average price of a new vehicle in general is $48,275, as of April 2023. This is a difference of just $6,814, so even at current rates, it's within the range that many members of Gen Z consider financially acceptable.
"The future of transport is becoming increasingly electric," said Alec Lucas, a research analyst at Global X, a thematic ETF firm based in New York City. "Mainstream EV adoption has been fueled by a combination of factors, including technological innovation, accommodative government policy, proliferating charging infrastructure and fleet electrification efforts from traditional auto original equipment managers."
Make Your Money Work for You
He expects these types of trends to continue to support future growth in EV sales, but he said there's still a learning curve when it comes to adoption.
"Automakers are making significant efforts to help potential buyers become more and more acquainted with EV ownership, as well as what EVs can and cannot do," he said.
Clearly, Gen Z is interested in being part of this growing trend. Here's a few reasons why purchasing an EV is a smart investment for this young generation.
EVs Are Becoming More Affordable
Economically speaking, buying EVs makes a lot of sense for Gen Z, said Liz Najman, climate scientist and communications and research manager at Recurrent, an EV research and analytics company.
"The purchase price of new and used EVs is falling, and there are enticing incentives on the federal and state level," she said.
In June 2022, new EVs reached a peak price of more than $66,000. This price is significantly less now, with a $55,089 average in April 2023.
Additionally, the Internal Revenue Service is offering a credit of up to $7,500 to qualified individuals who purchase a new, qualified plug-in EV or fuel cell electric vehicle.
More Predictable Cost of Ownership
In 2022, the average total cost of owning and operating a vehicle was $10,729 — per every 15,000 miles driven — according to the Bureau of Transportation Statistics. This includes $6,578 in fixed expenses and $4,151 in variable expenses, with the latter meaning there's lots of unknowns.
Make Your Money Work for You
"Owning an EV means a much more predictable cost of ownership," Najman said. "These generations have seen a lot of volatility in gas prices, and they know they can avoid staggeringly high gasoline prices by going electric."
The average cost of gas is $3.53 per gallon as of May 21, 2023, according to AAA.
Najman said the lack of having to buy gas, plus the fact that EVs have fewer moving parts, makes it easier to work this expense into your budget.
Eco-Friendly Benefits
All EVs can help improve fuel economy, reduce fuel costs and lower emissions, according to the U.S. Department of Energy. For example, all-electric vehicles produce zero tailpipe emissions and when operating in all-electric mode, plug-in hybrid vehicles also produce zero tailpipe emissions.
"We see that younger generations are eager to adopt EVs because they are more likely to be value-aligned shoppers inspired to use their dollars to fight climate change," Najman said.
Hebron Sher, CEO and founder of Zevo Corporation, the world's first peer-to-peer electric vehicle sharing platform, which will soon be launching in Dallas, also agreed the eco-friendly benefits of EVs are appealing to the youngest adults.
"Gen Z is significantly more open to ways they can collaboratively work together for a cleaner planet," he said.
Ease of Use
The ease of using EVs is another reason Gen Z is drawn to them, Sher said.
"Technology is at the center of all EVs, and if we've learned anything, it's that Gen Z loves technology and the convenience it brings to their lives," he said. "Not only does it save them time and hassle, it's basically the new 'cool.'"
Make Your Money Work for You
He said internal combustion engine vehicles — i.e., those powered by conventional methods, such as gasoline or diesel — are unable to compete with the technology and telematics EVs have to offer.
"Gen Z is impact driven, and they understand the importance of the 'movement to zero,'" he said.
If the price of EVs continues to fall, it seems likely that an increasing number of the Gen Z population will invest in them. Only time will tell if this will sway other generations to follow their lead, eventually allowing eco-friendly vehicles to dominate the road.
More From GOBankingRates