Cruise Lines Cancel Sailings Through End of Year … at Least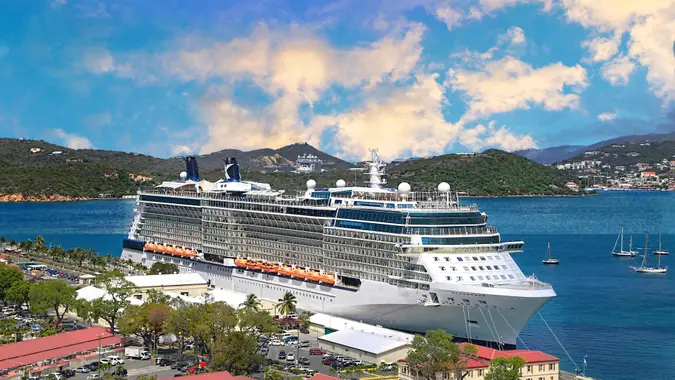 ©Shutterstock.com
The pandemic has been brutally hard on the travel industry as a whole, but perhaps no single sector has been dealt as tough a blow as cruise lines. They were excluded from the $2 trillion stimulus package passed in March, and now they're docked until at least the end of the year, as they face new strict health and safety protocols released by the Centers for Disease Control and Prevention on Friday, Oct. 30.
Though the CDC lifted its "no sail" order, which was issued in mid-March for all American cruise lines, they must meet stringent new health and safety protocols in order to set sail in the future. Among the new rules, cruise operators must have the proper medical equipment, expertise and training to treat passengers who get sick with COVID-19. Cruise lines also have to meet standards for hand hygiene, face coverings and physical distancing.
"This framework provides a pathway to resume safe and responsible sailing. It will mitigate the risk of COVID-19 outbreaks on ships and prevent passengers and crew from seeding outbreaks at ports and in the communities where they live," CDC Director Robert R. Redfield, M.D. said in a statement. "CDC and the cruise industry have a shared goal to protect crew, passengers, and communities and will continue to work together to ensure that all necessary public health procedures are in place before cruise ships begin sailing with passengers."
Make Your Money Work for You
Under the CDC's new regulations, cruise ships are not allowed to sail with an itinerary spanning more than seven days — though this too may change depending on public health considerations. So, it will be a while before cruises get back to normal again if they ever do. While most every type of business has had to reassess how to run in a pandemic-struck world, cruise ships have to overhaul their operations from top to bottom. They also could use some serious rebranding efforts. The mere word "cruise," once redolent of sweeping ocean views and endless margaritas, is now more likely to conjure imagery of quarantine and infectious disease spread.
See which other industries may never be the same after the coronavirus.
More From GOBankingRates
Make Your Money Work for You