Reasons to Spend Your Christmas Vacation on a Cruise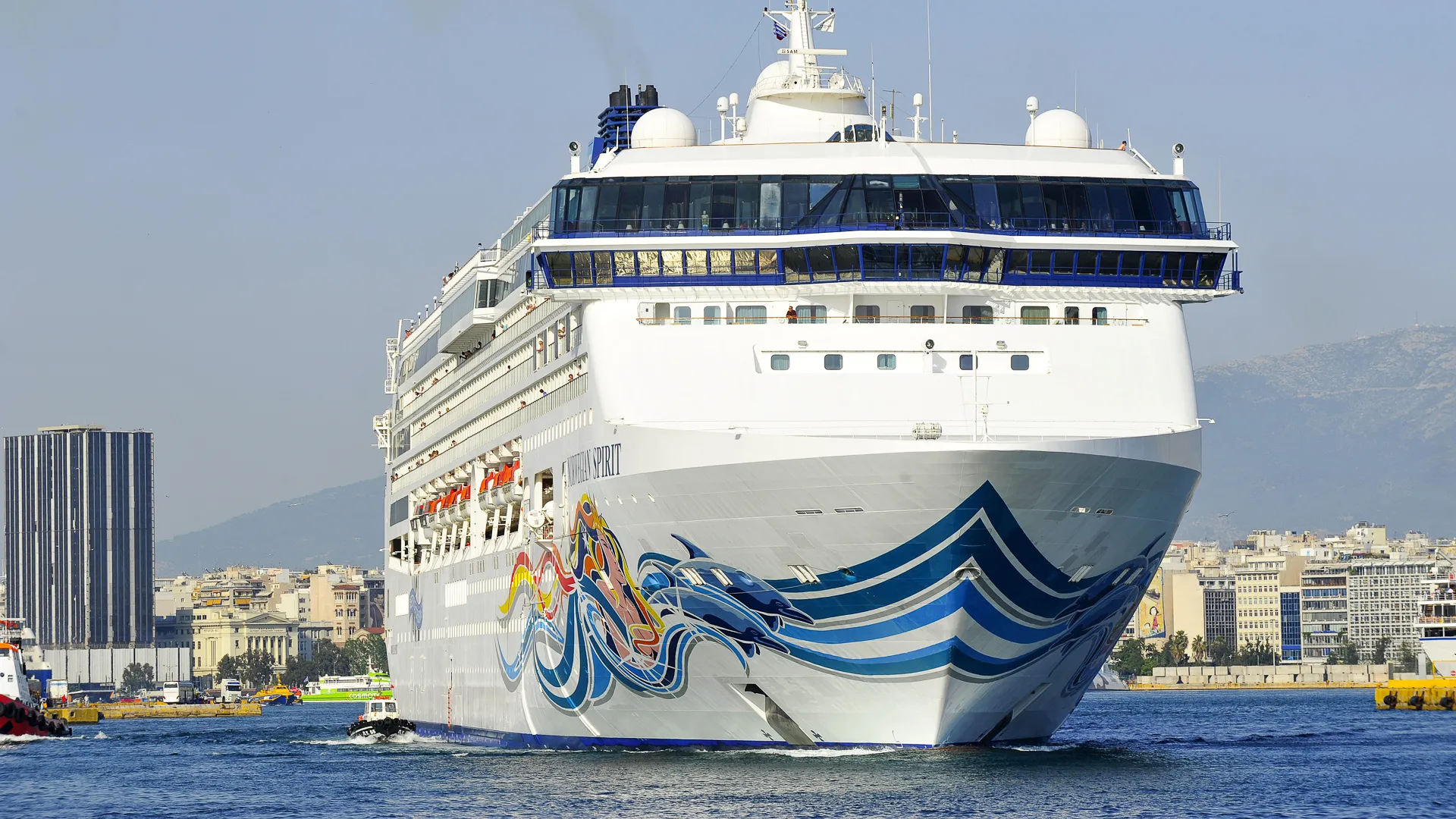 The holidays bring out the best in people. Your cat tore down the Christmas tree, Grandma got run over by a reindeer and your crazy uncle drank all the eggnog — it's no surprise you're secretly dreading Christmas. But how does a sun-soaked, crystal-blue water, all-you-can-eat vacation sound? Look no further.
Cheap cruises are the way to go this Christmas. Skip the hassle, leave the stress behind and watch how happy your family — and wallet — become. Click through to see the benefits of traveling this holiday season by going on a Christmas cruise.
Your Cruise Might Be All-Inclusive
There are many different ways you can waste money on a cruise. But a cruise shouldn't break the bank. After all, cruises are all-inclusive and offer great value for anyone on a budget. Here's a list of amenities typically included in your cruise fare:
Onboard accommodations
Dining options including room service
Fitness center
Live entertainment
Pools, hot tubs and waterslides
Kid and youth programs
Turndown service
With tempting options for add-on services — alcoholic drinks, spa treatments or shore excursions — it takes just a bit of discipline to stay within a budget.
You'll Make Memories
Instead of running around all season to visit relatives and hit the shops, find everything you want in one place: on a cruise ship. Many popular cruise companies — such as Disney Cruise Line, Princess Cruises and Carnival Cruise Line — create Christmas-themed adventures that you will never forget.
"Taking a Christmas cruise is really about having the whole holiday experience wrapped into one big, memorable vacation," said Kim Anwar, a cruise expert and owner of Magic Family Getaways. "For busy families, this can be a big time and stress-saver. Totally worth the cost of the cruise."
Make Your Money Work for You
You'll Spend Quality Time With the Family
When you think about it, we spend an inordinate amount of time planning and preparing just to make all those holiday experiences happen. The only work involved in taking a cruise, however, is booking it.
"A cruise is an awesome option for Christmas and can be cheaper than entertaining at home," said Carey Reilly, creator of the Not So Skinny Mom website and travel contributor to Fox News. "Being on a Disney cruise is like having your own private chef, activities director and caterer. Everything is done for you, so there's more time to spend with your family. Plus, there are enough places to explore on board that you can get away from the family, too."
You Don't Cook
Endless articles share secrets on how to host a stress-free Christmas dinner, but the most stress-free Christmas dinner is one you don't have to host at all.
Cruises are known for their diverse dining options, including all-you-can-eat buffets and innumerable holiday delicacies — none of which you have to prepare yourself. And on many cruises, all or most of the food is included in your cost, so you don't have to worry about the price.
Norwegian Cruise Line advertises Christmas cruises offering a holiday menu, appealing even to the pickiest eater. From butternut squash and pumpkin soup, roasted Maryland turkey and baked country ham to chicken tenders and pizza, no stomach will leave hungry.
Make Your Money Work for You
You Can Book Last Minute
Last-minute cruise deals are not impossible to find. The allure of a warm-weather getaway might have you overlook the fact that balcony cabins or in-demand suites are sold out. Although a cheap Alaska cruise might not be on the top of your wish list in December, flexibility is the key to finding the best holiday deals for last-minute cruises.
You'll Stay Entertained
Of course, you don't have to be a music lover to enjoy the entertainment aboard cruise ships. Many cruise lines distribute a daily newsletter to each room at turndown, detailing the next day's events, including entertainment options and port information.
"All our shows are family-oriented, except for the late-night, adult-only comedy show," said Giancarlo Novo, elite personal vacation planner, Carnival Cruise Line. "There is no cover to attend any of our shows, nor is there one for the nightclub aboard the ship. We also offer the largest casino at sea and have award-winning spas aboard our ships."
You'll Still Have Festivities
If you're concerned that you'll miss out on your favorite holiday activities, have no fear. Cruise ships offer special festivities during the holiday seasons such as adult-only cocktail parties, a visit from Santa and even a winter wonderland show — with real snow. Imagine the work that would go into planning all those activities at home.
"On a Disney Merrytime Cruise, you have all of your holiday festivities and activities wrapped into one holiday vacation," said Anwar. "You can go Christmas caroling, make gingerbread houses and Christmas cookies, take photos with Santa and attend a tree lighting ceremony, just to name a few of the festivities onboard."
You Can Stay Connected
Not everyone can completely disconnect from the outside world during holiday vacations. Cruise lines understand the importance of offering reliable WiFi access at an affordable cost.
Carnival Cruise Line offers a suite of internet plans at affordable costs. To keep your most loyal Instagram followers updated on your daily adventures, you can access social media websites and your email for just $5 per day. If you need additional access to websites or streaming services, the premium WiFi plan might your best option.
WiFi access isn't the only way cruises are going high-tech. Aqua Theaters, 3-D movie theaters and 80-inch screens connected to live cameras on the exterior of the ship are just some of the amenities being added to cruise ships to enhance the guest experience.
Make Your Money Work for You
You Can Find a Great Deal on Costco Travel
Not only can you save money on a massive block of cheese or box of diapers, Costco has been known to offer great deals on cruises. Its website includes holiday deals, from cheap Caribbean cruises to luxury cruises. And you can even view ship details, deck plans and select your stateroom.
Costco Travel benefits are only available to members. If you're an executive member, you will receive a 2 percent reward once you return from your trip. Although member-exclusive benefits vary depending on the cruise you choose, booking incentives range from receiving a Costco Cash Card to snagging some shipboard credits.
You Can Travel to Multiple Destinations
When you visit a resort, you only visit one area with a limited number of activities for the duration of your trip. With a cruise, you only have to unpack once and still get to visit exciting ports of call as you explore new cities and countries.
"You wake up every other day in a different island, a different country," said Giancarlo Novo, elite personal vacation planner, Carnival Cruise Line.
You can even try exciting activities by booking a shore excursion through the cruise line. Or, you can find the perfect excursion on your own.
You Can Drive to the Cruise Terminal
Flying during peak season can be expensive, and that doesn't even include baggage fees. With over 20 cruise departure ports around the U.S., you might want to consider booking from a drivable cruise terminal to cut flight costs. For an added adventure, take your time driving and stop to see some new places on the way.
You Don't Have to Watch the Kids
A variety of activities appealing to all ages is one reason families choose to go on a cruise. Spending time together is important, but parents need to relax and recharge on vacation as well. Whether you prefer the serenity of the spa or want to dance the night away, cruises offer a large variety of adult-only activities.
For the youngest travelers, most cruises offer children's activities on board, which are free or offered at a low price. Disney Cruises have specially trained counselors who run the kids clubs. They plan activities, crafts and even host themed parties. Disney offers a nursery for babies as young as 6 months, but it requires advanced registration and is only offered on a first-come, first-served basis.
Make Your Money Work for You
You Don't Have Housework
That free housekeeping that we love in hotels is also available on cruises. On a cruise, you can play, explore and eat all day and come back to a perfectly clean room. They might even leave a towel animal on your bed. Just remember to tip the housekeeping staff.
You Don't Have Laundry, Either
Laundry is one of those things that we can't avoid at home. The majority of cruise lines have coin-operated laundry machines, so you can do your own. But you don't have to. For a fee, in addition to offering dry cleaning services, most cruise lines will wash and fold your clothes.
Your New Year Will Get Off to a Great Start
Going into the new year feeling your best will set the tone for the upcoming year. There is something for every fitness level on a cruise ship, from traditional exercise methods like lifting weights to group activities like playing basketball or taking a morning boot camp class. For the adventurous type, climbing up a rock wall overlooking the ocean might be your way to break a sweat.
If you're still debating on cheap vacation ideas for this Christmas vacation, think of how happy you'll feel returning home stress-free and ready to kick off a healthier you in the new year.
Krista Baum contributed to the reporting for this article.