Avoid These 14 Money-Wasters on Your Next Cruise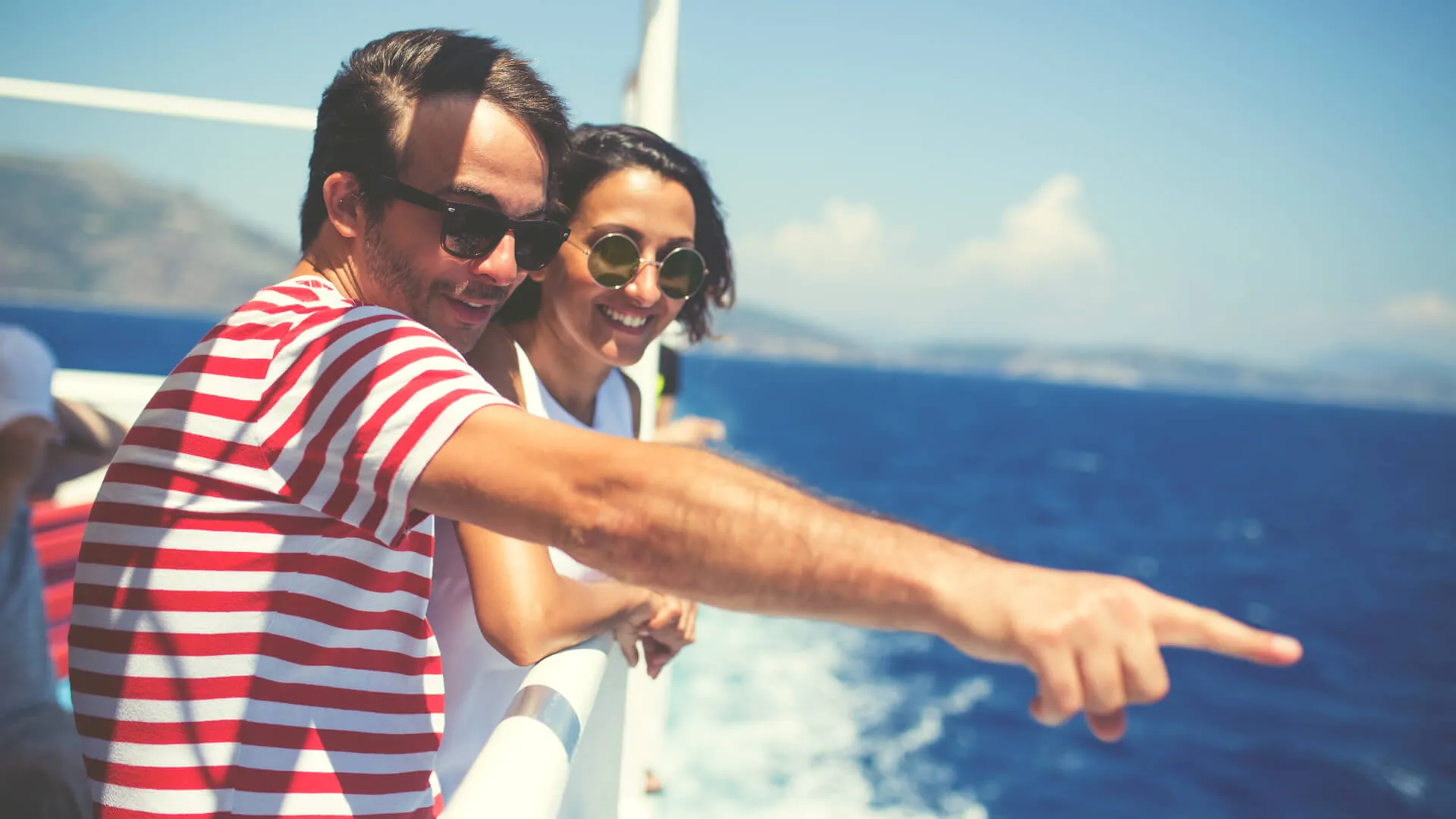 Don't: Pay Extra for Wi-Fi and Data Roaming Charges
Staying connected online can be a challenge when you're out at sea, especially on a multiday cruise. Although major cruise lines — including Royal Caribbean and Carnival Cruise Line — are taking steps to provide high-quality, broadband Wi-Fi access to passengers, this service comes at a price.
Leading cruise review and information site Cruise Critic recently reported that pricing is going down, noting that Carnival charges $25 per day for full internet access, but it's still costly for cruise lines to connect passengers to the net. If you're going on a seven-day cruise, you could easily spend up to hundreds just to stay connected during your journey.
Make Your Money Work for You
Do: Check Your Settings
To avoid unnecessary costs when traveling, a good cruise hack is to check your settings before departure, and pay close attention to Wi-Fi access fees before you connect.
Try to plan your connected hours out accordingly, budgeting your time spent online when you're out to sea. When you're dying to get online, try and find spots as you're in port that offers free Wi-Fi, such as cafes or other public places to connect on the cheap.
Don't: Buy Drink Packages Onboard
One of the best ways to save money on your cruise is by buying an all-inclusive package for unlimited drinks if you plan on enjoying alcoholic beverages. Just make sure you're aware of any extra charges and rates when buying the package online versus during your trip.
Do: Book Online
Many times, various cruise lines will offer steep discounts for passengers who book their add-ons online before they even set foot on the vessel.
For example, the Cheers! Beverage Program available on most Carnival Cruise Line ships costs $51.95 per person, per day, plus 15 percent gratuity ($59.74) if you buy online. You will end up paying $56.95 per person, per day, plus 15 percent gratuity ($65.49) if you buy on board — that's nearly $6 in savings just by planning ahead.
Don't: Dine at Restaurants Not Included in Your Package
Even if your cruise vacation is part of an all-inclusive package that includes luxurious dining options, most cruise lines still have limitations on where you can eat and what beverages you can enjoy. When you choose meals or snacks from venues that aren't part of the package, you be billed in full when you check out — plus gratuity.
For example, a cruise aboard a Royal Caribbean ship will include most meals and some beverages. But if you end up dining at any of the ship's specialty restaurants, such as Johnny Rockets — and you order beverages — you will be charged extra. Additionally, some of these restaurants have cover charges.
Make Your Money Work for You
Do: Plan Your Restaurant Itinerary Accordingly
Plan ahead so you can pad your budget accordingly if you've got your heart set on eating at a non-included restaurant spot.
Before you leave home, read the cruise line's terms for any gourmet dining purchases during your trip, and find out if you can use gift cards at onboard restaurants. Also, make sure you and your entire family are well-versed in which restaurants are included in the package, so you don't get slapped with an unexpected food bill.
Don't: Only Book Excursions Through the Cruise Line
Although it's worth checking out the latest cruise excursion options listed by your line of choice, one of the best cruise tips is to avoid limiting your search to cruise line activities because you think you will be saving money.
Often times, the excursions offered directly through the cruise line will be steeply-priced and crowded because many other passengers from your vessel will be attending too.
Do: Shop Around for Excursions
Cruise and travel writer Sherry Laskin Kennedy of Cruise Maven recommends booking your cruise with travel agents because they receive the timeliest updates directly from the cruise lines. Consider them your travel insiders. After all, they get information about the newest menus, changes to itineraries and availability.
You can also save money on your cruise vacation using the online Cruise Agent Finder tool from the Cruise Lines International Association (CLIA).
Don't: Neglect to Pack Essentials
Packing for a cruise often means downsizing your usual packing list to accommodate for smaller cabin space. That doesn't mean you should skimp on the basics like toothbrushes, toothpaste, hair care products and even snacks, though.
You might think you can just buy these items at a gas station along the way or pick up personal care products and food from the cruise ship's convenience store. But doing so means paying marked-up prices.
Make Your Money Work for You
Do: Make a Checklist Before You Board
Before you ever leave the house, make a comprehensive checklist of all the must-haves you use on a daily basis — or if you're truly crunched for time, you can find a pre-made checklist on the internet to help you pack. Hit up your local Target or Walmart before you even leave town and snag a few travel-sized versions of your favorite toiletries and bring them along. You'll make it easier on your wallet and your peace of mind.
Don't: Buy Souvenirs and Duty-Free Goods
It's tempting to pick up souvenirs from the gift shop or stock up on handmade goods and other items when you're island-hopping.
But don't be seduced by the idea of your purchases being discounted if you decide to venture to a duty-free store aboard an international cruise. Americans who meet their duty-free spending limits are still subject to duty charges when they enter the U.S. A single traveler gets an $800 exemption, but the next $1,000 worth of goods purchased are subject to a flat 3 percent rate.
Do: Consider Buying Online
Check to see if the store offers online sales if you see a souvenir your heart is set on. It will be shipped right to your home with no need for you to schlep it on and off the ship, plus you'll be bypassing any international tax and duty-free headaches that might arise.
Don't: Buy Expensive Spa Products and Packages at Sea
Almost all the major cruise lines — especially the romantic cruises for couples — boast luxury spas that serve up pampering at a premium. You can probably enjoy a much-needed relaxation session for less, though, if you book services off-site.
Cruise lines and travel agents often try to schedule treatment packages that are simply added to traveler bookings. These might include multiple treatments in one day or over several days of the cruise. You might also find recommendations on spa products to purchase in your cabin or when you check out from the spa. Just make sure you're aware of the a la carte menu prices for those massages, pedicures and other spa treatments before you agree.
Make Your Money Work for You
Do: Get Pampered in Port
Instead of paying a premium to get some R&R at sea, look into locally owned spas that operate out of the port cities you'll be stopping in. Often times, they'll be cheaper than the onboard spa — plus you'll have a fun, unique relaxation experience tailored to the destination you're visiting.
When you're dying for some relaxation on board, ask about getting a pass to the spa pools and relaxation areas for more affordable R&R.
Don't: Leave Unfinished Drinks Behind
Unless you opt for an all-you-can-drink option on your cruise plan, you will have to pay per drink — so don't waste money by leaving a half-full cocktail or glass of wine behind.
Do: Bring It Back With You to the Room
There are no "open container" laws on cruise ships, reported Smarter Travel, which means you can take your drinks from bars and restaurants with you when you are ready to go.
Don't: Tip Too Much
Depending on the cruise line you choose, you might automatically be charged a daily gratuity.
For example, Carnival charges a minimum of $12.95 per person, per day, which is either prepaid in advance or automatically charged at the end of your cruise. The line lets guests adjust tipping at their discretion, however. In addition, the cruise tacks on a 15 percent gratuity to all beverage services and a 15 percent gratuity to all Chef's Table dining.
Norwegian Cruise Line charges a minimum of $14.50 per person, per day, as a "service charge," and Royal Caribbean automatically charges a minimum of $14.50 per person, per day.
Make Your Money Work for You
Do: Learn the Proper Rules of Gratuity
You should know the rules of tipping before you set sail.
Of course, you're welcome to tip extra for exceptional service, but don't feel like you have to. The daily charges usually cover dining services, your stateroom attendant and other guest services. Check your cruise line's gratuity policy in advance.
Don't: Spend Too Much Time in the Casino
Gambling is gambling, whether you are at sea or on land, so you can just as easily lose money fast when you're aboard a cruise ship. Many cruises set up their ships so you will have to cross through the casino several times a day when walking to different locations, reported Smarter Travel.
Do: Check Out the Other Activities Aboard
Cruise ships are entertainment wonderlands on the open seas — don't feel like the casino is the only source of entertainment when you're sailing. Use this time to see all the other entertainment options available to you, instead of throwing it all on black.
Avoid the daily temptation by abstaining from gambling in the casino, or if you're dead-set on visiting when you're aboard, be sure to set limits for yourself in advance.
Don't: Buy the Professional Photos
Cruises are filled with professional photography stations where you're encouraged to pose for photos with your loved ones and friends, and the prints of these photos can come with a pretty hefty price tag. For example, a 10-photo package on Norwegian will set you back $149.
Make Your Money Work for You
Do: Take Your Own Photos
Instead of dropping $149 on 10 pictures, you can snag a brand-new, 16 megapixel, high-definition Kodak PixPro from Walmart for $145.99 — and you can take as many pictures as you want, for as long as you own the camera. When it comes time to save your photos, upload them to a picture printing service like Shutterfly or Snapfish to get photos as cheap as nine cents a print.
Don't: Order Wine by the Glass
As a general rule, it's cheaper to order wine by the bottle than by the glass, and this holds true on cruise ships as well. On Carnival, for example, a glass of Barefoot Cabernet Sauvignon costs $6.25, but the whole bottle costs $27.50. Given that a standard bottle of wine holds five glasses, you'd pay $31.25 for the same amount of wine if you ordered by the glass.
Do: Splurge for the Bottle
Remember, you can take unfinished beverages with you. So even if you don't plan on finishing the whole bottle in one sitting, it's a more economical option to opt for a bottle over individual glasses.
Don't: Upgrade Your Room
The price difference between standard and deluxe accommodations can be astounding on certain cruises. On a four-night Disney Magic cruise to the Bahamas, an interior standard room starts at $1,669, and concierge level rooms can be up to $6984.
Do: Stick to the Basics
Although it might be tempting to go for the deluxe options, if you're truly taking advantage of all the perks of traveling, you should be spending most of your time outside of the room anyway.
Chances are you didn't book a cruise with the intention of sitting in your room all day. Before opting for more expensive accommodations than a standard interior room, take a moment to decide if it's worth the extra cost.
Make Your Money Work for You
Don't: Eat Meals During Excursions
Many cruises are all-you-can-eat, so there's no sense in eating a meal off the boat at a docking destination. Even if you have your heart set on a romantic, tiki-lit dinner planned at a local island hot spot, remember — every dollar adds up on your dream vacation.
Do: Take Advantage of Your All-Inclusive Food Options Aboard
For the most economical option, try to plan your day so that you can eat on the boat before and after your excursions and avoid paying for additional and unnecessary food costs.
More From GOBankingRates
Rachel Farrow and Gabrielle Olya contributed to the reporting for this article.