Attend Less College and Earn More Money–Two-Year Degrees that Promise Big Salaries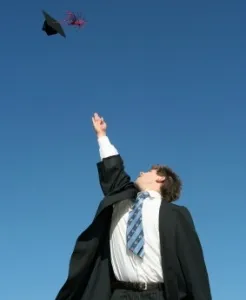 Now more than ever, students interested in pursuing higher education have plenty to think about. Is it always the right choice to push for a bachelor's degree, even if you can't really afford the student loans? Is college the right choice at all? For those who have been contemplating taking a shorter route, it's good to consider acquiring their associate's.
What Is an Associate's Degree?
An Associate's Degree, or A.A., is a degree than can be acquired in two short years. Some believe it's next-to-impossible to earn a good living without at least four years of education and a host of student loans under your belt, but the following degrees and jobs prove that you can indeed turn two years of studies into a big payday.
Great 2-Year Degrees, Even Better Salaries
The Salary Wizard created by Monster.com helped to put together a list of jobs that offer a very reasonable salary and don't require years of college–or the debt that usually goes hand-in-hand with paying for it.
Make Your Money Work for You
Check out the degrees required to obtain these jobs. You might just find the right career for you.
1. Registered Nursing – $65,000
According to the Salary Wizard, registered nurses have more career flexibility than other associate's-level healthcare workers. Even better, their salaries fall into the $65,000 range.
One thing that's good to know, however, is that many nurses are seeking advanced education now, so to remain competitive, Monster.com recommends either pushing for a four-year degree or seeking an employer that will pay for the additional education.
2. Dental Hygiene – $62,068
Studying dental hygiene is another possibility for individuals looking for reasonable-paying jobs after acquiring a 2-year degree.
The dental hygienist has standard duties, including talking to patients about brushing and flossing, cleaning teeth and assisting the dentist. The good news is that this job has a median salary of over $62k, making it well worth the two years you invest in training.
3. Respiratory Therapy – $58,366
According to Monster.com, a career in respiratory therapy is one of the more challenging of those found on this list. You will be required to take tough courses, such as chemistry and anatomy while pursuing your degree. After graduating, you're likely to work in a hospital, which means your shifts could include evenings and weekends.
Make Your Money Work for You
4. Programming – $54,204
Within the Information Technology industry are a multitude of high-paying jobs that allow experience and certification to take the place of four-year degrees. Programming is one of those positions.
In fact, if you study programming for two years and learn .Net, C#, Java or Visual Basic, you could very easily score a salary above the $50,000 mark after just a few years in the field.
5. Electronics (Telecom Installer) – $53,223
Telecom installation offers a very competitive salary. However, in order to acquire this job, you'll either need an associate's degree or trade-school certificate in electronics.
The median salary of over $53,000 is already a bonus, but according to Monster.com, if you join the Communications Workers of America or the International Brotherhood of Electrical Workers you can boost your salary even more.
6. Industrial Engineering – $49,485
By acquiring an associate's in mechanical, electrical or industrial engineering from a program accredited by ABET, you can secure a position as an engineering technician. Of the three types of degrees, industrial engineering technicians earn the most, but just about any type of engineering tech position could secure a paycheck you're likely to be happy with.
Make Your Money Work for You
7. Criminal Justice (Police Officer) – $49,982
As you already know, police officers risk their lives every day to protect and serve their communities. In return for their hard work, they're often able to earn a reasonable income–according to Monster.com, one in the ballpark of $49k if they take the extra step to acquire two years of education in criminal justice.
What's great about this field is that excelling and earning even higher incomes is possible. Not to mention that police officers can sometimes retire after just 20 or 25 years in some jurisdictions.
8. HVAC and Refrigeration- $47,883
Like a few other jobs on this list, you can become an HVAC mechanic with just a high school diploma and an apprenticeship. However, you can boost your pay into the upper $40k range by getting your associate's degree in HVAC and refrigeration. Also, consider a position with your local government to give yourself a better bet for a solid salary and job security.
9. Paralegal Studies – $47,397
If you want to enter the paralegal field, your best bet is to acquire your two-year degree in paralegal studies or attend a school specifically geared toward this profession.
Make Your Money Work for You
Keep in mind that being a paralegal requires a whole lot of reading, writing and organizing paperwork for attorneys. If that's your cup of tea, you could secure a salary in the mid- to upper-$40k range with a large law firm.
There's no doubt that one of these degrees could indeed provide you with a job you love. But also keep in mind that there are other high-paying careers that don't require a bachelor's degree.
If you're really interested in getting started, you could take the traditional route of attending school in a classroom, or if you need greater flexibility in your schedule, you could acquire an associate's degree online that will give you the same quality education from the comfort of your home.