The Differences Between For-Profit and Nonprofit Colleges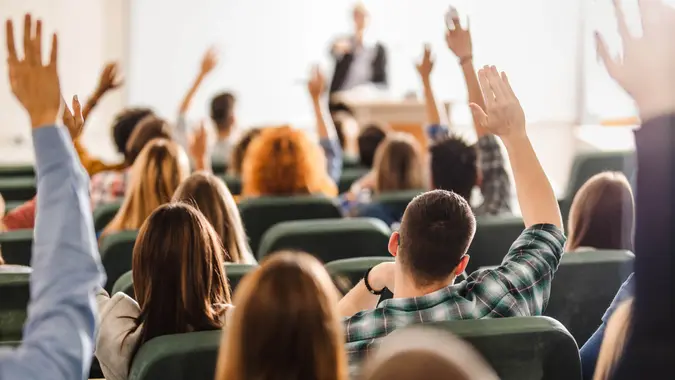 skynesher / Getty Images
With the cost of college skyrocketing, it might be hard to believe that most of the well-known universities around the country are actually nonprofit institutions. But that is indeed the case, as name-brand schools from Harvard in the East to UCLA in the West operate on a nonprofit basis. Other schools operate on a for-profit basis, making money from student fees and generating profits for shareholders. You've likely seen commercials or advertisements for The University of Phoenix, which is one of the most ubiquitous examples of a for-profit college, particularly in the Western U.S. If you've ever wondered just how these types of institutions differ, take a look at the characteristics, pros and cons listed below.
See: What It Really Costs To Attend America's Top 50 Colleges
Take a Look: Explore the Cost of Education in the United States
What Is a Nonprofit College?
A nonprofit college is generally a four-year baccalaureate institution with extensive physical facilities and a focus on campus life. Nonprofit colleges take the revenue they generate from student fees, endowments and other sources of income and reinvest it in course development, instructors and better educational facilities. 
Make Your Money Work for You
Nonprofit colleges can be either public or private. Public nonprofits receive about 21.5% of their revenue from tuition and fees, while about 39.3% of private nonprofit revenue comes from the same. Most nonprofit institutions offer a broad liberal arts curriculum focused on traditional educational subjects like history, English and sciences rather than trade-oriented subjects, although those may be available as electives.
What Is a For-Profit College?
For-profit colleges typically have very different characteristics than nonprofit ones. Most for-profit colleges are online, and their curricula focus more on vocational training or trades. Many offer two-year programs of study rather than four-year bachelor's degree programs. However, many for-profit colleges, such as the University of Phoenix, offer both online and campus-based instruction, in addition to degrees and certifications all the way up to the doctoral level. 
Make Your Money Work for You
For-profit colleges tend to use most of their revenue for recruitment, marketing and executive bonuses, as they need additional students to generate revenue. The typical for-profit college receives 90% of its revenue from tuition and fees, which is dramatically higher than nonprofit colleges. For-profit colleges are run like a business and typically must answer to shareholders, who constantly demand increasing profits. This has given some for-profit colleges a bad reputation. 
Which Is Better, a Nonprofit or For-Profit College?
As with so many things in life, whether a nonprofit or for-profit college is better depends on what you want. If you're looking for a name-brand, accredited, four-year institution imparting a broad-based curriculum on a physical campus, a nonprofit college is likely your best choice. However, if you're looking to learn a trade or directly marketable skills rather than a baccalaureate degree, or if you prefer online instruction, a for-profit college might be a better fit.
Make Your Money Work for You
If you go this route, just be sure that the college teaches exactly what you want to learn and has a good reputation among both former students and current business leaders in your field of interest. Also, be sure that the for-profit college you choose is investing in your education and not simply using all of its revenue to recruit additional students. As some for-profit colleges have a reputation for substandard education, do your homework before you choose the first one you find.
More From GOBankingRates
Last updated: Aug. 9, 2021
Make Your Money Work for You