You Haven't Saved Anything for College: Now What?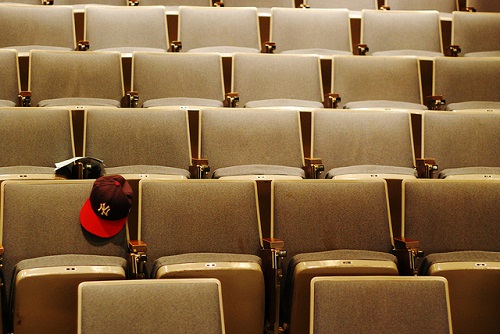 You might be on the cusp of starting your college education or be a year or two in when you realize that there's no more money saved to finance your tuition, books and fees. With one year of tuition and fees averaging $30,094 at private schools, $8,893 for in-state residents and $22,203 for out-of-state residents attending public schools, according to the College Board, the cost of attending college is a huge financial undertaking. Factoring in housing, meals, books, school supplies and other necessary expenses, the College Board defined a moderate college budget for the 2013-2014 academic year to be an average $22,826 for an in-state public college education and $44,750 for a private university.
Some families invest in 529 plans to save up for these costs starting when their children are toddlers, while other families cannot spare extra funds toward non-immediate expenses. So what is a student to do when he realizes that nothing has been saved for his college costs?
5 Ways to Cut Down on College Costs
1. Apply for Scholarships: $100 to Full Costs
By now, many scholarship application deadlines will have passed for this upcoming year. Some academic and athletic scholarships can cover the entire cost of attendance; however, you likely were awarded a scholarship from the university upon admission or played your sport of choice for many years to land a full ride.
Luckily, there are some merit scholarships that are available throughout the year. Some helpful scholarship search engines include CollegeBoard.com, CollegeNET.com, Fastweb, Scholarships.com, ScholarshipMonkey.com and Zinch.com. Even a few hundred dollars earned for academic prowess, community involvement or leadership potential could help cover books and small expenses.
If you know of a particular organization or student group you plan to be a part of, reaching out to them directly can even help you secure funds. As a high school senior, I sent in my writing portfolio to the student-run newspaper at a public, out-of-state school, which awarded me over $40,000 in scholarship money to help me attend. That initiative to reach out and explain my interest led to a substantial scholarship with no application needed.
2. Participate in Work Study: $4,350 or more
If you filled out a FAFSA application back in June for federal student aid, you might have selected work study as a means of earning money toward college. Work study is granted to students who demonstrate financial need and can give those who participate both a means of earning income toward the costs of education as well as useful workplace skills. Eligible students often work on campus for the school or off campus for a private nonprofit organization or a public agency.
Given the part-time requirement of work study and the federal minimum wage of $7.25, obtaining 20 hours of work a week during the academic months of August through May should help a student earn about $4,350 for the typical 30-week academic year. That's enough to cover about half a year of tuition and fees at an in-state public school. It might be too late to get a work study placement now, but applying for this option for next year could help cut down costs you'll be worried about in the future.
3. Become a Resident Assistant or Get a Campus Job: $5,800 or more
If you didn't submit a FAFSA and are late to the work study option, campus jobs and resident assistant positions can help cover costs. At many schools, being a resident assistant — a dorm floor leader and point of contact — can cover housing costs in full. Resident assistants are often given a free dorm room and even dining hall meals vouchers in exchange for their services in fostering a positive culture and guiding a group of students. The beginning of the school year might not be too late to snag an RA position if housing demands require the residence hall to open up a new spot.
There are so many campus jobs at any school; be it serving coffee at the on-campus java joint or working at the student union or bookstore, on-campus jobs can help students cover costs. The same way work study could earn a student over $4,000, a campus job could earn a student as much, if not more. And, if your school operates during the summer, as well, sticking around to work at the library or ticket booth could earn a student an additional $1,450 or more for a 10-week long summer.
Student government positions and working for on-campus organizations like the student-run newspaper or radio station can also come with salaries of a few hundred dollars or more. At some schools, the student body president attends school tuition-free or at a discounted rate during his tenure.
4. See If You Qualify for Student Loan Forgiveness: Up to $60,000
Students would be understandably more willing to take out a bigger loan if they knew they could be forgiven for the debt. Depending on the field of work you're interested in and the subject you study, you might be able to earn partial forgiveness for your student loan debt.
If you have a federal Stafford loan, for example, up to $4,725 can be forgiven through certain types of volunteer work and public service and up to $10,000 will be forgiven through the Army National Guard's Student Loan Repayment Program.
The Perkins Loan, a need-based loan, can be forgiven by 15 percent for each year of volunteer service with the Peace Corps. Full-time elementary and secondary school teachers in low-income communities can reduce their loan balances by 15 percent for years one and two of employment, 20 percent for years three and four, and 30 percent in year five of teaching, up to $17,500 through the Teacher Loan Forgiveness Program. Those who teach in an understaffed subject like math, science and special education can also qualify to have their Stafford and Perkins loans forgiven.
Those who work for a federal agency could also receive up to $10,000 per year in employer contributions to outstanding student loan debt, up to a maximum of $60,000.
Additionally, the federal Public Service Loan Forgiveness Program removes all remaining debt after 10 years of consistent payments and service for those who work for a nonprofit or governmental organization.
5. Know Your Loan Options: Up to Full Cost
Pay attention to the interest rate on your student loan. Federal student loans are going to offer lower interest rates, which will affect the monthly payments made on the loan balance, as well as the total amount of money paid over the course of the loan term. With that said, interest rates will be increasing as the Federal Reserve slows down its stimulus measures.
Comparing interest rates for loans taken out before July 2014 and those taken out after shows a 0.80% increase in rates. Direct subsidized and unsubsidized loans for undergraduates will charge 4.66% when taken out between July 2014 and July 2015, up from 3.86%, while direct unsubsidized loans are up to 6.21% from 5.41% for graduate and professional students. Direct PLUS loans are now 7.21% compared to 6.41% for the same time frame.
CNN Money has found loans with rates as low as a 1.00% APR. Borrowers should treat financing an education just like financing a car, mortgage or other large expenditure. Researching different loan programs and comparing available rates will help students finance their college educations at the lowest cost possible.
Photo credit: Seth Sawyers