How Much Does It Cost for College Test Preparation and Is It Worth It?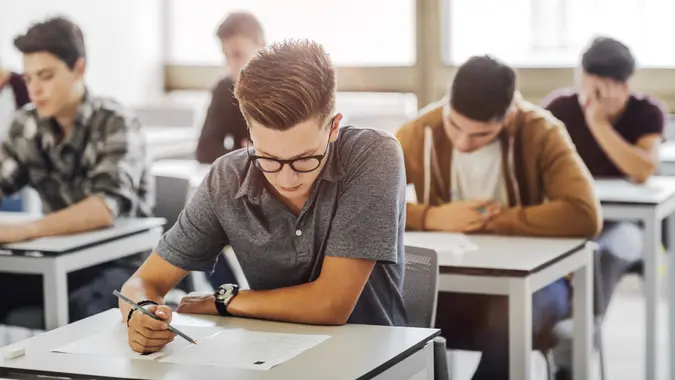 ©Shutterstock.com
As though getting ready for college and (possibly) eons of student loan debt wasn't stressful enough, teens must tackle the hurdle of traditional tests such as the SAT or the ACT test. These tests can make or break your chances of university acceptance. 
Be Aware: 15 College Degrees That Won't Make You MoneyFind Out: 20 Jobs Where You Can Make $60,000 Out of College
How can a teenager ready themselves for these seminal exams? They face no shortage of options given that there's an entire industry marketed around test preparation. How much exactly does test prep of all levels cost and when is it worth the investment?  
GOBankingRates consulted finance and education experts to get a comprehensive breakdown of how this tricky little world works. 
Find Out: What It Really Costs To Attend America's Top 50 Colleges
Test Prep Can Cost Thousands
"Prices for college test prep vary widely so it's difficult to pinpoint the average cost for the ACT, SAT Subject, and AP tests," said Amy Pritchett, student success manager at Preply. "Generally speaking, you can expect to spend anywhere from $50 to $3,000 preparing for college tests. This really depends on the type of course and the option that you choose.
"For example, 20 hours of test prep in person could cost anywhere from $1,000 to $2,500," Pritchett continued. "If you choose to have online courses, you could spend something like $200 to $600 for the same amount of time."
Make Your Money Work for You
Is It Worth It? It Depends…
"Investing in test prep is a choice that ultimately depends on your score goals and how much you value getting into specific universities," said Eric Kim, program director at LA Tutors. "Getting a highly competitive score can provide the extra push that some applications need to stand out against their peers. If getting into that dream school is important to you and you can submit a competitive score, it may be worth putting in the time to prepare."
A Great Score May Help You Get a Scholarship
"While approximately 2/3 of US colleges are currently test optional/test blind for general admission purposes, many colleges are still requiring test scores for scholarship purposes," said Lindsay Fried, a certified educational planner with Simply Admissions. "For example, here is the University of Alabama's automatic merit scholarship grid for the Class of 2022. If the $3,000 of test prep helps a student improve their ACT score 2 points (from a 28 to a 30), they could receive $5,000 more a year in scholarships ($20,000 total). That would be a positive return on their investment." 
Do Your Homework First
Before parents and/or teens invest in a test prep course, they should take the time to research which colleges they want to apply to and find out the costs of pursuing post-secondary education. 
"It's good to know in advance which programs they want to pursue, and how much tuition will be," said Sandy Yong, author of "The Money Master." "Another major consideration is whether they will be applying to a local school where they can live at home or to live on campus and gain that experience living away from their parents. Living on residence and food costs can add up quickly over the course of a typical 4-year period." 
Make Your Money Work for You
Do the Math
College-bound kids should be sure to crunch the numbers and have a discussion with their parents to see what they can afford and the options to pay for their education before investing in test prep. 
"The earlier you plan, the better," Wong said. "You can look into applying for scholarships, grants, student loans and bursaries to help with the financial burden."
Check It Out: Where These Top CEOS Went To College

Some Students Do Not Need To Take These Standardized Tests
Before you start worrying about test prep, find out when and why you need to take standardized testing. Several Ivy League schools such as Yale and Harvard temporarily eliminated the need for these tests due to the pandemic, while the University of California system is completely eliminating the need for these scores.
Rachel Coleman of College Essay Editor points out that the following groups of people currently should, but do not need to take standardized tests:
Home-schooled students

for whom standardized tests can offset the nonstandardized aspect of their education

Students who intend to apply to universities abroad:

 "Most UK / EU schools heavily rely on these tests (and AP / IB tests) as replacements for the testing programs in these countries," Coleman said.  

Students applying to highly selective universities

(or especially selective programs like engineering and CS) who need standardized testing as a key competitive differentiator

Students hoping for admittance to Honors Colleges:

 "It remains to be seen if Honors Colleges will go test-optional," Coleman said.  

Students hoping for merit aid:

"It is possible that students with strong standardized test scores will find themselves with larger merit aid packages than those without test scores," Coleman said. "I believe this will depend on each individual school's philosophy and approach to their test-optional policy (i.e. did a school pursue the test-optional policy pre-pandemic, and therefore it was planned, or is it a "band aid" policy that the administration does not really believe in?)."
Make Your Money Work for You
Look Into Discounted and Even Free Options
A customized and/or personalized test prep course is certainly a nice luxury, but it's not the only path. If you're disciplined and eager, you can access test prep for free. 
"Students who cannot afford [test prep course] should search for discounts on testing services or look for 100% free test prep materials," said Chuky Ofoegbu, a college admissions expert and founder and editor of Sojourning Scholar. "A good resource for free test prep materials is Khan Academy. In comparison, some big test preparation companies such as Kaplan and Princeton Review offer discounted prices on their courses to students who qualify for financial need."
A Meeting With a Test Prep Expert Is Worth It
If you're on the fence about investing in a test prep course or private tutoring, consider a consultation with a test prep expert — just to get a feel for what they can provide. 
"Even a brief meeting with a true test prep expert can boost a young person's confidence simply by informing them that they are good enough and can score well," said Brady Norvall, founder and chief education officer at FindaBetterU. "Also, because the tests, especially the SAT, are really tests of familiarity with the formatting, as opposed to purely testing the student's subject mastery, a short hour or two with a great prep person can really launch a student into a clearer understanding of the way the test is asking them to think — and answer. At the same time, I would say that a great test prep person also provides a return on investment in self-confidence and what teenager doesn't need a kind adult who believes in them?"
Make Your Money Work for You
More From GOBankingRates
Last updated: Aug. 9, 2021