6 Mobile Apps That Are a Waste of Money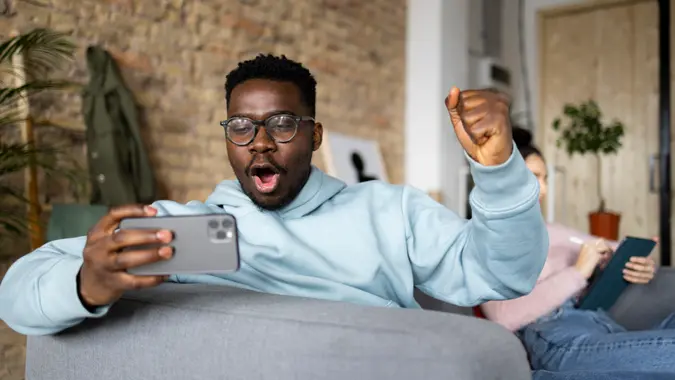 Ivan Pantic / Getty Images
Our phones are our companions — a source for connection, communication and entertainment. Really, who doesn't have a favorite mobile app on their phone that they dive into when they have a little free time?
We are living in the digital age where technology is making leaps and bounds like never before. However, it still costs money to play lots of games and just like throwing money down the drain on bunk electronics, not all mobile apps are quality. Lots of these mobile app games may have restrictive paywalls. Alternatively, others tease expensive in-app purchases to enhance the value and enjoyment of the players.
"The game can be enjoyed without these purchases, but it's noticeable that the pace and options within the game are limited when not making additional investments," says avid mobile gamer and founder of Character Counter, Burak Özdemir. "While the game still provides entertainment, the constant push for in-app purchases can detract from the gaming experience, making it feel more costly than one might initially perceive."
GOBankingRates reached out to Özdemir and other gamers to find the top mobile apps that are a waste of money. The prices outlined are estimated ranges that differ depending on the specific offers and regions. Here's what they recommend you delete — or never download in the first place.
Make Your Money Work for You
Candy Crush Saga
Price: Free to play with in-app purchases ranging from $0.99 to $149.99
Candy Crush Saga is the very popular match-three puzzle game which sets up limited moves and lives. Players recount frustration that comes from needing to purchase additional moves or boosters in order to advance further in the game.
"Players can purchase additional lives, boosters and power-ups to progress faster or overcome challenging levels," says Sufyan Mughal from GamingTechReview.com. "Prices vary depending on the specific item or bundle."
Clash of Clans 
Price: Free to play with in-app purchases ranging from $4.99 to $99.99
A big-time strategy game, Clash of Clans utilizes timers for building structures and training troops. Players can choose to wait for extended periods or spend real money to speed up these processes.
"Players can buy gems, which are used to speed up processes, purchase resources and unlock exclusive items or features," notes Mughal. "Prices increase as the amount of gems and the level of convenience or advantage provided increase."
Pokémon GO
Price: Free to play with in-app purchases ranging from $0.99 to $49.99
An augmented reality game that puts players in between the real world and the digital one to hunt for virtual Pokémon, Pokémon GO offers a variety of in-app purchases to players, such as Poké Balls and other items, all for a fee.
"Players can buy PokéCoins to acquire various in-game items, such as extra Poké Balls, Incense and Raid Passes," Mughal explains. "The cost of PokéCoins depends on the amount purchased or the specific item being obtained."
Make Your Money Work for You
The Sims Mobile
Price: Free to play with in-app purchases ranging from $0.99 to $19.99
A classic world-building game that has jumped from desktop to mobile app, this version of The Sims has its fair share of downsides and costs. Like other "free" apps, players may find themselves frustrated at how little they're able to accomplish without spending.
"As of 2023, you can find a range of options available, with costs starting from $2.99 for a weekly card and going up to $19.99 for a pile of SimCash," says Ozdemir. "There are also various packs available, such as the Beginner's Fireplace Pack or the SimCash and Gems Pack, both priced at $4.99​​."
Angry Birds
Price: Free to play with in-app purchases ranging from $0.99 to $99.99
When Angry Birds launched on the mobile gaming scene, no one thought it would become as popular as it did, spawning endless merchandise lines and even a movie. Now that Angry Birds and its sequels are big names in gaming, users are — more often than not — having to pony up cash to play.
"Players can buy in-game currency, Gems, to unlock extra lives, power-ups and gain advantages in levels," says Mughal. "The cost of Gems depends on the quantity purchased or the specific item being obtained."
Temple Run
Price: Free to play with in-app purchases going from $0.99 and up
Temple Run is a very popular 3D running/obstacle game that has been around for over a decade. In the game, you play an explorer being chased by monstrous monkey-esque demons, which you must elude by keeping pace and dodging various obstacles.
Make Your Money Work for You
The game "can pose challenges without power-up purchases," notes Robbie Baskins, a chartered financial analyst and tech expert, as well as the founder of Voddler.com. "Individual power-ups can reach $0.99 in cost, leading numerous players to spend substantial amounts within the game."
More From GOBankingRates