What Ticketmaster's 'Dynamic Pricing' Means For Your Wallet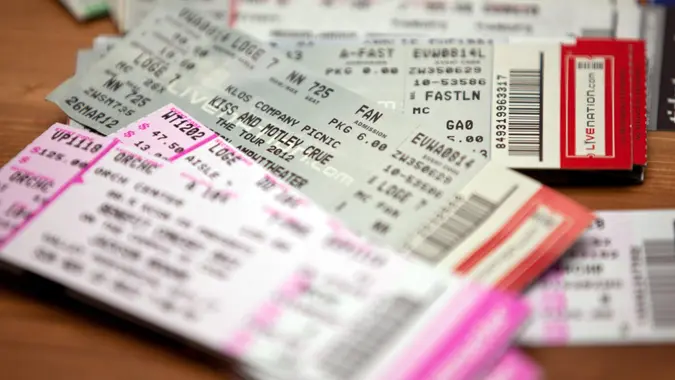 GreenPimp / Getty Images
It used to be compulsory to complain about Ticketmaster's near-monopoly and the excessive delivery, facility and service charges it levied on fans for purchasing tickets to their favorite artists and events. Now, incidental fees are nothing compared to the furor over the ticket seller's "dynamic pricing" model, which is back in the news following a recent tour announcement by one of America's beloved pop stars.
Due to Ticketmaster's "dynamic pricing," tickets to see Taylor Swift in her "Eras" tour were fetching prices as high as $4,549. Since Ticketmaster paused sales citing a supply and demand issue, resale prices have spiked to $20,000 per seat, according to TMZ.
So how is this pricing system supposed to work? Far Out Magazine compares "dynamic pricing" to a market-based model, similar to how airline tickets or hotel bookings are sold, or, more appropriately, to Uber's surge pricing, where a cost of a ride can fluctuate depending on demand. Depending on the artist, venue or city, if demand is high, then ticket prices can rise aggressively. This allows Ticketmaster to gauge the marketplace as it gouges consumers.
While Swift fans are justifiably upset about the ticket costs, it should be said that Ticketmaster has been using this pricing method for years.
In fact, the original uproar over the system was in 2018, when tickets for Swift's U.S. tour were subject to the "dynamic pricing" model agreed upon by the artist and Ticketmaster. This resulted in wild price variations when fans were buying tickets, as Rolling Stone reported at the time.  
Make Your Money Work Better for You
"If you went on Ticketmaster in January and pulled up a third-row seat for Taylor Swift's June 2nd show at Chicago's Soldier Field, it would have cost you $995. But if you looked up the same seat three months later, the price would have been $595," the magazine wrote.
While complaints about ticket pricing went largely ignored after her 2018 concert and again when Bruce Springsteen's 2022 summer tour prices reached $5,000 a pop, this time music fan complaints have caught the attention of the federal government. On Nov. 17, Sen. Amy Klobuchar (D-Mich.) penned a letter to Ticketmaster's CEO, accusing the company of "abusing its market position," while Rep. David Cicilline (D-R.I.) called the conglomerate an "unchecked monopoly." Lawmakers are now looking into the ticketing company's practices.
More From GOBankingRates