How To Afford $1,000 Worth of Kids Activities Per Year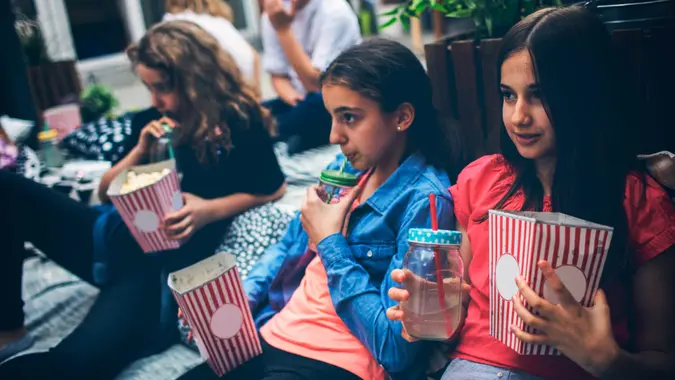 vgajic / Getty Images
If you have kids, you know how expensive they can be. From diapers to daycare to clothes they keep growing out of, the costs for just the necessities can add up quickly.
Many parents end up spending a lot of money on the fun stuff, too. A recent GOBankingRates survey found that 52% of parents spend over $1,000 per year on kid-related activities.
Yet some families simply don't have enough room in their budgets for the kids activities they want to spend money on, like art classes, aquarium visits and trips to theme parks.
However, $1,000 per year might be reasonable for other families, depending on their circumstances, especially considering the emotional component of these expenses.
For many families, "the end justifies the means, meaning if the children are happy or it provides a benefit that could pay off in the future, then they're willing to bite the bullet and add the activity as a line item in the family budget for as long as they participate," said Markia Brown, accredited financial counselor at The Money Plug. "I call line items like these emotional necessities. While everyone will survive if the line item isn't paid for, for peace of mind or happiness, people will pay no matter the cost, even sacrificing in other areas to cover the cost."
Make Your Money Work for You
Yet there's a fine line to be mindful of in terms of spending joyfully vs. recklessly.
"It's easy to overspend on kids activities, especially when you feel like you need to be keeping up with what other families have going on," said consumer and money-saving expert Andrea Woroch. "Not to mention, parents want to give their children the best opportunities and as a result could end up overspending on too many activities."
But if you do want to spend $1,000 per year on kids activities or at least enjoy the equivalent of that, consider taking the following steps and also learn how to stop wasting money on your kids.
Shift Expenses
Just because you want to spend that much money on kids activities doesn't mean you can afford it without making some changes.
"Check your budget to see if there are other areas you can siphon money from to cover the cost of the activities," Brown said.
Maybe you're mindlessly ordering food delivery a couple times per week, for example. With a little planning ahead and awareness of your expenses, you could shift your spending. Skipping two deliveries per month at $50 each adds up to $1,200 saved over the year, minus any replacement food costs if cooking yourself.
Or maybe you're buying expensive outfits that kids grow out of quickly. Shifting expenses toward activities that are more of an experience might feel more rewarding for your family.
Make Your Money Work for You
Add Income
Sometimes there's not much room in your budget to shift expenses around. If you have too many fixed expenses or are unwilling to cut some discretionary ones, then you might need to find ways to add income.
However, you need to be mindful of the extra time that might be needed to bring in more income. If you need to pay for more childcare, you could end up losing money or at least struggling to get ahead.
Brown said, "I only recommend longer hours or a side gig if the family has a support system that will enable them to do that without costing them more money."
The good news is that some side gigs enable you to earn more without adding childcare expenses or sacrificing family time.
For example, you can earn money by pet sitting via a site like Rover, Woroch said.
"This is a great option for families since your kids would likely enjoy playing with any pets you watch and they can even help care for it, learning some important responsibilities," she said.
Another idea is to do virtual tutoring, and you can pick a grade level that enables your children to listen in on your lesson, Woroch added.
Sometimes you can even make money on your existing items, without having to put in too much work.
For example, Woroch suggested, "Rent your car when it's not in use via Turo or rent baby gear you no longer need or use via BabyQuip."
Make Your Money Work for You
Find Low-Cost Alternatives/Savings
Another idea is to find low-cost alternatives or opportunities to save money on kids activities so it feels like you're getting $1,000 worth, even if that much money isn't leaving your wallet.
"There are multiple ways to save on kids activities," Brown said. "One way is to volunteer for the organization as a coach or chaperone. Sometimes, they'll allow your children to play for free or at a discounted rate."
If your kids play sports, Brown said, "You can also ask local businesses to support your team. By supporting local teams, companies can pour back into the community with their tax write-off donations, making it mutually beneficial."
That extra money for the club can then be used on things like new equipment or additional lessons, saving you money you might have otherwise spent.
Another idea is to look into discounts on activities. Maybe becoming a member at one museum gets you access to others. That can help you get $1,000 worth of activities without actually spending that amount.
"By signing up for our local museum," Brown said, "I get discounts at other partner businesses in town, including free passes to our local zoo, and we also get discounts on art classes at the museum for kids."
Families can also save money by being loyal customers.
"Ask about second class or sibling discounts," Woroch said. "You can often get a deal for a second activity/class at the same business or a discount when you sign a sibling up at the same business. So rather than trying different businesses, you can save more by staying with one."
Make Your Money Work for You
Plus, bouncing around from activity to activity can add up and get tiring for families, so it might be better for your wallet and your stress levels to take a simpler approach.
"Choose just one sport/activity per child," Woroch suggested. "You can switch it up each season to try different things, but you will burn your kids out and burn your budget out by loading up your schedule with multiple activities. Remember, having play time after school is important."
Overall, spending $1,000 on kids activities every year is within reach for many families, but that doesn't mean you have to break the bank. There are so many ways to save money while still giving your kids a great life. Every family is different, and you should think carefully about what you can afford and what you value.
More From GOBankingRates