6 Ways To Help Make Child Care More Affordable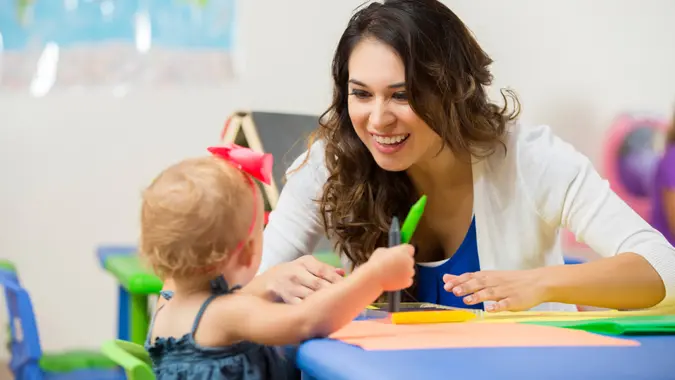 Steve Debenport / Getty Images
Raising kids is expensive, and paying for child care is one of the biggest costs that parents have to contend with.
"Every year, Americans spend around $42 billion on early care and education, which comes to about $500 a month," said Andrew Latham, CFP, managing editor at SuperMoney.com and a dad himself.
But there are ways to cut down on these costs. Here are a few tips for making child care more affordable.
Set Up a Neighborhood Babysitting Cooperative
"You can save some money, make new friends and enjoy more date nights by creating a neighborhood babysitting cooperative," Latham said. "These co-ops are based on a point system where you earn points when taking care of your neighbor's children (e.g., two points per child per hour) and spend those points when you drop your child off."
Latham recommends the website Sitting Around, which makes it easy to create a babysitting co-op and manage the paperwork.
"Sharing babysitting is a little more complicated with COVID-19, but it's still possible to do it responsibly if you can create 'bubbles' with relatives, friends and neighbors," he added.
Utilize a Dependent Care Flex Spending Account
If you have access to a dependent care FSA through your employer, be sure to take advantage of it.
"You've probably heard of Health Care FSAs, but there are also Dependent Care FSAs that allow you to put pre-tax dollars into an account, then reimburse yourself from that account for whatever your monthly child care costs are," said Scott Sturgeon, founder and senior wealth advisor at Oread Wealth Partners. "For high-income earners, that can be pretty significant, as you're deducting up to $5,000 off your annual income."
Make Your Money Work for You
It's important to note that there are some downsides to this type of account.
"Unfortunately, the only way to have access to a Dependent Care FSA is through work, and again, you're limited to contributing $5,000 for a married couple," Sturgeon said. "You can also only use the funds for payment or reimbursement of child care or dependent care costs, so if for some reason those expenses go away, you might lose the money at the end of the year."
Compare Your Day Care Options
If you go the day care route, be sure to do some comparison shopping before committing.
"It's important to evaluate things like time of commute, course curriculum, health and safety, and cost," said Gerald Grant III, vice president of the G Financial Group, working in alliance with Equitable Advisors. "When choosing a day care, you don't want to just pick the one that is closest to your home — you should do your research to find the best overall day care in your area. Sometimes the closest one can be more expensive and one that is further away could be cheaper. On another note, cost is not always just monetary, so if you're spending more time for a much farther commute and the day care is not better overall, it may make more sense to spend a bit more for the day care that costs you less in time."
Consider an At-Home Nanny
Nannies are typically more expensive than day care, but depending on the amount of time you will need child care, it may be cheaper to have at-home help.
"Having an at-home nanny in some cases can save you on time, and the overall cost and structure may be better for you and your family versus a traditional day care," Grant said.
Take Advantage of Employee Benefits
Some employers offer assistance with child care needs, so look into what is available to you.
"Many companies have programs to help their employees find affordable childcare, jump waiting lists, etc., so it's important to reach out to your employer to see what programs are available to you," Grant said. "For example, federal government employees can apply for the Federal Child Care Subsidy Program, which is a pool of funds specifically set aside to aid its employees with the cost of child care. Many other companies have programs similar to this as well."
Make Your Money Work for You
Make the Most of Tax Credits
"Government tax credits, like the Child Tax Credit, are designed to reimburse taxpayers for a portion of the child care costs incurred," Grant said. "Understanding all your options and benefits available is critical to making sure your child can get the most adequate and affordable child care."
More From GOBankingRates