5 Items You Can Buy at Aldi for Much Cheaper Than Trader Joe's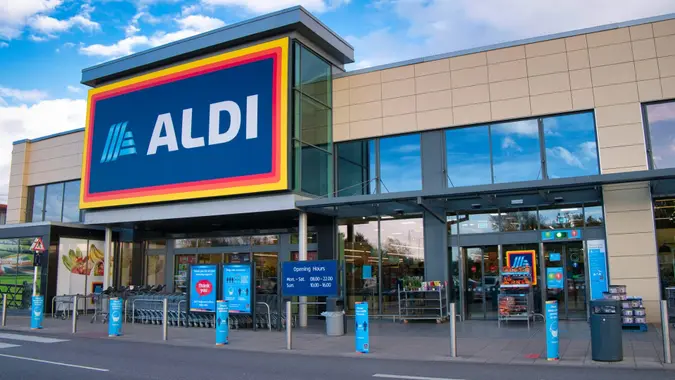 Alan Morris / Getty Images
Since the late 1960s Trader Joe's has been a beloved grocery store chain, boasting an eclectic mix of healthy foods and creative snacks at great prices. As Aldi, a European food chain, began popping up from coast to coast — with equally good deals and high quality — fans of both stores swore they were related.
The truth, as told to The Kitchn by an Aldi spokesperson, is that both chains are independently owned and operated and do not share owners. However, the backstory is a bit murkier.
Aldi is owned by the Albrecht family of Germany, but the brand split into Aldi Sud (South) and Aldi Nord (North) in Europe. Aldi Nord owns Trader Joe's in the U.S., but the chain operates independently of its European parent. Aldi Sud owns Aldi locations in the U.S.
So, no, the U.S. stores do not share the same parent company — at least technically. However, it doesn't change the fact that both sell high-quality, unique merchandise at low prices. Regular Aldi shoppers won't be surprised to find Aldi actually sells some products which are similar to Trader Joe's, but at even lower prices.
Here are some favorites. Keep in mind, prices may vary based on your region and local store pricing.
Little Salad Box Southwest Chopped Salad Kit
Create a healthy meal by adding some grilled or rotisserie chicken to a southwest chopped salad kit. The Aldi version, for just $3.29, tastes just as fresh as Trader Joe's, which sells for $3.69.
Make Your Money Work for You
Barrissimo Organic Fair Trade Coffee
The perfect cup of coffee starts with the best, certified organic fair trade coffee grounds. And your morning cuppa will taste even better when you know you're saving money. Aldi's Barrissimo coffee sells for $6.15 for 14 oz., when you can expect to spend $6.49 for a similar roast at Trader Joe's.
Priano Cheese Ravioli
If you want to make a traditional Italian meal but you're short on time, these raviolis are the perfect way to start. Pay $3 for 25 oz. of Priano Cheese Ravioli at Aldi, enough for about three meals, according to a recent reddit thread. Trader Joe's 4 Cheese Ravioli, on the other hand, goes for $3 for just 10 ounces.
Friendly Farms Almond Milk
Whether you're eating vegan, keto, or just trying to be healthier, almond milk can be a great alternative to cow's milk for many purposes. Save big bucks at Aldi with the Friendly Farms brand, which sells for $2.45 per half gallon. Compare that to Trader Joe's Organic Unsweetened Almond Beverage, which is $1.99 for 32 oz. — half the amount.
You may also find savings on other Friendly Farms dairy products, including cheese, half & half, and sour cream.
Winking Owl Wine ($2.19)
Trader Joe's has long been famous for its Charles Shaw wine, lovingly known as "Two Buck Chuck," in regions that sell alcohol. But the wine hasn't lived up to its name in a while, going for $2.49 to $2.99 in many regions. Aldi's Winking Owl Wine compares favorably to "Two Buck Chuck" and sells for just $2.19 a bottle.
Make Your Money Work for You
More From GOBankingRates