6 Best Items To Buy at Aldi This Summer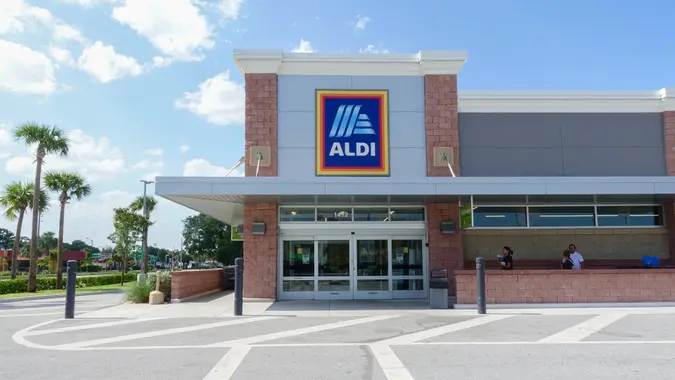 Joni Hanebutt / Shutterstock.com
Although the official start of summer is June 21, one could argue that summer arrives once school is out. Along with the elevated temperatures and extended daylight hours of the season comes the opportunity for activities like cookouts and pool time, sparking the desire for summer-related treats and eats.
From ice cream to cooler bags, Aldi has you covered — and at more affordable prices than many of its competitors. Here are the six best items to buy at Aldi this summer.
Sundae Shoppe Variety Pack Mini Ice Cream Bars
Ice cream is a quintessential summer treat, and Aldi's Sundae Shoppe variety pack is sure to please. 
"These come in boxes of eight and include different coatings: white chocolate, milk chocolate and milk chocolate with almonds," said consumer analyst Julie Ramhold with DealNews. "They're an alternative to the pricey Magnum ice cream treats, and a variety pack of those minis in the same flavors goes for nearly $8 normally, although you may be able to get them on sale for about $5 depending on where you shop. However, the box of Magnum bars only contains six, whereas Aldi's version has eight, so you're getting a much better value either way."
Make Your Money Work for You
Benton's Jumbo Waffle Cones
"If you like having ice cream cones on hand for the summer, these from Aldi are a great bargain," said Ramhold. "For around $2 or so, you can get a box of 12 cones; shopping elsewhere, you'll spend closer to $4 for the same amount. If you save on the cones, you can spend your savings on the more premium ice creams, too, and have a dessert shop treat without having to leave home."
Nature's Nectar Homestyle Lemonade
Ramhold said that Nature's Nectar Homestyle Lemonade is an incredible value because you can get 52 ounces for about $1.65, depending on your area. "If you enjoy drinking lemonade over the hot summer season, this is an easy and affordable staple to keep on hand, and it's not made from concentrate (if that's something you're concerned about)," she said.
Parkview Smoked Brats
David Bakke, Aldi Expert at DollarSanity, said that an Aldi opened near him a few years back, and he's been a huge fan ever since. "This summer, definitely pick up some Parkview Smoked Brats," he said. "[I'm] not sure why they call them brats because they're brauts. It might be because they're a bit smaller, but they're packed with flavor, and the meat is high-quality too."
Make Your Money Work for You
This item comes in a 14-ounce package.
Simply Nature Strawberry Lemonade
If regular lemonade isn't your thing, opt for Aldi's Simply Nature Strawberry Lemonade, which is available in a 64-ounce plastic bottle. 
"Nothing says summer to me like strawberry lemonade, and the offering from Aldi under the name of Simply Nature is second to none, " said Bakke. "It's also organic."
Aldi Cooler Bag
"We travel a lot during the summer, and a cooler bag is definitely a necessity," said Bakke. "But instead of the cheap varieties offered by traditional grocers, the Aldi cooler bag is actually pretty high quality. It kept drinks cold for us recently for a couple of hours. And obviously, it's less expensive than most alternatives."
Choosing Aldi as Your Summer Shopping Hub
Keep in mind that all of the six best items to buy at Aldi this summer are seasonal, which means that quantities will be limited and you might not be able to find some of them at your local Aldi store. However, you will definitely find other seasonal items you might be interested in that are also of good quality and great value.
More From GOBankingRates
Make Your Money Work for You