Are Costco's Prepared Meals Worth Your Money?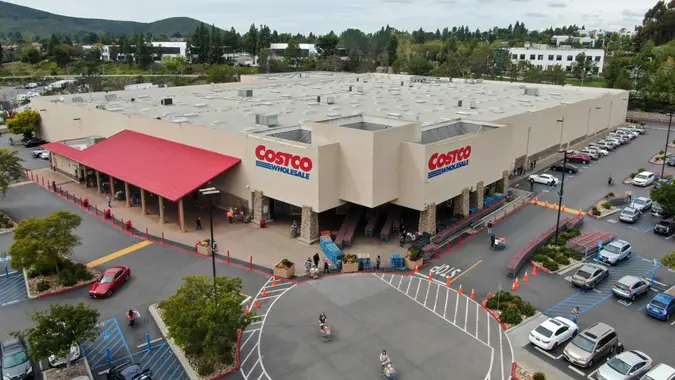 Thomas De Wever / Getty Images
Costco has become a leader in the warehouse club space, and frequently offers lower pricing than big-box retailers on a slew of products — especially if you're buying in bulk. But there's another dimension to Costco: prepared meals. Costco sells everything from chicken street tacos to mac and cheese, all ready to enjoy immediately (or close to it).
Shoppers may love these items because they're such great timesavers, but are they great money savers too? That's what we're looking to find out. Here's an exploration of whether Costco's prepared meals are worth your money.
They Can Be Good, but Not the Greatest Deals 
Tasia Boland, a frugal living expert who shares tips on The Frugal Farm Girl, says that whenever she's in Costco looking for the latest and greatest items to share on their blog, she scopes out the prepared meals section. 
"It's always busy over there, so I'm intrigued, but it's always the price tag that keeps this frugal living expert walking on by," Boland said. "At our local Costco, prices range from $3.49 to $5.99 a pound for prepared meals. Most of the meals will cost around the $20 mark, which means you'll be paying $5 a person (if feeding four people). When sticking to our grocery budget, I spend $1-$2 per person for meals." 
Make Your Money Work for You
Making Dinner From Scratch Will Almost Always Be Cheaper 
If you can make your dinners and other meals from scratch, then you will almost certainly save more money going that route. 
"If you are on a tight budget, making meals from scratch is always the cheapest option," Boland said. 
Costco Prepared Meals Are Cheaper Than Restaurant Food 
"But if you are trying to cut back on how often you and your family eat out during the week, a Costco-prepared meal will be cheaper and more convenient," Boland added.  
They Can Be a Lifesaver, Time-Wise
Time is money, and Costco's prepared meals really come through in that department. 
"Don't get me wrong, for some, Costco's prepared meals are a lifesaver," said Boland. "[For example, if] you are dropping by after work to quickly get dinner served to your family right before the softball or soccer game."  
They Use Fresh Ingredients 
Another plus when it comes to Costco's prepared meals is the freshness of their ingredients, which customers rave about.  
Make Your Money Work for You
"Just ask in my Costco Facebook group of over 68,000 members, and they will tell you that Costco's ingredients are always fresh and restaurant-quality in comparison," Boland said. 
But These Ingredients Aren't Necessarily Healthy 
Though Costco's prepared meals may tout fresh ingredients, they may not necessarily be the most healthy meals out there. 
"While some prepared meals offer nutritious options, they often contain high sodium levels, lower-quality preservatives and unhealthy additives," said Wayne Mui, a finance and accounting professional at WealthyPayoff. "For those who prioritize health and nutrition, cooking foods from scratch is a more favorable choice."
Know Which Meals Are Better Buys Than Others 
Not all Costco-prepared meals are the same, and some boast stronger savings values than others. It's important to know which items offer the best pricing based on the amount of food you're getting.
"Costco's mac 'n cheese is very budget-friendly in terms of cost and [the] number of servings ratio," said Rachel Werner, author of the cookbook "Macro Cooking Made Simple." "Same for the sushi platter that feeds 24 and includes seafood rolls and veggie tempura. The croissant sandwich platter is a solid choice for a brunch-style buffet For a dessert option, Costco's apple pie (the Kirkland brand) is quite a decent size (two or three can easily feed 10-plus people)."
Make Your Money Work for You
Julie Ramhold, consumer analyst at DealNews.com, highlights a few other Costco prepared meals that are a better deal than others. 
"For example, the chicken salad that's made with their rotisserie chickens is around $18-$19 which sounds like a lot, but the package is around 2.5 to 3 pounds — that's a ton of chicken salad. If you can get seven servings out of it, you end up paying roughly $2.71 per meal/serving (not including the cost of other things you may have with it, of course)." 
Other worthwhile meals in terms of cost-to-product ratio are the chicken pot pie and the ravioli lasagna. 
"It's a massive thing and usually around $20 or so, but it will easily feed four people twice," Ramhold said. "The ravioli lasagna is typically a pretty good purchase as well, and clocks in around $19-$20; it's perfect for a couple of meals for two, especially alongside something else like garlic bread or a veggie (or both)."
Make Your Money Work for You
Chicken wings are another good-for-your-money buy. 
"[Costco sells] 3 pounds of chicken wings cooked — almost the same price raw in my local store," said Kalecia Simmons, a certified celebrity French-trained chef and military finance veteran who specializes in budget and debt management. 
It Comes Down to Your Priorities and Needs 
Whether or not Costco's prepared meals are worth the money is all about your needs and priorities.
"Basically it comes down to how many people you want/need to feed with a prepared meal and how much work you want to put into it," Ramhold said. "While the sandwiches and wraps are ready-to-eat, things like the mac and cheese, chicken pot pie and lasagna all have to be cooked, so it'll take some advance planning and baking.
"Even so, having a main dish basically taken care of except for cooking can still be worth picking up as most of the work is done, so it's still a timesaver," Ramhold said. "Just keep in mind the size of what you're purchasing and be prepared to have side items to accompany it, and you should be in good shape for making an easy meal to feed at least a couple of people, if not more."
Make Your Money Work for You
More From GOBankingRates