Are Rachel Cruze's 4 Dinners for Under $45 Possible?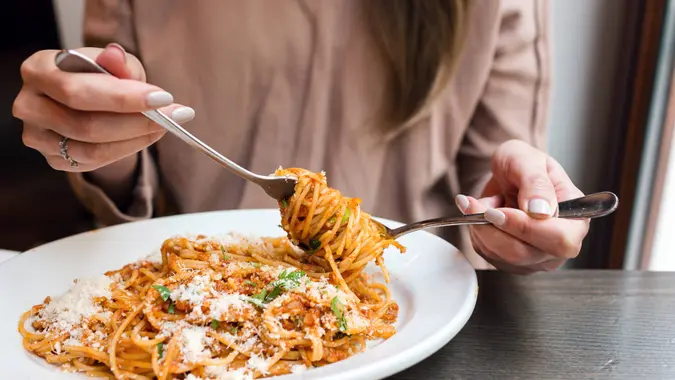 Malkovstock / iStock.com
When it comes to saving money, one of the easiest ways to cut costs is by cutting out restaurants and eating at home. Dave Ramsey's daughter Rachel Cruze shocked people when she posted on social media that it was possible to make four meals for under $45 instead of spending $41 dollars on her family to eat at Chick-fil-A once. After posting a detailed list of what people could buy and the price, people started criticizing and saying the prices she posted were incorrect and that four meals for under $45 were impossible.
At GOBankingRates, we wanted to know if it could be done. We did some investigating and found out she was right. At Walmart, you can do four meals for $43.08 using Rachel's meal plan suggestions and even include some extra items that Rachel's didn't. Take a look at the grocery cost breakdown.
Italian Spaghetti Night
Mexican Night (Tacos and Cheese Quesadillas) 
Greek Night
Make Your Money Work for You
Home Made Pizza Night
Total before taxes: $43.08
Trying to save money in today's environment isn't easy, but a person can do it with a bit of discipline. Make a plan and stick to it. Eating out is always more fun and convenient, but when you're trying to save money, remember what Cruze said, "99% percent of the time, eating out is going to be more expensive than eating at home." Take time to shop around, find coupons and plan your meals. Ultimately, it might surprise you how much money a person can save.
More From GOBankingRates
Prices are accurate as of March 23, 2023, and are subject to change.