8 Apps To Help You Cut Down on Food Waste and Save Money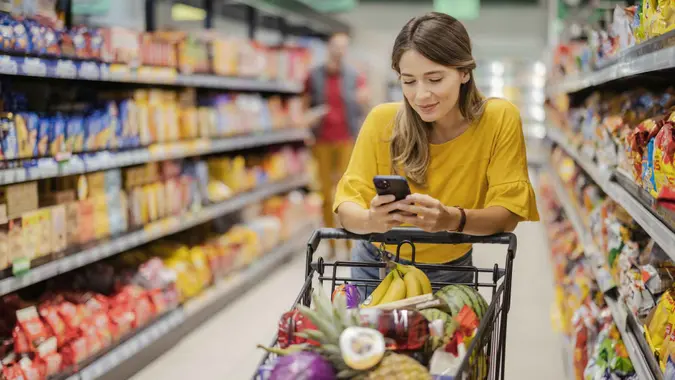 PixelsEffect / Getty Images
You're living on a tight budget, so you're trying to save money on groceries. This can be a lot more challenging than you realize, especially when dealing with sky-high inflation.
One of the best ways to cut costs on groceries is to make sure you're keeping food waste to a minimum — ideally zero. You're essentially throwing money away every time you have to pitch expired and used items, so it's important to do everything you can to avoid this.
8 Apps To Help Reduce Food Waste and Save Money on Groceries
These days, there's an app for just about everything, including many dedicated to helping you use up food items already in your kitchen. Here are several apps you'll want to download that will definitely help lower your grocery bill.
1. NoWaste
Keep track of the food in your home with the NoWaste app. Use it to take inventory of the items in your freezer, refrigerator and pantry — labeling each with an expiration date, name and category.
A search feature makes it easy to see exactly what foods you have on hand, without having to physically look through your shelves. You can also synchronize and share your lists with family, to ensure everyone is in the know.
2. Kitche
Save money by using the Kitche app to create a list of all the food items in your home, using voice input or by typing. Even easier — you can also scan barcodes and grocery store receipts, which the app will automatically categorize and add reminders for you.
Make Your Money Work for You
Keep track of the food in your home by swiping to move items between the "to buy," "at home" and "ditched" lists. You'll also gain access to tons of recipes and helpful tips to avoid food waste.
3. SuperCook
Like many people, you're likely guilty of throwing food away, because you don't have a recipe to create with it. The SuperCook app makes this a thing of the past by allowing you to input the ingredients you have and displaying recipes you can make with them.
Food Waste in the U.S.

It doesn't feel good to throw away food that you spent your hard-earned money on. Of course, you're certainly not the only one to find yourself in this position.

A massive 119 billion pounds of food is wasted annually in the U.S. — 40% of all food in the country — according to Feeding America. This is equal to 130 billion meals and more than $408 billion in discarded food.
4. BigOven
The BigOven app offers a host of options, including a feature that helps reduce food waste. Choose up to three ingredients currently in your kitchen and the app will tell you what you can make with them.
Some of the other features include the ability to clip and save recipes from your favorite sites, follow both your friends and favorite food bloggers, plan meals and manage your grocery list.
5. Epicurious
You might not realize it, but the beloved food and cooking-related digital brand Epicurious also has an app that can help you save money on groceries. Use the app's search feature to find recipes you can make with ingredients you already have at home.
Make Your Money Work for You
Keep your taste buds entertained with unlimited access to more than 50,000 tested recipes from Epicurious, as well as Bon Appétit, Gourmet, HarperCollins and more. You can even get daily personalized recommendations, so you don't even have to search for new recipes.  
6. Magic Fridge
Learn to cook on your own terms with Magic Fridge. This app is filled with recipes that can be easily customized to your needs — i.e., what you already have on hand.
You can also use the recipes to plan your meals for the week. A memo is included with each ingredient to tell you if it's in season. You'll also receive tips to help you properly save leftovers and know how long they'll stay fresh.
7. Cookpad
Find delicious ways to use up ingredients in your fridge with Cookpad. This app is filled with recipes that will make dining at home fun and exciting.
If you're a talented chef, the app also includes a fun feature that allows you to write and share recipes.
8. Tasty
Part of the Buzzfeed community, the Tasty app is filled with more than 3,000 recipes that make it easy to use up the ingredients you have on hand. Use the search tool to filter by ingredients, cuisine and social occasion, allowing you to have the right recipe at your fingertips in no time.
Setting Your Grocery Budget
Wondering how to live on $100 a week for groceries? This actually shouldn't be a problem, as the average weekly cost of groceries for a 19-to-50-year-old female on the USDA's liberal plan is $92.50.
Males in this same age group may need to follow the moderate plan, which has an average spend of $85.80 per week. Alternatively, a slight budget cut could still be made to generally follow the liberal plan, which averages $104.30 per week.
If you need further help stretching your dollar, you might be able to benefit from the Flashfood app. This app allows you to find discounted food in your local area. Save up to 50% off on discounted items you can choose and pay for on your app — any major credit card, Visa debit card and SNAP EBT cards are accepted.
You can also use the Feeding America site to find food banks and food programs in your local area. It also might be a good idea to apply for government programs like SNAP and WIC that can help you afford the groceries you need to stay healthy.
Final Take
Cutting food waste can help everyone save money on groceries. Taking this step is also important to ensure you're doing your part to help the U.S. stop wasting valuable resources.
Hopefully, at least one of the apps above will become a mealtime staple, helping you create recipes that clean out your kitchen.
FAQ
Here are the answers to some of the most frequently asked questions regarding groceries.
Is $50 a week enough for groceries?

The average cost of groceries for a 20-to-50-year-old female following the USDA's Thrifty Food Plan is $55.70. This cost rises to $69.60 for males in this same age group. Therefore, $50 a week really isn't enough to cover the cost of groceries for a week.

How can you live on $100 for groceries a month?

Even with cutting out all food waste, it's unlikely you'll be able to follow a filling, balanced diet on this budget based on the USDA's Food Plans. You might need to use the Feeding America site to find food banks or assistance programs in your area.
Information is accurate as of June 12, 2023. 
Our in-house research team and on-site financial experts work together to create content that's accurate, impartial, and up to date. We fact-check every single statistic, quote and fact using trusted primary resources to make sure the information we provide is correct. You can learn more about GOBankingRates' processes and standards in our editorial policy.