6 Best Costco Food Deals in March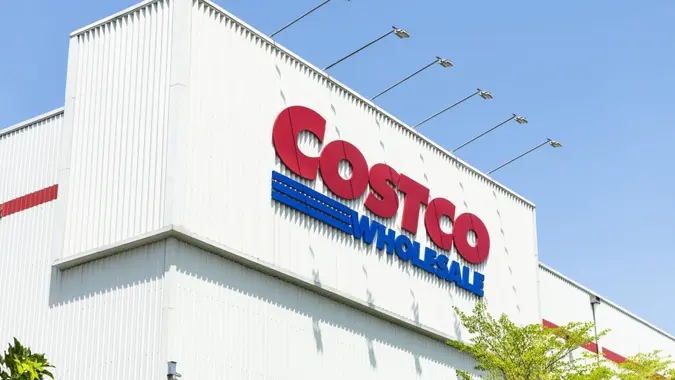 BING-JHEN HONG / Getty Images
Having Costco as your go-to grocery store is like having a best friend who knows exactly what you love and what you need without charging you an arm and a leg. It's almost like you are getting a friends and family discount just by having a membership in your wallet.
Aside from Costco having cool money-saving features, it also has great deals every month on the everyday food you buy for your family. With springtime coming in like a lion in some places, a lamb in others, you can make sure that no matter the weather, you are getting the most bang for your buck on groceries when you shop at Costco. 
While some of its competitors might initially appear to have Costco beat when it comes to deals, now is the time to take a closer look at what it's offering versus what customers might get. You'll see that nothing adds up like the savings at Costco.
GOBankingRates went hunting to find the best food deals at Costco during the month of March — take a look.
Kirkland Signature Organic Chicken Stock
Chicken stock is a must-have in any pantry, so it's always a good idea to have more than just a box or two on hand. Kirkland's stock is certified USDA organic and has a slow-roasted chicken flavor that can be used in soups, stews and anywhere you can substitute for broth.
Make Your Money Work for You
"Costco is known for its high-quality products and excellent customer service," said Catherine Snowden, editor-in-chief at FascinatingSky. 
"Many customers rave about their food deals, including the variety and quality of their products, as well as the savings they receive from buying in bulk."
Planters Dry Roasted Peanuts
Break out the snacks with Planters nuts — the perfect light, salty treat for when you are lounging around at home or packing for an outdoor afternoon.
"From now until March 26, Costco is offering a 52-ounce container of Planters Dry Roasted Peanuts for $6.59," said Rebecca Gramuglia, consumer expert at TopCashback.com. 
"This is a great deal when you compare it to Sam's Club, which offers the same item for $8.58. Opt to shop at Costco to get the best deal possible."
Kellogg's Rice Krispies Treats, Variety Pack
Snap! Crackle! Pop! And more! Kellogg's is one of the best-known names in cereals, but those flavors aren't reserved just for breakfast. 
Now you can get 20 Chocolate, 20 Rainbow and 20 Chocolatey Drizzle all in the same pack, perfect for putting into school lunches or keeping as a handy, on-the-go snack.
Target currently has a 16-count pack on sale for $5.69, meaning that you would have to buy at least four to get up to the same amount as Costco's offer, plus pay more in the process.
Make Your Money Work for You
Kirkland Signature Organic Peanut Butter
Another essential for any kitchen is peanut butter — from sandwiches to cookies, you can't go wrong with having ample amounts of peanut butter handy. 
With Kirkland's Organic Creamy Peanut Butter, you'll only be spreading the delicious flavor, not your bank account, too thin. It's dry-roasted with just a sprinkle of sea salt and always hits the spot.
Snowden points out that a 16-ounce jar of 365 brand peanut butter sold at most Whole Foods is going for roughly $4.99 a jar in March, which means you'll be getting a sweet deal when you shop for your peanut butter at Costco.
Garofalo Organic Pasta, Variety Pack
Made from 100% Durum Wheat Semolina, Garofalo offers up two cases each of its delicious assorted noodles, including casarecce, penne ziti rigate and gemelli. That's a lot of pasta!
However, it's not a lot of money when you compare prices at other stores. Right now, Walmart offers the same six-pack from Garofalo for $38.05, which means shopping there you won't have any money left for sauce, cheese and meatballs.
Jose's 100% Organic Mayan Whole Bean Coffee
Nothing beats waking up to a fresh cup of amazing coffee…except for saving money on it. The Organic Mayan medium dark roast blend from Jose's brings together chocolate notes mixed with a floral aroma of delicate 100% USDA Organic certified Arabica coffees. That means you will get to sip a full-bodied brew that won't leave a bitter taste in your mouth.
Make Your Money Work for You
That is unless you buy Jose's coffee somewhere else other than Costco. Right now, Walmart offers the same pack for $45.95, which might open your eyes, but for all the wrong reasons.
More From GOBankingRates