Dollar Tree's Best Home Items in March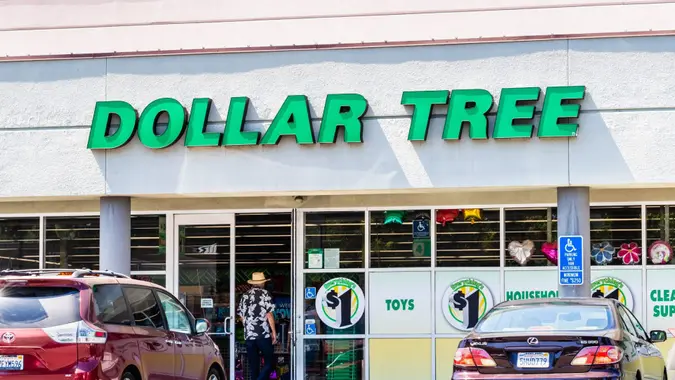 Sundry Photography / Getty Images
Not everyone tackles spring cleaning the same way. You might not be the overhauling type, but there's just something about all of that sunshine brightening your home that can make you rethink a few things.
More Saving: 11 Grocery Items To Buy at Dollar Tree
Learn: 3 Signs You're Serious About Raising Your Credit Score
Maybe you want to upgrade some of your decor or clean up your backyard or add a few key pieces to your home, for cooking or organizing. Those efforts are great, but they can cost you a lot of money at many big-name department stores or big-box stores.
Instead, why not turn to Dollar Tree stores to improve your home this March and stay on a budget at the same time? Here are eight items you'll want to take home.
Also see the items Dollar Tree sells better than other dollar stores.
Home Collection Striped Rugs
There are lots of places in a house that can collect dirt, from doorways to bathrooms to kitchens, particularly below a stove or sink. Consider these home collection striped rugs as an easy way to keep dirt from traveling around your house, while adding accents. These throw rugs are made of durable fibers and come in six designs. They're 15 x 21 inches, each for that unbeatable Dollar Tree price of $1.25.
Make Your Money Work for You
Take Our Poll: Do You Think Bankruptcy Is an Acceptable Way To Escape Student Loan Debt?
Essentials Heather Gray Collapsible Storage Containers
If you enjoy doing some spring cleaning, that might also include some spring organizing. Dollar Tree makes that easier with these collapsible storage containers, which measure 11 x 11 x 8 inches. Their heather gray exterior makes them look sophisticated enough for a home office, den or library or functional for a garage, bedroom or kids' closet. The collapsible part means that when you're not using them they're easy to store and easy to carry with built-in handles.
Whiskey Barrel Planters
If you live in sunnier climes, it's going to be time to refresh your outdoor spaces, and that might include putting in some nice new plants. Dollar Tree has whiskey barrel planters, designed to look like actual whiskey barrels. These containers are lightweight, so they are easy to move around. The planters measure 8 inches wide and can even be used indoors to breathe some plant life into your home or office.
Hanging Basket Planters with Coco Plant Liners
Staying on the gardening theme, you might also want to consider these decorative but sturdy metal wire basket planters, with hooks, meant to be hung outdoors or in a sunroom. Fill them with dripping plants or flowers that can attract pollinators such as bees, butterflies and even hummingbirds. You'll also need to fill them with these pre-molded coco plant liners, made of natural fibers that help the plants retain moisture, and keep them from making a mess all over your patio or porch.
Make Your Money Work for You
Special Moments Picture Frames
Spring often heralds momentous times, from holidays like Mother's and Father's days, to high school and college graduations; there are many opportunities to frame memorable moments in some special frames. Dollar Tree's Special Moments matted silver plastic frames won't cost you a mint, but the memories they hold will be invaluable. These frames hold 5 x 7 inch photographs.
Royal Norfolk Cutlery Chef's Knife
Anyone who has ever been in charge of all of the chopping for meal prep knows the power and necessity of a really good knife. A dull knife not only slows your progress, it can be dangerous and lead to slippage and cuts. For a fraction of the price of typical knives, get yourself or the chef in your life this 7.5-inch Royal Norfolk Cutlery Chef's Knife, and enhance food preparation to an art form.
Luminessence Metallic LED Votive Candles
If you like candles, but not the threat of real fire, set up some ambience inside or out with Luminessence votive candles. The LED lights are supposed to last for up to 120 hours and can be controlled with a switch. You can choose from elegant silver and gold to add a little mood to an event, a meal or just a night in.
Make Your Money Work for You
Round Plastic Storage Baskets With Handles
Some rooms in the house are just a pain to organize — namely kids' rooms and communal spaces such as dens, playrooms and indoor garages. Consider using these convenient, round plastic baskets in bright colors to scoop things like toys, socks, clothes, books and more for storage that's flexible and portable. With easy-to-hold handles, they move conveniently around your house or even into your car.
More From GOBankingRates
Make Your Money Work for You