15 of the Tastiest Foods to Pair With Peanut Butter for Under $5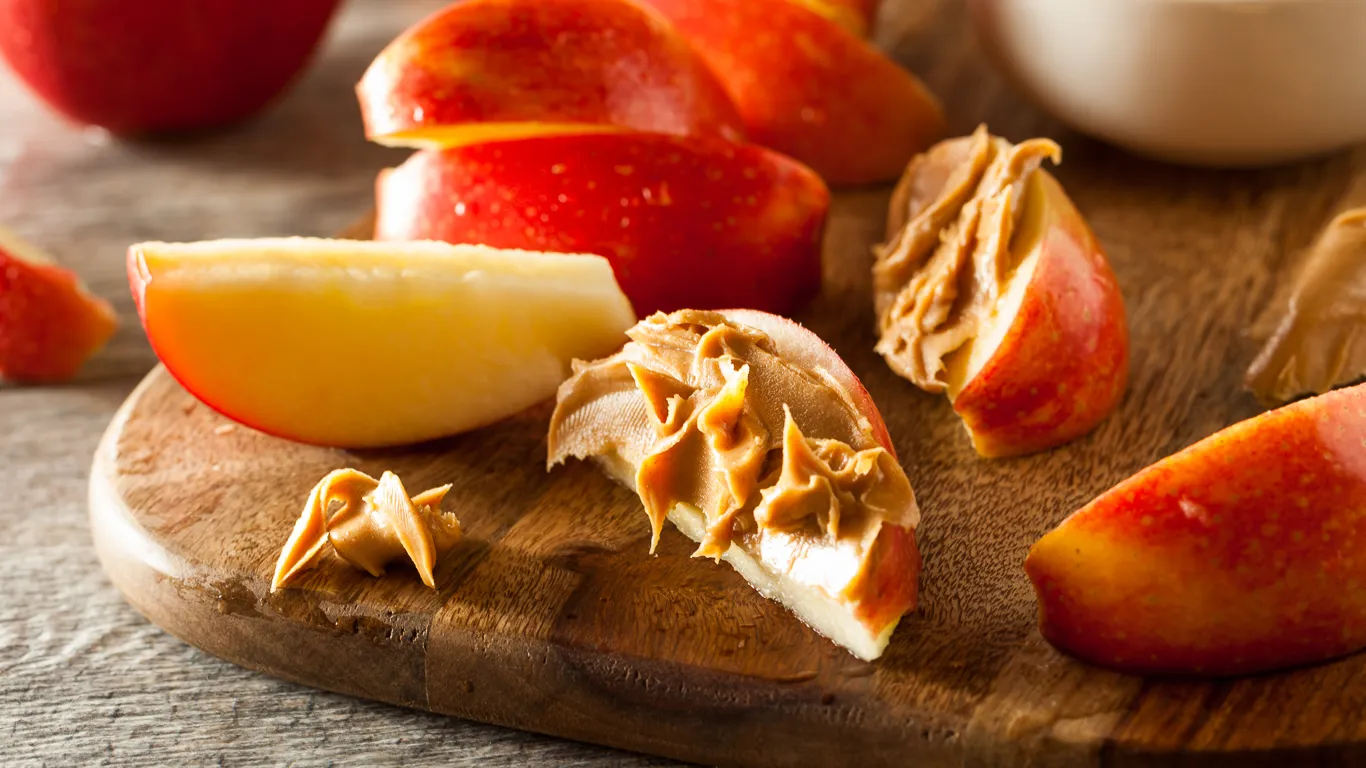 It's hard to imagine any food that combines practicality and flavor as thoroughly as peanut butter. It's rich, tasty, inexpensive and filling, and it's available at a surprisingly low cost almost anywhere — you might even say it sells for peanuts. It's nutritious as well, with more than 3 grams of protein per tablespoon and lots of vitamins and minerals. Even its fat content comes mostly in the form of healthy unsaturated oils.
Part of peanut butter's charm comes from its versatility. You can eat it as-is, cook with it, bake with it or even use it in sauces. To honor of this humble American staple we've compiled a list of the tastiest foods you can pair with peanut butter for under $5.
Chocolate
Cost: about $2.00 per 6.8 oz.
Was there ever any doubt that chocolate would top the list? Peanut butter and chocolate might be one of the best food pairings since salt and pepper.
The combination draws strength from both similarities and contrasts. They're equally rich, for example, which means neither overpowers the other. Also, despite the fact that chocolate is hard at room temperature and peanut butter is spreadable, they come to have the same soft, palate-pleasing texture as the chocolate melts in your mouth.
The contrast comes from their flavors. Chocolate can be earthy, fruity or even wine-like, depending on how dark it is, while peanut butter brings a nutty and savory flavor to the mix. Like the crystal of sea salt on a good caramel, that little hint of saltiness makes the sweet chocolate even more enjoyable.
Make Your Money Work for You
Bananas
Cost: about $1.76 per lb.
Bananas are one of the most popular fruits in the U.S. for a lot of good reasons. They're inexpensive, easy to peel and not messy to eat like some other fruits. They also have a real affinity for peanut butter.
The sweet, aromatic taste of bananas makes a perfect complement to the rich, mildly salty taste of the peanut butter. Their textures go nicely together as well, with the soft bananas melding into the sticky peanut butter as you chew.
Honey
Cost: about$3 per 12 ounces.
Sweet things are enjoyable in their own right, but there is such a thing as too much sweetness. The combination of something sweet with something savory is much easier to enjoy in quantity, which is exactly what makes honey and peanut butter so dangerously good together.
A bit of sweetening is always good with peanuts — that's why mainstream peanut butter is usually sweetened — but peanut butter is also good for honey. On its own the sweet, sticky spread can be overwhelming in anything but the smallest quantities, but the mixture of honey and peanut butter is something you can enjoy entirely too much of.
Their flavors are worryingly compatible, as anyone who has ever binged on honey-roasted nuts can confirm. Pairing them on crackers or a sandwich is an easy option, or prepare a honey and peanut butter mixture ahead of time as a separate spread in its own right. It's a quick and easy addition to smoothies or breakfast cereal, too, for added protein and quick energy.
Fennel
Cost: about $4 per bulb
If you grew up eating "ants on a log" — celery filled with peanut butter and topped with raisins — you already know that the crunchy, juicy vegetable goes surprisingly well with peanut butter. What you might not know is that there's an adult equivalent.
Fennel looks like a pot-bellied version of celery: a tight-knit bulb with long, straight stems and dill-like fronds rising from its top. It resembles celery in its crunchy juiciness as well, but has a sweet, mild licorice-like flavor rather than the herbal, savory taste of celery.
You won't need the sweetness of raisins when you fill fennel with peanut butter. Just top the peanut butter with fennel fronds instead, for an attractive garnish.
Make Your Money Work for You
Marshmallow
Cost: about $0.20 per oz.
Some sweets have deep, complex flavors, while others are less sophisticated. Marshmallow falls squarely in the second category, bringing sweetness and a hint of vanilla — and not much else.
Paradoxically, that's exactly why it works so well with peanut butter. Peanut butter has plenty of richness and flavor to spare, with its nuttiness and hint of salt, and the added sweetness of the marshmallow brings out the savory notes in the peanut butter.
Spreading peanut butter on marshmallow-filled cookies is the kind of guilty pleasure you can enjoy any time there are no witnesses, but the classic way to combine the two is in a sandwich. Spread peanut butter on one slice of bread and marshmallow fluff on the other, or — in a pinch — scatter mini marshmallows over the peanut butter in a regular sandwich.
Apples
Cost: about $1 per apple.
Apples are second only to bananas in popularity, and if anything they're even more versatile.
Peanut butter is equally good with apples, though you probably wouldn't coat a whole apple with it. Instead, cut the apple into wedges and soften your peanut butter in the microwave until it's runny enough to use as a dip. Whether you favor sweet or tart apples, peanut butter makes an excellent — and healthier than most — dipping option.
If that doesn't appeal to you, drizzle warmed peanut butter over your slice of apple pie to add richness and flavor.
Bacon
Cost: about $5 per lb.
Some pairings work by providing sweetness to contrast with the rich, mild savory flavor of the peanut butter. Bacon goes the opposite direction, doubling down on savoriness. Plus, bacon goes with everything.
Peanut butter itself is nutty, salty and slightly sweet. Bacon is sweet, savory and salty, and adds a smoky note that's missing from the peanut butter. Together, each emphasizes the other's flavors. You can explore the pairing by sprinkling crumbled bacon as a garnish on anything made with peanut butter, or by spreading a thin smear of peanut butter on a sandwich containing bacon.
The classic, though, is the infamous "Elvis sandwich" the singer relied on to quell his late-night cravings. It's a combination of peanut butter, banana and bacon on white bread, spread with butter and grilled in a skillet. Use lots of napkins, though, it's messy to eat.
Make Your Money Work for You
Rice Krispie Treats
Cost: about $4 per box
There's no way around it, Rice Krispie treats are just part of a well-balanced childhood. They're just sweet enough to be a treat and easy enough to whip together that they're always an option for even the busiest parent.
Putting them together with peanut butter is an inspired idea. Marshmallow is already a strong pairing with chocolate, so light, crispy cereal coated with marshmallow can't help being even better. This isn't just childhood nostalgia, this is nostalgia taken to a higher level.
There are several ways to pair them up. You can just spread peanut butter on top of each treat, if you like, or warm the peanut butter to soften it and use it as a dip. You can even mix peanut butter right into the treats as you make them. If you really want to go for the gusto, make the peanut butter version of the treats and then spread the top with melted chocolate.
Grilled Meats
Cost: about $3 per lb.
This one might seem like a real stretch, but it's not. Grilling enthusiasts often brush their meats with oil or an oil-based marinade before cooking them, and peanut butter — with its high oil content — is just another way to reach the same result.
At the simplest level, all you need to do is warm the peanut butter lightly in your microwave so it's runny. Then brush it onto your steaks, chops, poultry, burgers and especially your kebabs. When you grill the meats, the proteins and sugars in their peanut butter coating promote browning and create a savory, flavorful crust on their surface.
If you're up for some experimentation, you can add any number of other spices and seasonings to the peanut butter to make a marinade for your meats. Garlic, onion, chilies and most savory spices are all good choices.
Make Your Money Work for You
Dates
Cost: about $4 per 8 oz.
Peanut butter goes well with sweet things in general — and not all of them are baked. For example, dates and peanut butter go together as naturally as fall and football.
Dates are about as sweet as anything natural could possibly be: About two-thirds of a pitted date's weight consists of naturally occurring sugars. Despite this, they're not blandly sweet. Good dates have a dark and complex flavor, with hints of coffee and spice, that pairs up well with the richness of peanut butter.
If you're a fan of bar cookies filled with dates, try adding peanut butter to the crust or cookie portion of the recipe. You can also use the date filling from your favorite cookie recipe as a spread, smearing it on bread with the peanut butter. When you're entertaining, stuff the pitted date with peanut butter as a finger-friendly treat. Even better, coat it with peanut butter as well and then roll it in shredded coconut.
Pretzels
Cost: about $2.00 per 20 oz.
Peanut butter is a natural on crackers, sure. They're crisp, they're crunchy, they're salty and they make a great vehicle for peanut butter's rich smoothness. That being said, pretzels do all the same things — but better.
Whether you favor sticks, twists or odd non-traditional shapes, pretzels are a winner with peanut butter. Their dark-baked finish gives them a deeper flavor than you'll get with ordinary crackers, and their denser texture means you'll enjoy a satisfying snap when you bite into them.
Spread peanut butter as-is on larger pretzels, or warm it in your microwave and use it as a dip while you binge on your favorite shows. It's even good on big, doughy soft pretzels, which replace the crunch of pretzel sticks, but give you their signature chewiness in return.
Make Your Money Work for You
Molasses
Cost: about $3.14 per 12 oz.
If you grew up in molasses-friendly New England, you might already know this one. The same dark sweet syrup that gives baked beans and Boston brown bread their distinctive flavor makes a surprisingly good companion for peanut butter.
Like other sweet ingredients, from chocolate to the sandwich-friendly grape jelly of your childhood, molasses plays off peanut butter's richness and mild saltiness. What sets molasses apart is its distinctive flavor, with its hints of spice and acidity. When it's combined with peanut butter, the two ingredients elevate each other to palate-pleasing greatness.
Experiment with adding molasses to your peanut butter cookies, or sandwich a peanut butter filling between two soft molasses cookies. Even better, blend the two together in your next sandwich or melt them together as a dip for shortbread cookies or sugar cookies. If you live in the South, sorghum is a good substitute and has the same affinity for peanut butter.
Goat Cheese
Cost: about $5 per 4 oz.
Switching back to the savory side of things, it's surprising how well peanut butter goes with soft cheeses. There are several you could try, but start with a fresh, mild, unflavored goat cheese as your first option.
The smoothly crumbly goat cheese and soft, spreadable peanut butter are a near-perfect match for texture, and you can combine them easily with a fork or the back of a wooden spoon. The cheese brings out a richer, more savory flavor in the peanut butter, while the peanut butter mutes the goat cheese's signature tang. The overall effect is similar to a peanut butter cheesecake, but not as sweet.
Spread the mixture on crackers or toast rounds as a canape — you can top it with either sweet or savory garnishes — or serve it with flatbreads or in sandwiches instead of plain peanut butter. For a milder but similar version, you can substitute cream cheese for the goat cheese.
Make Your Money Work for You
Oatmeal
Cost: about $4 per 42 oz.
Oatmeal isn't everyone's idea of a good time, but it's hard to imagine a more virtuous breakfast. It keeps you full for a long time, it's loaded with fiber, and it can help keep your cholesterol down. It's even relatively high in protein, as grains go.
That being said, there's still plenty of room to take your oatmeal to a whole other level of flavor and nutrition. One of the fastest ways to do that is by adding peanut butter.
Just stirring two tablespoons of peanut butter into your morning bowl of oatmeal ups its protein by over 7 grams, and adds plenty of minerals and healthy unsaturated fats as well. Even better, it adds richness and flavor to the relatively bland oats. After all, the only thing better than healthy food is healthy food that tastes good.
Hot Peppers and Hot Sauce
Cost: about $2.93 per 17 oz.
This one's another eye-opener, in more ways than one. If you mostly think of peanut butter as something that goes with sweet foods, you're seriously missing out.
Although it feels strange to anyone who grew up on PB&J sandwiches, the peanut — a legume, like beans or lentils — goes beautifully with spicy foods and sauces. Traditional recipes call for roasting and grinding the nuts but peanut butter is the cheater's version because that's exactly how peanut butter is made. Its rich, oily flavor mutes the chili heat without hiding it.
The combination is essential in a number of cuisines from around the world. Try it in a Thai-style peanut sauce, or Malay/Indonesian satay. For a heartier, cold-weather dish, make West African peanut stew with sweet potatoes, hot peppers and chicken or shrimp.
Prices are based on average prices on Aug. 19, 2019, but may vary depending on location and are subject to change.