7 Best Items To Buy at Trader Joe's This September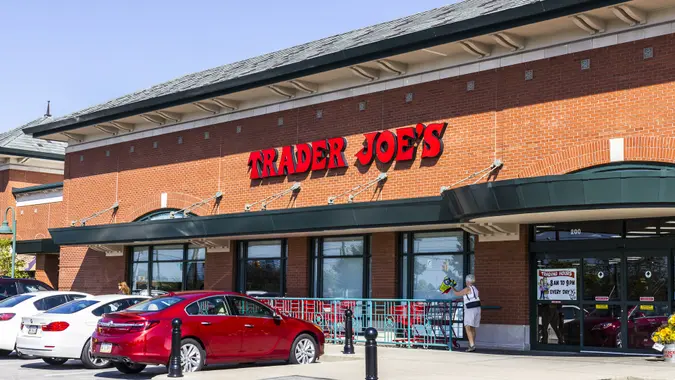 Jonathan Weiss / Shutterstock.com
The fall season has arrived at Trader Joe's! Throughout September, Trader Joe's shoppers can stock up on returning favorites as well as tasty new offerings promoted in Trader Joe's Fearless Flyer without breaking the bank. 
If you're making a grocery list for Trader Joe's, make sure to shop these seven must-haves in September. 
Apple Cider Donuts
Trader Joe's apple cider donuts headline the first page in the Fearless Flyer for a good reason. They're full of fresh-from-the-orchard flavor and priced affordably. Each box contains six donuts for $4.49, meaning Trader Joe's shoppers pay less than 75 cents per donut.
Honeycrisp Apples
Selling these honeycrisp apples for $1.29 each is one of Trader Joe's ways of ensuring customers get the best possible price.
Make Your Money Work for You
Many retailers sell honeycrisp apples by the pound and customers may assume they're getting a good deal because of it. However, the Fearless Flyer said Trader Joe's "by-the-each" pricing makes sure customers get the best possible value, since the average honeycrisp apple can weigh close to a pound on its own.
Ground Turkey
Cool weather months mean it's time to cook comfort foods like casseroles and meatloaf for weeknight dinners. Trader Joe's ground turkey not only cooks quickly but has a price tag shoppers will love at $4.49 per pound. 
Shawarma Chicken Thighs
At Trader Joe's, each random weight package of the Shawarma Chicken Thighs sells for $6.99 per pound every day. As an added cooking bonus, these thighs come fully seasoned. Their spice marinade consists of onion, garlic, sea salt, cumin, cinnamon, coriander, paprika, turmeric and parsley. 
Mushroom & Black Truffle Flatbread
Take your pizza night to the next level. Instead of ordering pizza, splurge on Trader Joe's mushroom and black truffle flatbread. Each flatbread is made in Italy, and it's a buy which is easy on your wallet at $5.49.
Make Your Money Work for You
Molasses Cookies
We crunched the numbers, and if you consider how each package of Trader Joe's molasses cookies includes 12 cookies for $4.49, you're paying around 41 cents per cookie. Who could pass up such a sweet deal?
Harvest Blend Herbal Tea
No fall season is complete without cups of warm, soothing tea to enjoy. Trader Joe's harvest blend herbal tea sells 20 bags for $2.49. This breaks down to around 12 cents per cup — a price we can't help but fall for.
More From GOBankingRates