Best National Chocolate Chip Cookie Day Deals and Freebies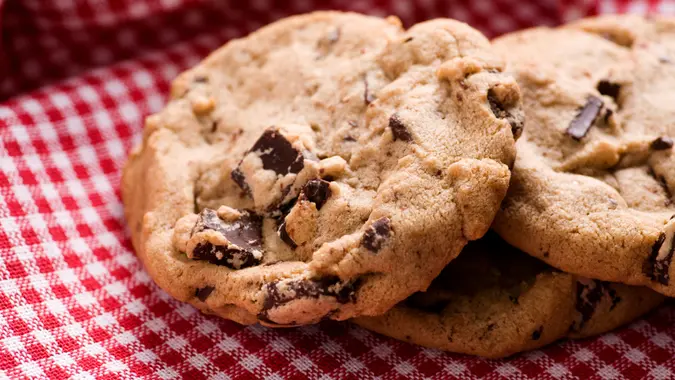 alejandrophotography / iStock.com
Ruth Wakefield and her husband ran an inn together in Massachusetts in the late 1930s when she ran out of baker's chocolate one day while making cookies for her guests. Wakefield experimented with semi-sweet chocolate chips, instead, and accidentally invented history's greatest cookie. She named it after her inn, the Toll House.
75 Birthday Freebies: Free Stuff for 2021
See: Things You Can Get For Free in Every State
More than 80 years after the Toll House cookie was born accidentally, the chocolate chip cookie is the unofficial cookie of the United States — it even has its own holiday. Aug. 4 is National Chocolate Chip Cookie Day, and you can save money, score discounts or even walk away with free cookies both online and in stores all day long.
Bang Cookies:

Coupon code bmc20 gets you 20% off your order on National Chocolate Chip Cookie Day and beyond. You can also take 10% off your first order at Bang Cookies by signing up for emails and you'll earn 200 free points by joining the Bang'Bassadors program.

Cheryl's Cookies:

Cheryl's is running major sales on dozens of different products, including a Mystery Box of cookies marked down from $39.99 to $19.99. Celebration Cookie Sampler boxes start at $19.99 instead of $39.99. Also, sign up for emails and you'll get 10% off your first order.

Grand Casino:

This one is location-specific, but if you do happen to be in Hinkley, Minnesota, on Aug. 4, the first 500 guests who swipe their cards get free cookies from noon to 6 p.m.

Naval Amphibious Base:

If you're one of the tens of thousands of men and women associated with the Navy's Pacific Fleet operations in San Diego — and even if you're not — the Naval Amphibious Base Q-Zone Liberty Center in Coronado, California, is giving out free cookies on Aug. 4.
Check Out: 5 Best Companies for Free Samples
Read: 11 Restaurants Where Kids Eat Free
Nestle Toll House Cafe:

It wouldn't be National Chocolate Chip Cookie Day without an offering from the company that bears the name of the original. Packages of a dozen Toll House cookies are buy one, get one free all day long on Aug. 4 both in stores and online.

Panera:

You don't need a coupon code — you don't even have to wait for National Chocolate Chip Cookie Day — to get a free cookie at Panera. Just download the MyPanera Rewards app to Apple Wallet.

Smiley Cookies:

Coupon code SPRING2 gets you 10% off your order through SmileyCookie.com.

SuperFat:

If you're holding out for something gluten-free, kosher, keto-friendly, vegan, non-GMO and paleo-approved, SuperFat checks all your boxes. Plus, coupon code CHOCOLATE gets you 20% off all cookies.

Tiff's Treats:

Tiff's has dozens of locations in states across the South, most of which are in its home state of Texas. Every single one of those stores is giving out free cookies on Aug. 4 and selling boxes of a dozen for the discounted price of $12.
Make Your Money Work for You
More From GOBankingRates
Last updated: Aug. 4, 2021
Make Your Money Work for You