10 Best Things To Buy With SNAP at Trader Joe's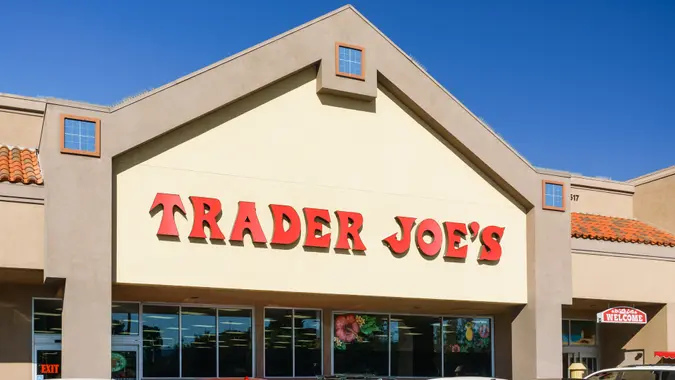 Ken Wolter / Shutterstock.com
One of the best things about SNAP benefits, aside from helping low-income recipients get the sustenance they need by expanding their healthy food budget, is that they can be used at so many good stores that accept them — including Trader Joe's.
Trader Joe's has become known for its quality food at low prices, which counts even more when inflation is at an all-time high. And while not every item on your shopping list will yield the best value when it comes to using your SNAP benefits at the grocery chain, there are plenty that will. 
Here are the 10 best things to buy with SNAP the next time you're at Trader Joe's.
Trader Joe's Six-Packs of Single-Serving Yogurt 
If you're a fan of 4-ounce servings of yogurt, Trader Joe's offers six-packs in a variety of flavors, including raspberry and Meyer lemon with two flavors featured in each pack. You'll pay $2.99 for a six-pack, which is about 50 cents per serving. Other brands can cost up to $1 more per pack and only offer four servings instead of six.
Trader Joe's Ready Veggies
A blend of broccoli, Brussels sprouts, red cabbage, kale, carrots and snow peas is what you'll find in TJ's 12-ounce bag of raw Ready Veggies. While Target sells a 12-ounce bag of raw veggies for $2.79, it only contains cauliflower, carrots and broccoli, which pales in comparison to the variety of veggies offered by Trader Joe's.
Make Your Money Work for You
Trader Joe's Mandarin Orange Chicken
When you need a weeknight dinner in a snap, TJ's Mandarin Orange Chicken is the perfect solution. Each 22-ounce bag serves about five, which is around $1 per serving. Add some rice and veggies and you'll have a tasty, satisfying meal that's very affordable. Other brands of frozen orange chicken can easily cost several dollars more.
Trader Joe's Classic English Muffins
English muffins are a versatile food. You can substitute them for toast, use them to make breakfast sandwiches or create two mini pizzas from each one. Trader Joe's offers a six-pack at an amazing price. For other brands, you'll easily pay over $1 more.
Trader Joe's Mixed Nut Butter
Made from a blend of almonds, cashews, brazil nuts, walnuts, hazelnuts and pecans, Trader Joe's Mixed Nut Butter can be spread on bread or crackers or eaten with fruit. At $5.99 for a 12-ounce jar, it's a great deal. Target's Good & Gather Mixed Nut Butter costs $6.99 for 12 ounces.
Trader Joe's Cara Cara Navel Oranges
Cara Cara Navel Oranges aren't your garden variety fruit. TJ's describes their appearance as a cross between a blood orange and a grapefruit with a taste that's reminiscent of raspberries and strawberries.
Whatever your take is on the flavor of this citrus wonder, you'll no doubt save. At Target a three-pound bag of regular navel oranges is $5.39. And if you opt for the cheaper Trader Joe's variety, you'll be happy to know Cara Cara's are higher in both vitamin A and C than regular navels.
Make Your Money Work for You
Trader Joe's Riced Cauliflower Stir Fry
If you're watching your carbs or you'd prefer an extra serving of veggies over a starch, a bag of the chain's Riced Cauliflower Stir Fry is a good option for a filling meal. In addition to the riced cauliflower, the stir fry blend also contains red bell pepper, grilled corn, green peas and spring onions. At $3.49 for 4.5 servings, it equals about 78 cents per serving.
To round out the meal, TJ's recommends topping it with a fried egg, avocado slices and a squirt of its house-brand Sriracha sauce. To compare, the same size bag of riced cauliflower stir fry at Target costs $3.99.
Trader Joe's Cheese Party Tray
Although its name makes it sound like it's reserved for parties, this item's layers of colby jack, Swiss, mild cheddar and pepper jack cheeses are perfect for everyday snacking. And you don't have to feel like you're overspending because TJ's offers it at an outstanding price. If you try to pick up the same size cheese tray at Target, you'll pay a whopping $4 more.
Organic Bananas
If organic fruit matters to you, you'll be happy to know Trader Joe's sells organic bananas for a quarter each, which makes it convenient if you don't want to buy a whole bundle. At Target, non-organic bananas are 25 cents each, while organic bananas are sold in a two-pound bundle for $1.59.
Make Your Money Work for You
According to the Kitchn, three bananas equals one pound, so six equals two pounds. At Trader Joe's cost of 25 cents per organic banana, that's $1.50 for six organic bananas or 9 cents cheaper than the organic, two-pound bundle Target offers. Plus, there's the convenience factor at TJ's; you can buy just one or two bananas rather than a whole bundle if you like, which can help you stretch your SNAP benefits a bit further.
Trader Joe's Maple Chicken Breakfast Sausage
These all-natural, fully-cooked breakfast sausages have no antibiotics or hormones and can be prepared quickly on the stovetop or under a broiler. Each package contains 12 links, which equals 39 cents per link. A comparable brand runs about 50 cents per link.
More From GOBankingRates