8 Best Trader Joe's Buys, According To Superfans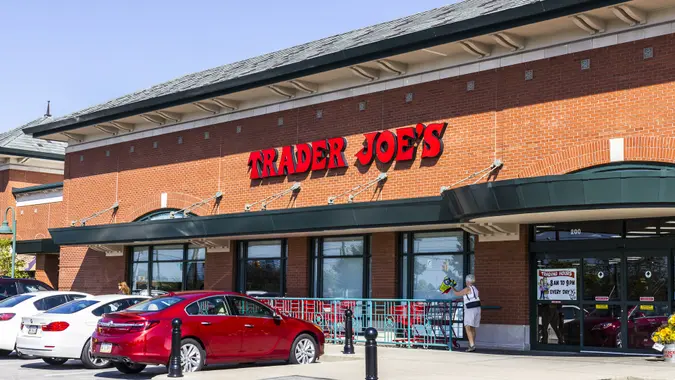 Jonathan Weiss / Shutterstock.com
There are plenty of items that keep shoppers coming back to Trader Joe's. Many Trader Joe's offerings are unique to the grocery chain and develop a cult following, so much so that there's even a Product Hall of Fame across various categories voted on by customers.
Which must-haves do Trader Joe's enthusiasts always add to their carts and know are worth the purchase? These are the eight best Trader Joe's buys, according to superfans.
Chicken Gyoza Potstickers
On the weeknights when you don't feel like cooking, Trader Joe's Chicken Gyoza Potstickers are the perfect freezer staple to satisfy your cravings.
Julie Ramhold, consumer analyst at DealNews.com, said you can get a bag at Trader Joe's for about $4 for 16 ounces. "Throw these in an air fryer, steam some broccoli, and serve with rice and it's a decent and filling meal that barely takes any work."
Hearts of Palm Pasta
Think you know your noodles? Trader Joe's Hearts of Palm Pasta stands out from the typical grains and legumes by using hearts of palm from the center of palm trees. 
This pasta is priced at $3.49 for nine ounces. Vered DeLeeuw, founder at Healthy Recipes Blog, recommends it for anyone looking to enjoy pasta without the carbs. "The texture is great and the flavor is mild enough you can use it with any sauce you want, even a mild butter parmesan sauce."
Make Your Money Work for You
Steamed Pork & Ginger Soup Dumplings
Save the money you'd spend on takeout or a restaurant bill and put it toward Trader Joe's Steamed Pork & Ginger Soup Dumplings instead. 
"These are fast, delicious and authentic tasting Chinese soup dumplings," said Cindy Chin Smith, owner of Pen and Paces. "They're ready in 90 seconds! This is my go-to when I want to eat an authentic meal and not go to the restaurant or labor over cooking."
Cauliflower Gnocchi
Priced at $2.99 for a 12-ounce bag, Trader Joe's Cauliflower Gnocchi is an affordable and healthy must-have for superfans. 
Lisa Richards, nutritionist and creator of The Candida Diet, said there are plenty of benefits from a health perspective. "It is made primarily from cauliflower, providing a lower-carbohydrate and gluten-free alternative to traditional potato-based gnocchi. Cauliflower is rich in vitamins, minerals and fiber, making it a nutritious choice."
The cauliflower gnocchi is also made without any artificial additives or preservatives. Richards said this enhances its appeal to health-conscious consumers and allows it to pair well with a variety of sauces, herbs and seasonings.
Organic Fresh Basil
Audrey Sommer, founder of Audreythena: Food Goddess, is a lifelong Trader Joe's shopper. Almost every time Sommer shops at Trader Joe's, she picks up their Organic Fresh Basil.
The quality and price are unmatched by other grocery stores, Sommer said. "For the basil, you can get four ounces, or four packed cups worth of fresh organic basil, for around $3. When faced with the current prices of store-bought herbs, this is a steal and something very affordable and attainable for most people."
Make Your Money Work for You
Organic Elote Corn Chip Dippers
Need some chips to snack on that stay within your shopping budget? Ramhold recommends picking up a bag of Trader Joe's Organic Elote Corn Chip Dippers. 
"The spice makes them a great alternative to corn chips which may just be kind of plain and salty, and because of that they're great with everything from chili to dipping in guacamole or queso dip," said Ramhold. "They're roughly $2.69 per bag which is a great deal for such a versatile snack."
Organic Hummus
Trader Joe's Organic Hummus, according to Sommer, has historically always been priced between $3 to $5 for a larger size. (An eight-ounce container is currently $2.99.)
"Going to any other grocery store, it's often much more," said Sommer. "Their hummus has minimal ingredients and it's delicious. It's a great dip to have in your fridge to supplement meals and snacks."
Daily Facial Sunscreen SPF 40
While the final item in our roundup isn't a grocery store staple per se, superfans agree Trader Joe's Daily Facial Sunscreen SPF 40 is definitely worth the buy. 
At $8.99, Smith said this sunscreen is inexpensive but feels like Supergoop without the luxury sunscreen price tag. "It's great for daily use and since I'm a runner, I need a lot of sunscreen this summer!"
More From GOBankingRates