7 Cheap Publix Grocery Products To Start Buying Now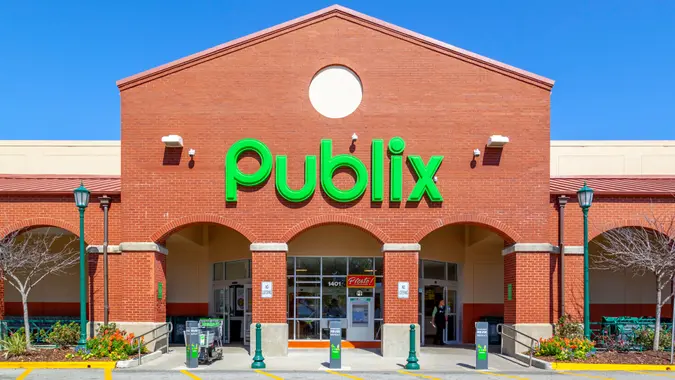 JHVEPhoto / Shutterstock.com
With over 1,300 stores throughout the South, Publix is one of the 10 largest-volume supermarket chains in the country. The affordable grocery chain takes such pride in its high-quality offerings that it offers a no questions asked, money-back guarantee. But if you know what to buy, you won't need to take advantage of that offer.
GOBankingRates scoured the Publix subreddit to find the products that superfans swear by. Here are seven affordable store-brand grocery products they recommend.
Publix Cream Soda
"[There's] something about Publix Cream Soda that outshines the rest," said Reddit user MaidensRhapsody.
GreenWise Mustard
"All of the GreenWise mustards are awesome, especially the Dijon one," said Reddit user Paws1044.
If dijon isn't your thing, the mustard is also available in yellow, spicy brown and honey dijon flavors.
Publix Complete Buttermilk Pancake and Waffle Mix
"The Publix buttermilk pancake mix is the best pancake mix in the world," said Reddit user Stevethedeliguy.
Make Your Money Work for You
Publix Premium Ice Cream
Multiple Publix fans on Reddit recommended the Premium Ice Cream. Recommended flavors include the moose tracks, chocolate and coffee.
Publix Enriched White Bread
Reddit user Zone_boy said that the store-brand white bread is "super cheap and delicious."
GreenWise Angus New York Strip Steak
"I once decided to splurge a little bit and get GreenWise NY strips while they were on sale — 100% the best steak I've had in my life," said Reddit user FiendishGJW.
Cream Cheese-Iced Walnut Brownies
Many fans lauded the bakery selection at Publix, with the cream cheese-iced brownies, in particular, getting a shoutout.
More From GOBankingRates