How To Eat Out Cheaper in 5 States Where People Dine Out Most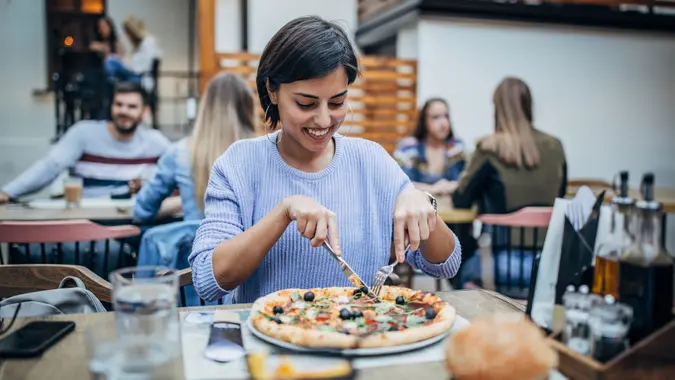 South_agency / Getty Images
Americans have been eating out more than ever despite inflation, according to several studies. In the first quarter of 2023, people spent 20.7% more on dining out than on groceries. The amount spent in restaurants spiked by 29.5% in the first two months of 2023, according to an Axios report.
A new study from PriceListo found that Americans spend an average of $20 to $75 for a restaurant meal, depending on the number of diners, size and type of order, and the type of venue.
"Yet those interested in a quick, cheaper alternative can grab a McDonald's meal for only $10 on average," a PriceListo spokesperson pointed out in an email about the study.
However, there are better ways than resorting to fast food to save money while you're dining out. PriceListo recently shared a list of states that dine out the most and how much it costs there. Using statistics from Google Keyword Planner, PriceListo investigated how often people searched for more than 3,500 dining-related terms, presuming these searches resulted in either ordering fast food or dining at a restaurant.
Five States Where Residents Dine Out the Most
Let's look at the top five states where residents dine out the most (or consider it), and the prices of sit-down meals versus McDonald's in those states. Then, we'll share some expert tips to help you save money on those meals.
Make Your Money Work for You
| | | | |
| --- | --- | --- | --- |
| State | Restaurant-related searches (per 100,000 residents) | Avg. Price of Restaurant Check | Avg. Price of McDonald's |
| Colorado | 74,795 | $18-$72.50 | $10 |
| Hawaii | 72,127 | $20-$80 | $12 |
| Florida | 71,903 | $14.75-$60 | $9.25 |
| Nevada | 70,101 | $35- $75 | $13.50 |
| Arizona | 67,194 | $20- $70 | $10 |
It's interesting to note the cost of dining out doesn't seem to affect the frequency in more expensive cities. However, increased demand for restaurant meals could, theoretically, raise prices in those cities.
For instance, restaurant meals in Hawaii and Nevada (second and fourth respectively on the list of states where people dine out frequently) have prices above the national average. However, Florida falls well below the national average for prices of restaurant meals and lands in the third spot on the list. Colorado, the state where people dine out the most, also has prices slightly below the national average.
"Meanwhile, Austin, Texas, and Raleigh, North Carolina, [7th and 8th on the list] can be some of the most expensive places for an average meal in a restaurant, costing between $20-$91 and $21-$87.50, respectively," the spokesperson said.
Wherever you travel — or if you decided to grab a bite in your hometown — you can save money at chain restaurants and local establishments alike by following these expert tips:
1. Plan Your Order Ahead
Reviewing the menu online has many money saving advantages. First, it can help you choose a spot within your budget. In addition, since many restaurants today add surcharges for using a credit card, reviewing the menu before you go out means you can make sure you have enough cash to avoid those charges.
Make Your Money Work for You
"[It] gives you and your dining companions time to strategically plan food-sharing and look for cheaper options," said Andrew Schrage, co-founder and CEO of the personal finance website Money Crashers.
Planning ahead can also help you avoid some of the pressure you might feel from restaurant staff to order specials. "If an item is boxed or bolded on the menu, or if the server makes a point of suggesting it, it's probably more profitable for the restaurant than other items," Schrage said during an exclusive interview with GOBankingRates. "That, in itself, isn't proof it's a poor value. But it's a reason to think twice."
Schrage also advised, "Don't be swayed by the server's upsells." Skipping appetizers and dessert is one of the easiest ways to reduce the cost of your restaurant bill.  
2. Don't Be Afraid To Order the Steak
You might think you're saving money by steering clear of steak and seafood and ordering cheaper dishes like chicken and pasta. However, Schrage noted this conventional wisdom no longer applies in today's economy.
"[A] smaller, less expensive cut like a 6-ounce sirloin is often around the same price as most everything else on the menu," he pointed out.
And if your mouth is watering at the thought of the filet mignon or T-bone, don't be afraid to splurge. "[E]ven if you opt for something pricey, there's a lot less markup on a $30 T-bone than an $18 plate of pasta," Schrage said.
You'd still pay a pretty penny picking up a porterhouse from your local butcher or grocery store — and unless you're an excellent chef, you might be disappointed in the results you get at home.
Make Your Money Work for You
"So, making that Cajun chicken pasta at home saves you a lot more actual cash than a DIY Porterhouse," Schrage said. "In fact, if you order the pasta, you're just subsidizing someone else's steak."
3. Leverage Apps for Savings
Marc Fass, an avid foodie and theme park enthusiast who always searches for deals, is an expert at saving money with food apps. He said he leans toward chain restaurants because they tend to be more allergy-friendly and sometimes more affordable.
"You can find big savings just making sure you use the app for your favorite fast-food chain or casual family restaurant," Fass pointed out.
If you're feeding a crowd, you can split orders between people or different phones to use multiple deals. For instance, if you have a large order and a coupon for $5 off a purchase of $25 or more, you can save $10 off $50 if you use two accounts to make the purchase.  
Pay attention to expiration dates, as well. If it wasn't already in your plans, it's not a good idea to eat out just to use a coupon. But if you're debating between a few locations, you may as well go to a place where you can use any special offers before they expire.
4. Choose Wisely on the Road
If you're traveling, you might want to stick to chains you know so you can take advantage of loyalty rewards and in-app offers. However, Fass warned, "Many deals are regional, so it's always a good idea to check what's available where you are or where you're going."
Make Your Money Work for You
Part of the excitement of travel is venturing beyond what you know, Fass said. With this in mind, he recommended checking publications in hotel lobbies to find coupons for local spots.
"You'll also discover coupons in magazines and maps in small shops or grocery stores in touristy areas," he said. "But a great way to save money is to actually avoid those touristy locations and use Google maps or Yelp reviews to search for places off the beaten path."
You can also use PriceListo's data to choose cheaper meals in pricier regions and vice versa. If you want to splurge at a five-star steakhouse, do so when you visit Tallahassee or Denver, where the average ranges for restaurant meals fall below the national average.
5. Choose Takeout Wisely and Prepare Sides at Home
When you're back home, you can continue to save on restaurant meals by ordering takeout. "Just skip delivery and pick up your order," Schrage advises, noting that foregoing delivery apps can save an average of $5 per person on your meal.
You can also spend less by placing a smaller order if you're willing to do some of the food prep or cooking yourself. "You can make easy sides or even appetizers yourself, including the stuff you'd normally have to pay extra for," Schrage said. "Make a quick salad with some mixed greens and julienned carrot and tomatoes or pop some sweet potato fries, onion rings, or frozen poppers in the air fryer."
Make Your Money Work for You
Bottom Line
There's no reason to stop dining out just because of rising restaurant prices. You can use technology to plan ahead and find discounts.
More From GOBankingRates