The Cost to Eat Like Dwayne 'The Rock' Johnson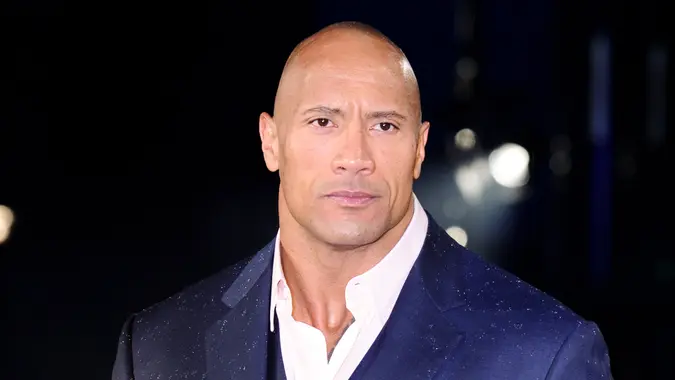 Featureflash Photo Agency / Shutterstock.com
When the latest Disney movie "Moana" hits theaters Nov. 23, Dwayne "The Rock" Johnson will play the voice of heroic demi-god Maui, who helps a young woman save her people from destruction.
Maui is a fitting role for The Rock. The character is a powerful, heavily-tattooed Pacific Islander — and so is Dwayne Johnson. The actor is, after all, the most famous member of the legendary Anoa'i family, a long-reigning dynasty of Samoan wrestlers who all hail from the same lineage. A powerful physique is undoubtedly part of Johnson's DNA, but you'll likely be surprised when you smell what The Rock is cooking — and eating raw — in order to maintain his muscle mass.
Related: The 10 Best- and Worst-Grossing Dwayne Johnson Movies
The Average Person's Diet
The U.S. Department of Agriculture offers dietary recommendations based on age, gender and lifestyle. It recommends moderately-active men in the 41-to-45 age range consume 2,600 calories per day. For an active, 44-year-old male — the same age as Johnson — the National Agricultural Library recommends between 65 and 114 grams of fat; 60 grams of protein; and between 331 and 478 grams of carbohydrates in a near-3,000 calorie per day diet.
Meanwhile, a 2012 Gallup report found the average American spends $151 on food each week, or $604 per month. And estimates from the Bureau of Labor Statistics put household spending on food in 2015 at $7,023, or $585 per month.
The Dwayne Johnson Diet
The 6-foot-5-inch tall, 260-pound Johnson has to eat slightly more than the USDA recommends to sustain his 50-inch chest and 20-inch biceps.
Make Your Money Work for You
He consumes 821 pounds of cod — more than a third of a ton — every year, reported FiveThirtyEight. That amounts to 1,000 calories of fish every day. Annually, he spends about $1,400 on cod, assuming wholesale pricing. But fish isn't the only thing The Rock is cooking.
In Theaters: 'Billy Lynn's Long Halftime Walk' Cast Net Worth Breakdown
The famed actor eats seven meals a day for a combined 5,165 calories, or 10 pounds of food every 24 hours. Muscle & Fitness reported that, in addition to 36 ounces of cod, Johnson eats 8 ounces of chicken; 8 ounces of steak; a 10 egg-white omelet; 12 ounces of sweet potato; and a 12 ounce baked potato, among other fixings — every day.
One nutritional area where The Rock nearly averages the everyday man is fat intake. The average 40-something man consumes 107 grams of fat every day. The Rock beats that number by just 2 grams, for a daily intake of 109 grams of fat every day.
The similarities to mere mortals end there. The average man consumes 3 grams of carbs and 1 gram of protein for every gram of fat. For The Rock, it's 5 grams of carbs and 4 grams of protein for every gram of fat.
The Cost of The Rock's Diet
Sean Evans of Complex called The Rock's diet a "part-time job." When FiveThirtyEight followed the progress of an average person who attempted to emulate The Rock's eating habits for a month, they discovered that the routine is "exhausting" and "expensive." No kidding.
The meal plan cost the imitator $1,262 in a single month on food alone, more than double what the average American spends. To boot, Johnson also takes large quantities of expensive supplements. Eating like The Rock costs about $42 a day, more than half of which goes to cod.
Make Your Money Work for You
Find: 51 Healthy Food Items That Cost Under $1
What The Rock Eats When He Bulks
Sometimes, The Rock needs to bulk. When he gained weight for the role of Hobbs in "Fast 8," the next film in the Fast & Furious franchise, Johnson put on an extra 22 pounds of muscle. He increased his calorie intake to 6,000 per day. One breakfast he posted to Instagram included 80 grams of Cream of Wheat, grass-fed buffalo and whole eggs.
For the role of the son of Zeus in "Hercules," Johnson told BodyBuilding.com that he went on a 22-week diet that included filet mignon, asparagus, cream of rice, broccoli, oatmeal, baked potatoes, eggs and chicken.
When The Rock Cheats, He Really Cheats
Johnson is renowned throughout the fitness world for his fanatical dedication to his intense exercise regimen and diet. But even The Rock has to take a day off every once in a while.
After four months of training to get in shape for his role in "Central Intelligence," Johnson posted to Instagram his cheat meal: a plate stacked with peanut butter brownies and cinnamon buns. While promoting "G.I. Joe: Retaliation" on ABC News, he shared his cheat day diet:
A dozen pancakes
Four double dough pizzas
21 peanut butter brownies
The Rock is anything but average. The WWE superstar turned Hollywood A-lister burns 3,550 calories a day through his unforgiving exercise routine, which includes one hour of cardio and an hour and a half of weight training six days a week. His diet is big enough to keep pace with his supersized workout regimen, career and starpower.