Are These 8 Costco Items Worth the Hype (and Price)?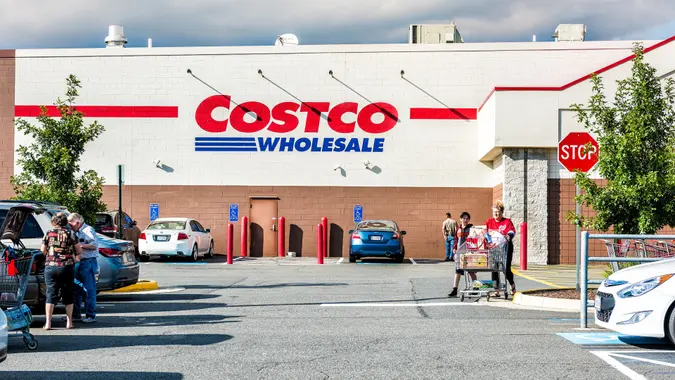 855684128 / iStock.com
Not only does Costco offer amazing deals to its members, but many of its products have become part of American culture in their own right.
But are they really worth the money?
Hot Dog & Soda Combo
Costco Chief Financial Officer Richard Galant stated in 2022 that he wouldn't be raising the price of the company's jumbo all-beef hot dog and soda combo — available in the food court — any time soon. In fact, he said it would remain the same value-packed $1.50 that it was in 1985 "forever." So, this is a cult favorite to count on.
Muffins
Costco's Kirkland Signature Muffins are perfect to feed a crowd for brunch or serve as an easy grab-and-go breakfast. Available in chocolate, blueberry, banana chocolate chip and a host of other flavors, these products have been around virtually forever and have gained "cult favorite" status. Plus, they freeze really well if you want to stock up — maybe to have some on hand if guests drop by unexpectedly.
Kirkland Signature 100% Columbian Coffee
What goes better with a muffin than fresh-brewed coffee? Costco shoppers swear by the Kirkland Signature Supremo Bean Dark Roast 100% Columbian Coffee. "It tastes like Starbucks but a bit less bitter," said Kellie Rubino-Mook, who shops at Costco in Champaign, Illinois. "I like strong coffee with a good aroma. The aroma is fantastic and it's smooth."
Mini Lemon Cakes
Mini Lemon Cakes are back at Costco after a hiatus, much to the excitement of TikTok accounts like @CostcoHotFinds. You may wonder why they are called "mini" when they are actually "GIANT cupcakes" as one TikTok user pointed out. Big cupcake? Small cake? Who cares when they taste this good?
Make Your Money Work for You
Bagels
On the topic of Costco baked goods, the company's bagels have also achieved legendary status in the eyes of shoppers and reviewers alike. A taste test by The Sun ranked Costco bagels second only to Einstein Bros., a bagel shop franchise.
Costco bagels also ranked second to our local bagel place in an informal taste test by my 12-year-old son. Speaking as a New Yorker, these store-bought bagels are the next best thing to our local bagel place. You have to buy two bags at a time, for a dozen bagels, but can mix and match two different flavors.
Realgood Foods Chicken Strips
Costco is known for items that aren't easy to find in other grocery stores — and for less money than you'd pay elsewhere. Realgood Foods Lightly Breaded Chicken Strips are the perfect example. "They're low in carbs, attractively priced, and they taste like they came from a really nice pub. They don't taste like frozen foods," said PJ Gach, a New York City-based freelance writer and owner of the Instagram account @NYCFreeattheCurb.
Kirkland Signature Hormel Precooked Bacon
People rave about Costco's bacon, which Consumer Reports discovered tastes better than competitors. It's also about 20% cheaper.
If you're looking for a quick bacon fix, the Kirkland Signature Hormel Hickory Wood Smoked Precooked Bacon is almost as good as freshly cooked, Costco shoppers say. One pound equals 48 to 50 slices, and sells for roughly $12.50.
By comparison, Oscar Mayer Fully Cooked Bacon, which doesn't garner the same rave reviews, costs $4.29 for 9 to 11 slices at Target. Not only is the price better at Costco, but the quality is "astounding," Gach said. "It's so easy to prepare I can use it on anything, from sandwiches and salads to breakfast burritos."
Make Your Money Work for You
Rotisserie Chicken
Overwhelmingly, when I asked friends and family about their favorite Costco "cult favorite," many people said the rotisserie chicken. At just $4.99, it may be one of the best values in the store. "It's much larger than the grocery store and well-seasoned," Rubino-Mook said.
Gach explained, "Cost per dollar, you're getting a better ROI with Costco because their prices, in general, are so much lower than grocery stores. The quality is amazing, and in the end, you're paying less because you're buying a larger size that will last you more than one or two servings."
More From GOBankingRates