Costco or Sam's Club? Where To Get the Best Deals on Groceries in February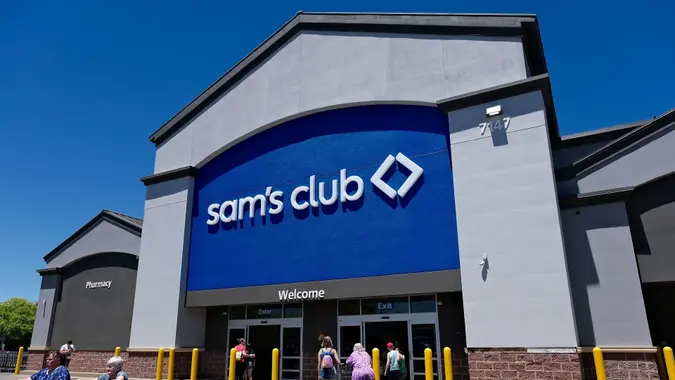 slobo / iStock.com
Both Costco and Sam's Club are warehouse clubs known for their low prices on bulk items. These days it's more important than ever to get the most bang for your buck when shopping for groceries.
Check Out: 11 Grocery Items To Buy at Dollar Tree
Pay Less: 3 Ways Smart People Save Money When Filing Their Taxes
Whether you are thinking about getting a membership to either Costco or Sam's or you happen to already be a member at one or both places, you might wonder which one offers the best deals to help you save on your monthly grocery bill.  
To find out, GOBankingRates compared the costs of a variety of common food items at both Costco and Sam's. Find out where to get the best deals on groceries in February. 
Chicken Nuggets
Winner: Sam's Club
Having a large bag of frozen white meat chicken nuggets on hand can satisfy the need for a quick protein snack or a convenient meal. Costco has a 5-pound bag of Tyson White Meat Panko Chicken Nuggets priced at $19.99. If you don't care whether your chicken nuggets are breaded with panko, Sam's Club has a better deal. You can pick up a 5-pound bag of Tyson White Meat Chicken Nuggets for $14.48, which is more than $5 less.
Make Your Money Work for You
Take Our Poll: Do You Have a Second Job or Backup Plan in Case You Are Laid Off?
Gluten-Free Honey Nut Cheerios
Winner: Sam's Club
Boxed cereal isn't the most inspired breakfast, but it's quick and easy. You can pick up a two-pack of gluten-free Honey Nut Cheerios, which are 24 ounces each, at Sam's Club for $7.58, which comes out to between 15 and 16 cents per ounce. Costco also has a two-pack in stock, but in a different size. You'll get two 27.5-ounce boxes for $10.99, which comes out to almost 20 cents per ounce.
Tropicana 100% Orange Juice
Winner: Sam's Club
Both clubs sell packs of 10-ounce bottles of orange juice that are perfect for when you need to grab and go, but one club has a much better price. At Costco, you can pick up a 24-pack of 10-ounce bottles of Tropicana 100% Orange Juice for $18.99 (about 79 cents each). However, at Sam's Club the same 24-pack of juice is just $15.98 (about 67 cents each). Overall, you'll save about $3 by buying this item at Sam's instead of Costco.
Make Your Money Work for You
Frigo Cheese Heads String Cheese Sticks
Winner: Sam's Club
Each of these individually packaged string cheese sticks has six grams of protein, making it perfect for rounding out kids' lunches or as a low-calorie snack. Costco has a 60-count pack of 1-ounce Frigo Cheese Heads Cheese Sticks for $15.99 (27 cents each). Although Sam's Club doesn't sell quite as large of a pack — only 48 — its price is only 21 cents per cheese stick.
Bounty Paper Towels
Winner: Sam's Club
It seems no grocery item has escaped a price increase, and that includes paper towels. Sam's Club has a 12-pack of Bounty Select-A-Size 2-Ply Paper Towels for $22.18 ($1.85 per roll). Plus, with this purchase, Sam's is advertising up to a $15 rebate from the manufacturer through April 1, 2023.
Costco has the same pack of paper towels, but it's more expensive: $23.69 ($1.97 per roll). Normally, Costco sells the item for an even higher price of $28.99, but there's a manufacturer's discount of $5.30 through Feb. 26, 2023.  
Make Your Money Work for You
The Original Donut Shop Regular Coffee K-Cup Pods
Winner: Costco
K-Cup pods might not be the most environmentally friendly option, but they're great if you want only one cup of coffee instead of brewing a whole pot. At Sam's Club, the 100-count box of these popular coffee pods is $44.92 (45 cents each). At Costco, the same quantity box is $39.49 (about 39 cents each). The lower price is due to Costco offering a $7.50 discount on this item through Feb. 26, 2023. The regular Costco price for this item is $46.99.  
Where Can You Get the Best Deals on Groceries in February?
The answer is Sam's Club. GOBankingRates compared the prices on six common grocery items at both Sam's Club and Costco to determine where you can get the best deals on groceries in February. Five out of six items were cheaper at Sam's club after accounting for quantity and volume. And the only reason the sixth item (K-Cup coffee pods) was cheaper at Costco is because Costco is currently discounting the item by $7.50. Costco's regular price on the sixth item is still more expensive than Sam's.
Editor's note: All prices updated as of Feb. 9, 2023.
More From GOBankingRates
Make Your Money Work for You