8 Best New Grocery Items at Dollar Tree To Help Combat Inflation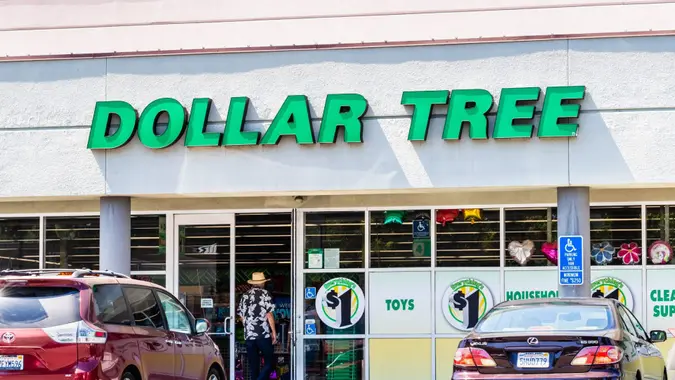 Sundry Photography / Getty Images
Inflation has caused weekly grocery bills to shoot up. Popular items like orange juice, eggs, chicken breasts, fresh ground beef, bacon and bread have all seen price increases in the past year.
Though prices can vary wildly at grocery stores, dollar stores like Dollar Tree keep their prices reliably low — and that's good news for your grocery list. Here are the newly introduced grocery items you should get at Dollar Tree to avoid paying inflation prices.
Whole Wheat Bread
Price: $1.25 for 16 ounces
As bread goes up in price at the grocery store, you can depend on it being $1.25 for a 16-ounce loaf at Dollar Tree. Even the Kroger brand for 16 ounces of whole wheat bread costs $1.99.
Sunny D Orange-Flavored Citrus Punch
Price: $1.25 for 56 ounces
Orange juice was one of the main items consumers saw go up in price over the past year. Get your fix at Dollar Tree for only $1.25 for nearly half a gallon. A gallon of Sunny D costs $3.50 at Ralphs, so even if you buy two at Dollar Tree, you're getting a deal.
Make Your Money Work for You
Chunk Pineapple
Price: $1.25 for 20 ounces
At Ralphs, a can of Kroger brand pineapple chunks will cost $1.79. Get a can of Libby's Chunk Pineapple at Dollar Tree for $0.54 less.
Take Our Poll: Are You Concerned About the Safety of Your Money in Your Bank Accounts?
Plastic Utensils
Price: $1.25 for 42
If you're planning to have a get-together, you're already spending a lot of money on food and drinks. Save some cash on the disposable cutlery. Ralphs sells a pack of 48 for almost twice the price. Get this package with seasonal maroon plasticware for a steal.
Salt
Price: $0.69 for 26 ounces
Salt has endless uses in the kitchen. Stay stocked with this bargain from Dollar Tree. The same amount at Ralphs will cost $1.25.
Cherry Pie Filling
Price: $1.25 for 15 ounces
A can of Mother's Maid Cherry Pie Filling only costs you $1.25, and though you get 21 ounces in a can from Ralphs, it'll cost you three times the price, so it's not really worth the extra filling.
Campbell's Kitchen Classics Beef Barley Soup
Price: $1.25 for 14.5 ounces
Make Your Money Work for You
If you're looking to stay in and have some soup, definitely stock up at Dollar Tree. Ralphs sells 11 ounces of Campbell's Condensed Beef with Vegetables & Barley Soup for $1.89.
Pickle Spears
Price: $1.25 for 17 ounces
Reviewers love this Dollar Tree deal. One says, "I bought this to add to my lunch and they taste good! I would recommend this for the price. You can't beat it." It's true, because at Ralphs, 24 ounces of pickle spears goes for $3.29 at the cheapest.
More From GOBankingRates
Make Your Money Work for You