Dollar Tree Dinners: 5 Best Money-Saving Meals From the TikTok Channel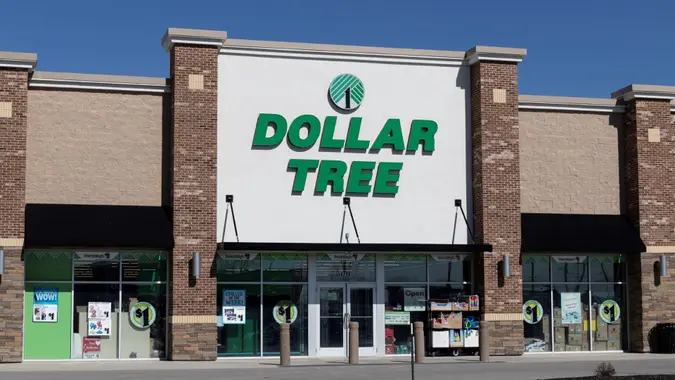 People living on a tight budget have to come up with creative ways to make their money stretch to feed themselves and their families, such as purchasing groceries at affordable stores like Dollar Tree. Enter Rebecca Chobat, whose TikTok channel Dollar Tree Dinners has over 780K followers and helps people spread as little as $3.50 to $5.00 across tasty meals in order to feed multiple people.
Here are five of her best money-saving Dollar Tree meal recommendations.
The 'Poor Man's Meal'
This meal is a Great Depression era meal that Rebecca originally saw on the YouTube channel "Cooking with Clara." The entire meal, Rebecca reports, is only $3.75 and consists of only three Dollar Tree purchased ingredients: one bag of frozen steak-cut fries, one bag of frozen pepper stir-fry and a package of hot dogs.
Make Your Money Work for You
She cuts the steak fries and the hot dogs into bite-sized pieces, then gives the frozen peppers a rough chop. She recommends a lot of oil in order to help the potatoes really brown and crisp up. You put on the peppers first, followed by the fries, and then after the fries began to brown and crisp, you toss on the hot dogs until they are also nice and brown. And that is pretty much it! She recommends seasoning as you like, but she opted for ketchup and hot sauce.
Take Our Poll: Do You Think AI Will Replace Your Job?
Dairy-Free Taco Soup
Many of Rebecca's followers have asked her for vegetarian and dairy-free options, so Rebecca offered up a simple recipe — this vegetarian taco soup (to which meat and dairy could easily be added).
She starts with two bags of frozen Santa Fe blend, which is a mix of corn, beans, peppers and onions, plus one package of Spanish rice, one packet of taco season and some oil. She follows the recipe on the Santa Fe blend package for microwave-steaming the vegetables, about 7 minutes. She tosses her taco seasoning in the pan first with two teaspoons of oil, to saute a few seconds, a technique known as "blooming" in which cooking the seasonings enhances their flavor.
Make Your Money Work for You
Then she adds in the Santa Fe blend and sautés until the vegetables are soft, and adds in the Spanish rice with four cups of water (bouillon or broth could also be used, but water saves money). She brings this to a boil, covers, reduces heat and simmers for 20 minutes, producing a very simple, tasty, dairy-free and meat-free soup.
Beef Pot Pie
Lovers of pot pie who don't have the time or money to make a fancy crust will enjoy this $5 meal consisting of only two Dollar Tree ingredients: canned beef stew (which contains beef, carrots, onions and potatoes) and a package of powdered biscuit mix (or cornbread).
Rebecca mixes up her biscuit mix with more water than the recipe calls for (one cup versus a half a cup) because she wants to make the biscuit mix thinner and more pourable. She sets that aside while pouring three cans of beef stew into a baking dish. Then she simply pours the biscuit mix over the top, covering as much surface area so it forms a crust. She bakes this at 400 degrees for 30 minutes and recommends letting it cool some before eating. This can be compared to a chicken pot pie.
Make Your Money Work for You
Creamy Spinach Pasta With Meatballs
If you're looking for a recipe that feels like something you might get at a nice Italian restaurant, but which only costs a total of $5, Rebecca offers up this creamy spinach pasta dish. While she uses meatballs, you could make this entirely vegetarian or add in a meat-substitute.
Her ingredients are a bag of small frozen meatballs cut into quarters, a half bag of frozen spinach, a box of cheesy pasta with seasoning of any kind (which she compares to a hamburger helper) a cup of milk and two cups of water.
She sautés up her meatballs in two tablespoons of oil first, then adds the thawed spinach. When both are sautéd to her satisfaction, she adds the box of pasta, one cup of milk and two cups of water and covers it to simmer for 12 minutes. At the end she adds in half of the seasoning from the pasta packet, which gives it a creamy texture and more flavor.
Goulash (or 'Beefaroni')
This last meal only costs $7.50 in ingredients but could feed four people with leftovers, according to Rebecca.
Make Your Money Work for You
She starts with two 8-oz frozen beef patties from Dollar Tree, thaws them, rinses them and then browns and crumbles them in a skillet. When the beef was done, she adds one bag of frozen seasoning blend, which contains diced onions, peppers and celery. Though the original recipe calls for a can of diced tomatoes, she substitutes a can of pasta sauce.
Then she adds the macaroni out of a family sized box of Mac n' cheese, or two boxes of regular size, and four cups of water. She brings that to a boil, then covers and simmers for 10 minutes. After that, add in the cheese powder from the mac n' cheese, stir, and if needed, add additional seasoning. She opts just for salt and pepper. For an additional $1.25, you could make garlic bread, or simply bread and butter.
More From GOBankingRates
Make Your Money Work for You