7 Dollar Tree Grocery Items To Skip — Even If They're on Deep Discount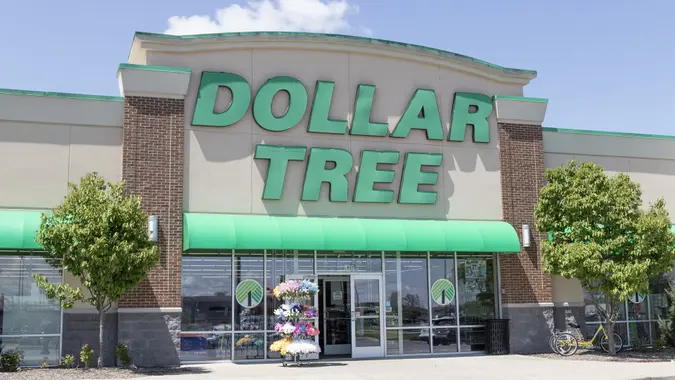 jetcityimage / iStock.com
More Americans are shopping at Dollar Tree to save money on their grocery bills, especially since the dollar store has expanded to include fresh produce and frozen food items. But there are some foods you'll want to avoid even if they are on sale.
Dented Canned Goods
Inspect all canned goods carefully, especially if they are in a discount bin or steeply marked down. Cans with dents may have small cracks that allow air and bacteria to enter. When this happens, the food can spoil and become dangerous to eat.
Milk
It might be tempting to stock up on milk when it's on sale at Dollar Tree. But think realistically about how much your family will drink before the sell-by date. While some foods have "best-by" dates that are more of a suggestion for best quality, you don't want to take a chance on milk that's past its time.
Soft or Bruised Fruit
Now that Dollar Tree sells produce, you can save a bundle on fresh fruit and vegetables. But inspect all fruit closely. It might be on sale, but if it shows signs of bruising or is too soft, it's not a bargain.
Bagged Salad
Bagged salad is another item you may find in the produce section of Dollar Tree. It may even be marked down if it's close to the expiration date. But bagged salad can spoil quickly. Plus, buying individual salad items is almost always less expensive.
Make Your Money Work for You
Giant-Sized Drinks
You'll often pay less per ounce for larger containers of juice or soda. But it's not a deal if you won't drink it all before it goes bad. If you have a big family, Dollar Tree's 64 oz. Diet White Grape Peach Juice is a great deal at just $1.25. But once opened, a container of juice only lasts about seven to 10 days in the fridge.
Frozen Food That Could Have Freezer Burn
You may find Dino Buddies chicken nuggets and frozen, pre-packaged White Castle burgers on sale in the freezer section at Dollar Tree. Inspect items for ice crystals, which could be a sign that the food inside has been frozen too long or at temperatures that have exceeded 0 degrees Fahrenheit. If that happens, the taste and texture could have deteriorated.
Candy
Dollar Tree's drool-worthy candy assortment, such as single-serving packages of M&Ms and six-packs of fun-size Snickers or Hershey's chocolate bars, can be tempting at just $1.25. But candy has very little nutritional value. If you're on a budget and looking to get the most bang for your buck in terms of nutrition, steer clear.
More From GOBankingRates
Make Your Money Work for You