Dollar Tree Viral Savings Hack: Make 3 Days Worth of Meals for Just $10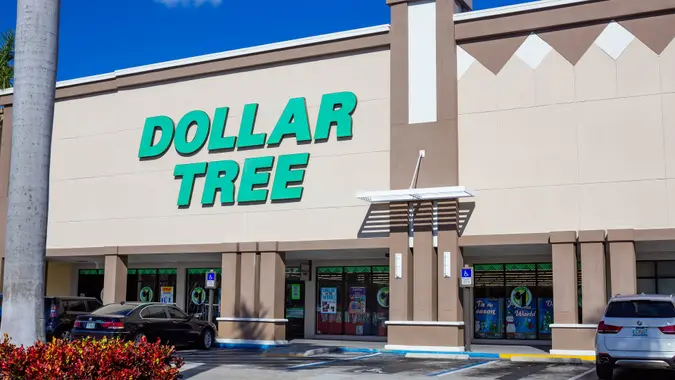 Marina113 / iStock.com
With rising food prices leading many to tighten their budgets, Dollar Tree's grocery items often garner the attention of frugal shoppers. Known for her Dollar Tree Dinners TikTok channel with over 960,000 followers, Rebecca Chobat offers advice on preparing convenient meals using Dollar Tree ingredients.
One money-saving hack in particular had many of her followers raving. Chobat showed her audience how to spend just $10 to make three days of tasty and filling skillet meals — including breakfast sandwiches, burritos and a meal prep dish.
In her viral TikTok video, Chobat heads to Dollar Tree to pick up these eight simple ingredients:
One dozen eggs.
Sandwich bread.
Smoked sausages.
Cheddar broccoli rice.
Refried beans.
Spanish rice.
Frozen broccoli.
Flour tortillas.
Since each item costs $1.25, the total spent is $10 plus any tax. And with Dollar Tree rolling back some prices to $1, this hack could become even cheaper in the future.
With these items on hand, Chobat illustrated how to make omelette-style sandwiches for breakfast. After scrambling three eggs in her skillet, she takes two slices of sandwich bread and covers each side with the mixture. Making three of these sandwiches uses nine eggs, so she advises: "The other three can be hard-boiled for snacking or to make egg salad sandwiches if you've got mayonnaise and mustard."
Next, she makes a meal prep dish suitable for lunch or dinner. She dices up some broccoli and sausage, which she puts in the skillet. Then, she adds seasoning, water and cheddar broccoli rice. After stirring the mixture, she lets it cook for 10 minutes before transferring it to three convenient meal containers. She recommends using some of the leftover sandwich bread as a side.
Make Your Money Work for You
For the final meal, Chobat prepares 12 burritos that can also work as snacks. She cooks the refried beans and Spanish rice to use as the filling for the tortillas. Along the way, she suggests options such as substituting chili for the beans, grilling the burritos for a better texture or adding hot sauce for more flavor.
While these cheap meals can be a financial lifesaver if you're low on cash, it also helps to follow some tips on your next trip to Dollar Tree. The Washington Post emphasized the importance of checking the food's quality and expiration date — and making sure other retailers don't have even better prices. And since Dollar Tree takes manufacturer coupons, you can further cut your food costs, and maybe even get free items, if you put in a little extra work hunting for some.
More From GOBankingRates