9 Easy Ways To Make Sure You're Always Getting the Lowest Price on Your Grocery Items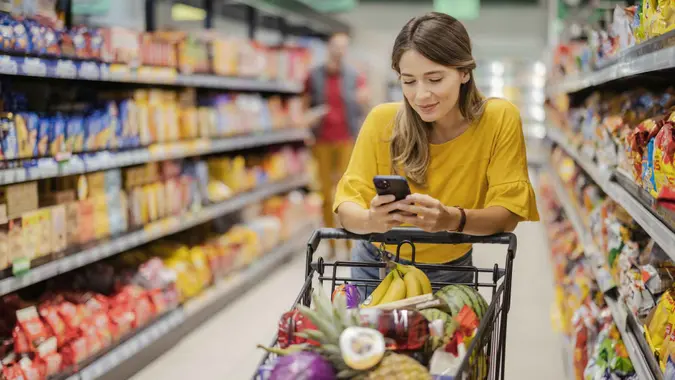 PixelsEffect / Getty Images
For two people, the average cost of groceries per month can range between $510-$820. That's nothing to sneeze at. You go to the grocery store with the best intentions to get a good deal, but sometimes you're in a rush and just grab whatever's most convenient, costing you more in the long run.
GOBankingRates spoke with consumer experts to figure out the best ways to get the lowest price on popular grocery items. Next time you go shopping, keep these easy tips in your back pocket so you don't overspend. 
Join a Store's Loyalty Program
This is such a convenient method of saving cash because all you have to do is sign up once, then save automatically every time you shop at a store. "Loyalty programs provide highly personalized deals, coupons, discounts, price comparison detection, and rewards that help increase savings. When tied to a mobile app, loyalty programs can also help increase store traffic through personalized offers while also giving consumers a quick and convenient way to track purchases and rewards," said Andy Friedland, chief revenue officer of Swiftly.
Sign Up for Store Emails
Sometimes stores or brands will save their best deals for those on their email list. "It's the best way to get notified of new deals, new products, and get hard-to-find coupons," said Lisa Thompson, a savings expert at Shopmium. 
Make Your Money Work for You
Shop on Wednesdays
Constantly feel like you're spending too much at the grocery store? You might need to switch up your grocery day. "Shop on Wednesday, if you can," Thompson said. "That's the day most retailers begin new sales, and the shelves are stocked — plus it's slower at most stores, so you'll have time and space to price compare and be more mindful of what you're buying." If you have to shop on the weekend, Thompson said to go early on Saturday morning.
Shop at Multiple Stores 
If you want the best deal, you're going to have to literally shop around. "Shop at two different stores if possible — a small discount grocer first, then a regular grocery store to fill in items not carried at the discount grocery. Discount grocers are almost always less expensive than their larger competitors, so they are excellent for stocking up on basics," said Mary Ann Kelley, a food blogger and meal planner at AddSaltandServe.com.
Look For Coupons
One of the oldest tricks in the book is still one of the best. And now, you can find coupons using sites like BeFrugal and Coupons.com and apps like Ibotta and Checkout 51. Friedland recommends combining multiple coupons to get the best deals. "Coupon stacking allows shoppers to apply multiple coupons to a single product, ultimately increasing the overall discount." 
Stick With Store Brands 
"The fastest and easiest way to save on groceries is to grab the generic or store brand option which is approximately 30% less than name brands," said money-saving expert Andrea Woroch. Woroch cited that Target's Good & Gather Creamy Peanut Butter 40-ounce jar is $4.29, whereas the same size jar of Jif Creamy Peanut Butter is $7.59 at Target. "Stores also have more power over running sales on their own brands so you will likely see more of their goods on sale often," Woroch said. 
Make Your Money Work for You
Compare Unit Prices
It's crucial to compare the size of items so you can determine if you're getting a good deal. "Always compare unit prices on items with multiple sizes. Most stores make this easy by including the unit price on the shelf tag, but for those that do not or where different units are used, a phone calculator comes in handy. I am always surprised at how often a bulk size is actually more expensive per unit than smaller sizes of the same product," Kelley said. 
Look For Manager Markdowns
Sometimes, manager markdowns can give you even more savings than a regular sale. "These are discounts on fresh foods nearing their expiration date, offering savings of 50 to 70% off," Woroch said. If it's a sale on something you don't normally cook, Woroch said you can use the CookList app to come up with a recipe and ingredient list on the fly when you're out shopping.
Use a Cash-Back Credit Card
Many credit cards give cash-back rewards, and some even give more cash back for shopping at grocery stores. "​​Check your credit card program or get a new card that gives you more cash back at supermarkets. You can compare cash back cards at sites like www.CardRates.com to find the one that will give you the most back for the stores you shop at," Woroch said. She noted that some cards don't give cash back for groceries when you shop at big-box stores like Costco, Target and Walmart. However, if you have a card that gives you cash back on all purchases, then you're covered. 
More From GOBankingRates