10 Extreme Ways to Save Big on Groceries — Are You Ready to Buy a Cow?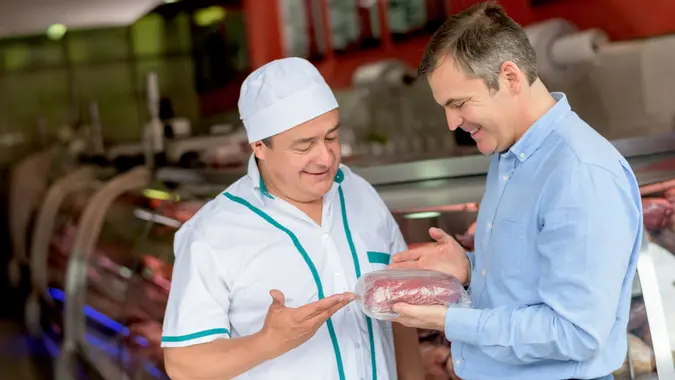 andresr / Getty Images
Maybe you've read articles about using shopping apps to save money on groceries, shopping the perimeter of a store for the healthiest foods and making a grocery list. But just when you think you've cut every corner you can from your grocery budget, you can find even more ways to save.
Some of these may seem unconventional, and a few require a decent amount of freezer space. But these 10 tips are sure to slash real money off your grocery bills, helping you to weather these inflationary times with a full belly and a full pantry.
Buy a Cow
You probably know that buying in bulk can save you money. Purchasing an entire cow and freezing the meat takes the concept of buying in bulk to an extreme. How much does a cow cost?
According to The Krazy Coupon Lady, prices for a whole cow can range from roughly $2,340 up to $2,995. A half cow may cost $1,235 to $1,600. And a quarter-cow costs $650 up to $1,050. You may have to pay a small "kill fee" and processing fees on top of the price of the meat, which is well worth it as that's not something you can tackle on your own.
Bottom line: a variety of finished cuts of steak and chop meat will run you roughly $8 per pound. If you compare this to grass-fed, organic beef from a grocery store, that represents significant savings. You'll see more savings with pricier cuts like filet mignon, so purchasing a cow is a great way to eat really well on a budget.
Make Your Money Work for You
Raise Chickens
Roughly 8% of Americans raise chickens for eggs, according to a study from personal finance company Achieve, reported by Supermarket News. But another 18% are considering or researching the option as a way to reduce grocery bills long term.
Although the price of eggs has dropped in recent months and is approaching historical averages, raising chickens is a long-term investment that can provide high-quality eggs and a sense of fulfillment.
Farm (or Garden) for Food
Whether you have a small plot of land, a giant yard, a terrace or even just a windowsill where you can grow fresh herbs, you can stretch your grocery budget with a farm or garden. Research to find out which crops will grow best in your climate and the best time to plant. In most regions, it's not too late to plant vegetables such as peppers, cucumbers, tomatoes, zucchini, peas, lettuce, kale and eggplant. You can get plants from your local garden center since some of these need to be started indoors from seed in advance. Gardening is a year-round endeavor, which means you can also plant at the end of summer for cool weather veggies or over the winter for early spring picking. You can also check for community gardens that allow you to use their land if you don't have space.
Purchase Farm Shares
If you don't have the time or space to plant a garden, you can join a farm share to get the benefit of home-grown produce without the work. Community Supported Agriculture (CSA) programs, or farm shares, allow you to purchase a portion of a farmer's crop before it has grown. In addition to helping local farmers, you'll gain access to fresh, organic produce.
Keep in mind that you're purchasing a share of the farm and the produce grown on it. If the crop yield is low, you won't receive as much. You are also limited to what is picked each week and will have to fit it into your menu planning. If you want to minimize risk or supplement your haul, you can consider shopping at a local farmer's market.
Make Your Money Work for You
Shop at Salvage Stores and Amish Shops
If you live near an Amish community, you can purchase bulk foods including grains, beans and spices, along with fresh produce and homemade canned, jarred and baked goods. If you have the proper means to store grains and beans in bulk, you can save a lot of money.
Some Amish stores also sell dented, damaged or discontinued food items at a discount. Similarly, salvage stores sell food in dented cans or damaged packaging or even discontinued grocery items. The website Under the Median notes that you can save between 30% to 75% off grocery store prices.
Shop at Restaurant Supply Stores
We already know that you can save money shopping at wholesale clubs like Costco and BJ's. But did you know you can save even more by shopping at restaurant supply stores like Restaurant Depot?
These stores are typically only open to business owners who operate a food-related company or purchase food and supplies for a non-profit organization. To apply for the free membership, you'll need a valid resellers permit and tax-exempt certificate and proof that you are authorized to shop for that business or organization. If you work at a food service establishment but don't own it, you might be able to ask your boss to give you access to the free company account.
If you have a friend or family member in the restaurant or food service business, you may be able to shop with them to stock up and save. Otherwise, you can secure a free day pass as a guest at the reception desk.
Make Your Money Work for You
Find Expired Items at CVS
In a TikTok video that went viral, shoppers learned that CVS will give you a $3 coupon for each item you find on their shelves that has passed the expiration date. Check out the ends of the aisles at Walmart and Target for clearance items — sometimes you have to hunt down the sections, but they are there. Some grocery stores will put out racks of expiring produce and meats that are deeply discounted, but you have to use them that day or have freezer space for storage. Don't hesitate to ask at your local grocery stores for deals like these.
Email Companies for Coupons or Samples
When you find a brand you really like, it pays to email the company and ask for a coupon. The Krazy Coupon Lady recommends sending notes to brands you like complimenting their product. Too often, companies hear bad news and complaints. If you brighten their day with a kind word, they may reward you with a high-value coupon worth more than you might find in a circular or online.
Likewise, if you have a large social media following, you can reach out to the brand and ask for a sample of their newest flavor or product. Make sure to make a reel and share some recipes with your followers.
Calculate Burn Rate
It doesn't matter how much money you save grocery shopping if items spoil before you have a chance to eat them. To shop smarter, calculate the "burn rate," or how quickly you use up perishable items. This can even include shelf-stable items like pasta with a one- or two-year shelf life. These can still expire if you don't use them fast enough.
When you're stocking your freezer, keep in mind that most meats last anywhere from four months (for ground beef) up to one year for steaks, chops and roasts in the freezer.
Make Your Money Work for You
Shop Alone, Late and With a Map
You may have already realized that shopping with kids or a spouse can double your grocery bill. Shopping alone will let you focus on the best deals and compare unit prices without interruptions. Plus, it will avoid having extra bags of chips magically appear in your cart.
Time your trip to have the fewest distractions from other shoppers, as well. That means shopping very early in the morning or really late at night. Since busy times may vary based on region, you can use Google Maps to confirm the least busy times and days for your specific store.
Take Our Poll: Who Has Given You the Best Money Advice You Have Ever Received?

Finally, print a map of the store so you can follow your list to the letter and avoid meandering randomly up and down the aisles. You'll find the healthiest foods around the perimeter of the store. But if you must venture into the center, it's best to make your way directly to the taco kits or pasta sauce and avoid cookies, chips and other budget-busting temptations.
Whether you implement one of the money-saving ideas on this list or all 10, you're sure to see your grocery bill go down, freeing up money for savings, summer travel, or to pay down debt.
More From GOBankingRates
Make Your Money Work for You