Food Stamps: Biden Asks for $1.4 Billion for SNAP Benefits As US Faces Potential Government Shutdown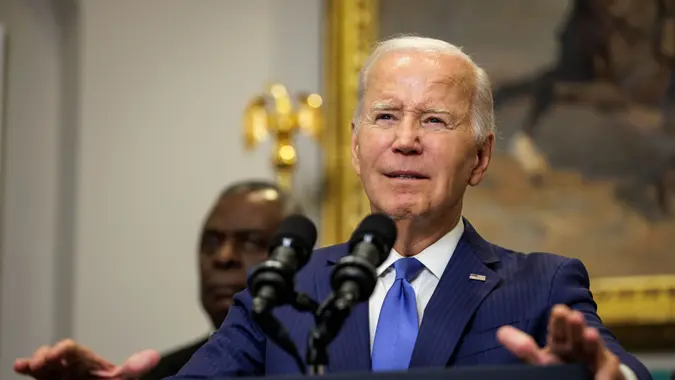 Shutterstock / Shutterstock
The federal government could be headed toward a shutdown at the end of September. The White House said on Aug. 31 that Congress should pass a short-term measure to fund the government and ensure it continues to operate after the end of the current fiscal year.
The Washington Post reported that if the government runs out of money on Sept. 30, this could trigger a shutdown that jeopardizes numerous federal programs — including the Supplemental Nutrition Assistance Program (SNAP) — which millions of Americans rely on. The Biden administration has requested an additional $1.4 billion to prevent a potential interruption in food assistance for low-income families.
Without the additional funds, SNAP agencies may be forced in the coming year to "implement waiting lists, causing women and children to go hungry and pushing vulnerable families into poverty," White House press secretary Karine Jean-Pierre said Aug. 31, per The Washington Post.
"This is something that Congress can do. They can prevent a government shutdown. They need to prevent a government shutdown," she added.
For months, Democrats and Republicans have tried to push forward a series of appropriations bills to fund the government through the 2024 fiscal year beginning Oct. 1. However, the parties don't agree on the specifics, The Washington Post reported. House Republicans are calling for spending cuts that Democrats refuse to agree on. The Biden administration is now asking Congress to adopt a continuing resolution to maintain most spending at existing levels during negotiations.
Make Your Money Work for You
New food stamp requirements also take effect Sept. 1, with additional changes coming next month. These changes are part of the debt ceiling deal in May. Congress expanded age requirements for SNAP recipients considered able-bodied adults without dependents.
According to the Center on Budget and Policy Priorities, the changes put SNAP benefits at risk for 1 million older adults by taking food assistance away from people aged 50 to 55 who can't meet a work-reporting requirement.
More From GOBankingRates