Food Stamps: 4 Changes to SNAP Benefits Happening For Fall 2023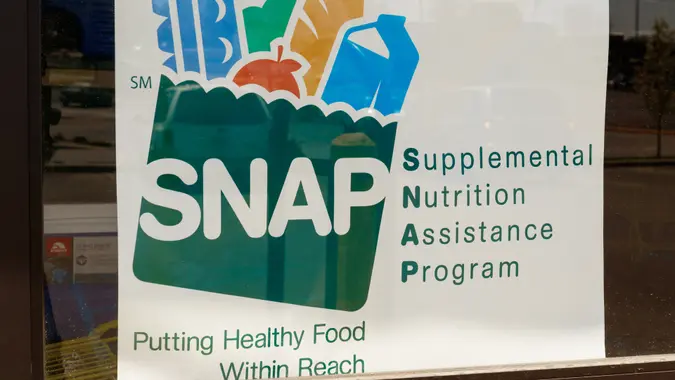 jetcityimage / Getty Images
As a result of the Fiscal Responsibility Act of 2023 (FRA) — the debt ceiling bill signed into law by President Joe Biden in June — eligibility changes to the Supplemental Nutrition Assistance Program (SNAP) will be implemented over the next year. However, one has already taken effect.
Before Sept. 1, "able-bodied adults without dependents" (ABAWDs) who were 18 to 49 years old had to show that they worked at least 80 hours a month or were enrolled in a training program to receive SNAP benefits. Now, the age of those subject to the ABAWD time limit is 50.
According to the United States Department of Agriculture's (USDA's) Food and Nutrition Service, the FRA gradually raises the age of those subject to the ABAWD time limit, provides guidance on the definition of exempt populations and amends the requirements for disclosing information to the public and SNAP's purpose statement.
1. More ABAWD Time Limit Age Changes on the Way
In addition to the change to age 50, the following increases are forthcoming:
On Oct. 1, 2023, the age limit will increase to 52.
Effective Oct. 1, 2024, the age limit goes up to 54.
The new age and exemption requirements are temporary and will be effective through Oct. 1, 2030.
2. New Exemptions for Veterans, Homeless Individuals and Youth Aging Out of Foster Care
ABAWDs cannot receive SNAP benefits for more than three months within a three-year period unless the individual meets the work requirement or is otherwise exempt. While there are additional groups of people that can be considered exempt from work requirements, state agencies that administer SNAP benefits are not going to be allowed to grant exemptions as frequently.
Make Your Money Work for You
Starting Oct. 1, the reduction of the number of discretionary exemptions state agencies will earn will decrease from 12% to 8% of caseloads subject to the ABAWD time limit and the limitation of a state's ability to carry over unused discretionary exemptions will drop to no more than one year.
Per the new provisions, homeless people, veterans and 18- to 24-year-old adults who have aged out of foster care are exempt from the ABAWD work requirements and time limits. Those who are unable to work due to a physical or mental limitation, are pregnant or have someone under 18 in their household are already exempt.
The USDA provided additional guidance on defining the new exempt populations:
A homeless individual is someone without a fixed and regular nighttime residence, or whose primary nighttime residence is a supervised shelter, halfway house, a place not designed for accommodation or a temporary accommodation for no more than 90 days.
A veteran refers to a person who served in the U.S. Armed Forces, including reserves, and was discharged or released from service.
A former foster youth is someone aged 24 or younger who was in foster care at age 18 or older, depending on the state's foster age range.
3. Department Disclosure
Per a USDA statement released on June 9, the FRA also requires the USDA to inform the public of state waiver requests and agency approvals under Section 314 — Waiver Transparency. This provision requires the department to make state requests to waive the ABAWD time limit and related agency waiver approvals available to the public within 30 days after the date of enactment.
4. A New SNAP Purpose Statement
Finally, the FRA updates SNAP's purpose statement, which now reads:
"That program includes as a purpose to assist low-income adults in obtaining employment and increasing their earnings. Such employment and earnings, along with program benefits, will permit low-income households to obtain a more nutritious diet through normal channels of trade by increasing food purchasing power for all eligible households who apply for participation."
Make Your Money Work for You
The Supplemental Nutrition Assistance Program (SNAP), known as the food stamp program prior to the creation of the 2008 Farm Bill, is one of the larger federal social welfare initiatives in the U.S. and has been around in some form since 1939.
SNAP operates in all 50 states, the District of Columbia, Guam and the Virgin Islands, providing food assistance to low- and no-income people and families. According to Pew Research, almost 42 million people in over 22 million households receive SNAP benefits monthly, or approximately 12.5% of the U.S. population.
More From GOBankingRates