Food Stamps: New Policies May Be Coming – 3 Proposals To Solve the SNAP Backlog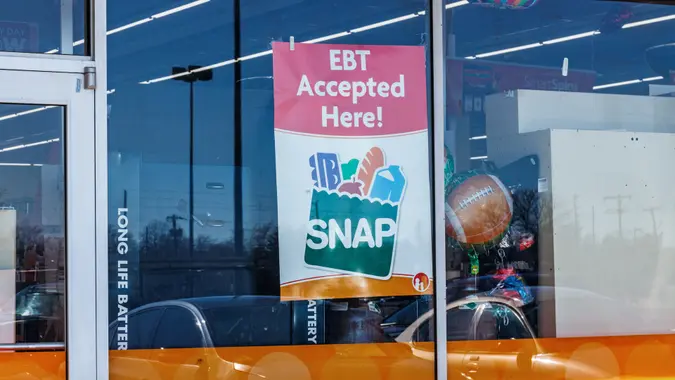 jetcityimage / Getty Images
Thousands of Americans continue to face long waits for the approval of their SNAP benefits. State SNAP agencies are struggling to keep up a backlog of SNAP applications, and some lawmakers are saying enough is enough.
Per U.S. Department of Agriculture guidelines, states have 30 days to process regular SNAP applications and seven days for expedited cases. However, some people are waiting months.
Thousands of people in Georgia are waiting for their SNAP benefits, which has impacted families on and off for a year now as the Georgia Department of Human Services struggles to process cases within federal guidelines, according to 11Alive.
Deb Etheridge, director of Alaska's Division of Public Assistance, said the state directed the clearing of an old backlog in applications, Anchorage News Daily reported. However, this created a new backlog, and there have been cases of Alaskans waiting as long as 11 months for their benefits to be disbursed.
The state's current backlog is about 7,000 applications, and during a discussion on Oct. 31 on Talk of Alaska, Etheridge said the agency is taking steps to streamline the process, reported Alaska Public Media.
"We're working right now to develop an online SNAP application which includes an individual's portal so people can just upload their information and apply online," Etheridge said.
State Rep. Genevieve Mina, D-Anchorage, also introduced a proposal to streamline the process. According to Mina, it allows a state to increase the income limit for SNAP eligibility from 130% to 200% of the federal poverty level. It also allows states to remove asset tests.
Make Your Money Work for You
In August, Rep. Don Bacon (NE-02) and Rep. Lori Chavez-DeRemer (OR-05) introduced the SNAP Staffing Flexibility Act, giving states the option to hire outside contractors to alleviate the workload of employees at SNAP agencies, as previously reported by GOBankingRates.
In an August statement, the USDA's Food and Nutrition Service noted that there are many reasons for the poor application processing timeliness (APT) rates, including the suspension of certain Quality Control (QC) requirements in response to the pandemic. The FNS said state agencies continue to face staffing and technology issues, but the department is "revising its escalation procedures to better reflect the current realities on the ground."
More From GOBankingRates