Gen Z Shoppers Say These Grocery Stores Have the Best Deals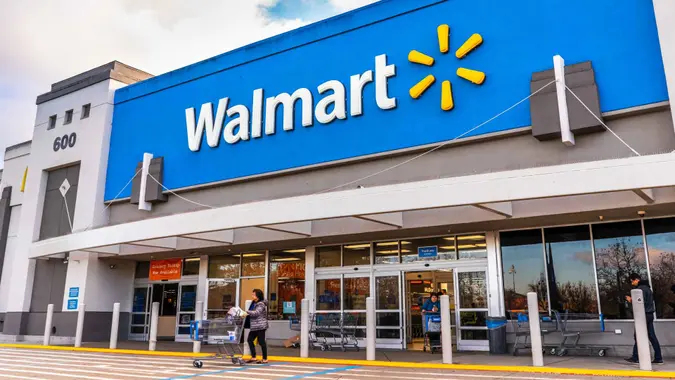 Sundry Photography / Getty Images
Generation Z is proving to have much different grocery shopping habits than their older counterparts. According to the Food Industry Executive, Gen Zers spend an average of $760 each month for food. About 72% of their total food spending goes toward groceries, with the remainder spent on take-out and dining in restaurants.
While convenience is important, Gen Zers aren't necessarily eager to do their grocery shopping online. They spend around $85 each month on online grocery shopping.
One of the reasons that Gen Z may not be as eager to shop online is that they are more concerned with price and are always looking for deals. As reported by Snipp.com, Gen Zers reported that they were 49.8% more likely to buy a product from a retailer when they received a deal notification.
So, where do Gen Zers shop to save big? GOBankingRates surveyed 1,091 adults to find out where they shop for the best deals on groceries. Zoomers overwhelmingly found one store to have the deepest discounts.
Walmart
Our survey indicates that many Gen Z shoppers head to Walmart to find the best deals on groceries. About 37% of Gen Z respondents indicated that it was the place to save when shopping for food.
Walmart has made its name on being a low-price provider. Nearly all of its advertising is geared toward the store's affordable pricing, and people of all ages are taking note. 
In the survey, 41% of people found Walmart to carry the best deals on groceries compared to their competitors. Nearly 45% of people aged 35 to 44 reported shopping at the discount retailer for their food.
Make Your Money Work for You
Gender did not seem to play a role either. Both men and women found Walmart to offer great savings when it came to groceries. About 42% of women and 39% of men agreed that Walmart beat out other stores for their business because of the deals it offers.
Aldi
As one of the fastest-growing grocery retailers in the country, Aldi is known for its discounts. Founded in Germany, the store now has over 2,200 locations throughout the United States.
Like Walmart, Aldi is known for its discounts. But unlike the superstore, Aldi offers shoppers a more boutique experience. Aldi is able to keep prices low with a no-frills shopping experience and by largely avoiding brand-name products. 
Aldi ranked second for all respondents when asked where they shopped for the best deals on groceries, and about 21% of respondents age 18 to 24 responded that they shopped at Aldo for deals on their groceries.
Costco
Despite its $5 rotisserie chicken, Costco came in fourth overall (behind Kroger) among places people look for deals on groceries. A mere 8.3% of respondents prefer Costco.
But the majority of those people are 18 to 24. About one in six people from that age group shop there for grocery deals.
Honorable Mentions in Discount Shopping
Undoubtedly, shoppers of all ages, including Gen Zers, believe that Walmart and Aldi have the best prices on groceries. However, the waters become more murky for any position after that. Kroger and Target are also top contenders overall, but Zoomers prefer Target, with 11% choosing that chain and just 2% picking Kroger.
Make Your Money Work for You
More From GOBankingRates